Home
---
What Story and Why
---
How to Tell
---
What's New
---
Blog
---
Research is Fun
---
Get Started
---
Highlight Site
---
Sample Writing
---
Free Newsletter
---
Articles
---
About
---
Contact Us
---
Privacy Terms
---
[?] Subscribe To
This Site
Another "Your Life is Your Story" Recommendation
You Can Immediately
Improve Your Life
By Keeping a Journal
With the Award-Winning "The Journal"
You Can Get Started Right Away!
A great way to keep track of the events in your life, record insights, preserve memories and grow from your life journey is by keeping a journal.

I really like the award winning The Journal from DavidRM Software. It is a great tool. It's easy to use, customizable, has some built-in templates and even a version that incorporates the Memorygrabber.
What makes "The Journal" different and better?


It's really much more than just a diary. This is a powerful personal journaling tool. I like to write and I've kept a journal for years on my computer as just a word processor document. When I started using The Journal I realized how much more productive and organized I can be because of this software.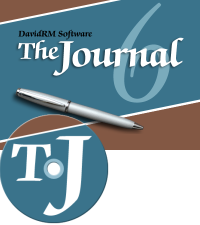 The Journal software continues to be improved and upgraded! They are now on version 8. It keeps getting better and with more functionality. Now you can sync with your mobile and tablet-based software. The search feature is more robust and faster. More options for categories, an improved international character support, improved security and stability and more! They just keep giving you a better product and at a great price. It's a terrific gift idea for the holidays.


It's really easy to use. You can also purchase special add-ons for personal development journaling exercises by renowned blogger, Steve Pavlina. There are also some great ways to upgrade to have Devotional prompts, Writing prompts or a special version designed for Leaders.

The Journal is well-organized. You can find your entries easily with a superb calendar feature and you can create multiple categories (work, fun, spiritual, creative writing) limited only by your imagination (literally - you can even use the Journal to help you remember and analyze your dreams!).

The Journal gives you plenty of security and flexibility. Great for students, professionals, writers and family historians.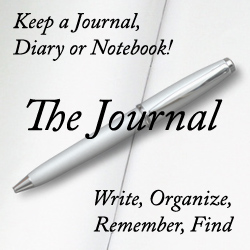 An added benefit is the version of The Journal that incorporates the great Memorygrabber from Family History Products that I also use and frequently endorse. This makes it especially useful for family historians.
Organize your life (work, school and home) - a great project manager!
Customize it for you - versatile with multiple template options and create personalized categories.
Record your family history with the Memorygrabber upgrade.
Keep your journal entries secure - password protection security.
Writing prompts to help you be more creative or inspired.
A "Post to Blog" feature! (for your online weblog or diary).
Has won multiple awards.
Free Upgrades and Great Support (Windows 8, Windows 7, Windows Vista, and Windows XP.).
David Michael has created a great product with The Journal. It's easy to use, versatile and fun. And there is excellent customer support

Starting at just $64.95, this is a great bargain for top-notch journaling software. But, you can even download and try The Journal free for 45 days. Plus, The Journal is backed by a 100% risk free 30-day money back guarantee. There are also discounts available for students, teachers, military veterans, seniors, first responders and others! Order it today, or you can get more information here.
---
Back to the Past Highlight Sites Page

Back to the Home Page
Everybody has a story to tell!
Your-Life-Your-Story.com
Copyright © 2003 - 2020 All rights reserved
Email Tom Gilbert