Greetings

"Your past is your story up to now. The future is the story yet to come. The present is where you live with that experience, your hopes and your dreams."
---


Your Life is Your Story Newsletter
July 26, 2004 Issue-011 – Web Site Story
From Tom Gilbert – Editor and Writer www.your-life-your-story.com


---
Opening Remarks: Web Site Story
Back when the Internet was still an infant I was working at a rockin' radio station and I remember being impressed with the great potential that web sites held for radio stations. Here was a way we could add a visual component to our audio! We would also be able to connect in a whole new way with our listeners. Those who would surf over to our web site would have the chance to learn more about our station events, the music, contests, advertisers and much, much more!

These days I'm still impressed by the potential of the Internet and web sites. I'm a bit surprised that radio as a whole has not maximized the potential, especially since they have a great opportunity to promote their sites over the airwaves. Not all of them are doing a bad job, but I don't consider radio broadcasters to be leading the way.

However, you and I have the opportunity to make our dreams come true with web sites. You can truly create a business or just post your creativity online. Doing it without spending a fortune and successfully takes some guidance. And that's what this issue of Your Life is Your Story is all about.

— Tom
---
I want to extend a warm welcome to all our new subscribers. Thank you for subscribing. If you like what you read here, pass it along to a friend. If a friend DID forward this to you and if you like what you read, please subscribe by visiting our signup page . Also, let me know what you'd like to see more of in this newsletter – simply reply to this email e-zine.
---
In this Issue:


Opening remarks Web Site Story
Featured Article: A Site to Remember
Resources you can use:

Feature Article: A Site to Remember
Sooner or later just about everyone who surfs the World Wide Web wants a web site of their own.
I know. When I was first getting my feet wet online I thought how extraordinary the Internet was and, even more, what it could become.
Now, I have a few web sites of my own.
But, the intimidation factor can kill a great dream.
It doesn't have to be that way. Just as you came to this site to learn more about telling your story – as an autobiography, oral history, in a video, journal, scrapbook or any of the multiple ways to do it – there are many, many places to turn for help in creating a great web site.
Actually, there are too many!
You can benefit from the time, money and research I've already done.
Over the past several years I've learned how to build web sites. I helped design them for radio stations. I've created some sites of my own. I regularly write and maintain an inspirational faith site. And, of course, I created this site that you discovered about the importance of everyone telling their story - Your Life is Your Story.
Instead of paying thousands of dollars to have someone create a web site for your passion that doesn't really accomplish your goal – high search engine rankings, return visitors, a focused theme, great content, easy to build and maintain – in a word, "results", why not do what I've done?
Site Build It! (SBI!) is the only all-in-one site-building, site-hosting, and site-marketing product that makes it easy for you to build a professional, popular, and profitable business.
The secret is discovering and putting to use the principles that form the foundation of the way people actually use the Web.
The Highlight Site has the information you need - go there now.
You can do it all yourself with the tools of Site Build It!. But, even better, you can use me as the "secret weapon". I'm available to help you utilize the information to build your very own, successful web site for your passion. You can even hire me to build it for you!
See for yourself - go to the Highlight Site and jumpstart your online dream today.
---
Resources You Can Use
Telling Stories
Here's an affordable and highly creative software package that puts you in the driver's seat to easily create a multimedia biography. Create a terrific slide show that incorporates writing, images, music, voiceovers, and even video. The software is designed with helpful visual wizards and the ability to build upon some basic default options with your own customization. Telling Stories – Celebrate Life's Memories!
Memorygrabber
This is one of the most popular and affordable e-books around to take you step-by-step through preserving your life story.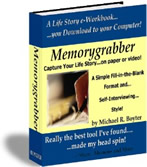 Your Own Web Site
Site Build It! is an all-in-one online web building/hosting package. You could create a terrific personal history site of your own and get what you most need for your site: traffic! You don't need to know all the techie-stuff, either. Highly recommended. Go here.
Your Life is Your Story Blog
It's updated frequently with tips, links and thoughts on telling your story, writing a biography, autobiography and various other personal history methods. Come visit.
---
Thanks for reading and here's to writing your story. Do give it some serious consideration because I just know you've got a great story to tell!
Any comments, ideas or feedback is greatly appreciated. Just reply to this 'zine and tell me what you think!
Until next time – keep your story alive!
Tom Gilbert
---