Greetings



"Your past is your story up to now. The future is the story yet to come. The present is where you live with that experience, your hopes and your dreams."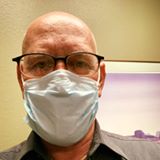 ---


Your Life is Your Story Newsletter

June 29, 2020
Issue #173 - 2020 Vision

From Tom Gilbert – Editor and Writer, www.your-life-your-story.com

In this Issue:
Opening remarks: Jumping June
Featured Article: 2020 Vision
Featured Resource: The Memoir Network Articles
---
Opening Remarks: Jumping June
In my life every June is a month of memories and activities. The calendar is crammed with many birthdays and anniversaries. Usually I am taking some kind of vacation. And every year something significant happens in June.

You could call it Jumping June!

It's pretty obvious what has commanded attention this June. It's the story of the year. The "Year of the Pandemic" with a great adjustment to social norms. I was worried we might see a resurgence in the coronavirus after many states began re-opening businesses. Sure enough, it appears that happened. We're not out of this yet. Please take precautions, don't congregate in large groups and wear a mask.

---

Thank you so much for being part of the Your Life Is Your Story community. Thanks to all our subscribers. I hope you enjoy this month's issue.

You are receiving this e-zine because you signed up for it or someone who is subscribed passed it along to you. If a friend DID forward this to you consider subscribing by visiting our signup page . Also, let me know what you'd like to see more of in this newsletter – simply reply to this email e-zine.

– Tom
Featured Article: 2020 Vision
By Tom Gilbert - Copyright © June, 2020

A song written by Johnny Nash and popularized by singer Jimmy Cliff sings of optimism in the face of adversity.

I can see clearly now the rain is gone
I can see all obstacles in my way
Gone are the dark clouds that had me blind
It's gonna be a bright (bright)
Bright (bright) sunshiny day

Oh, yes I can make it now the pain is gone
All of the bad feelings have disappeared
Here is that rainbow I've been praying for
It's gonna be a bright (bright)
Bright (bright) sunshiny day

These are words to cling to as we continue to face the multitude of life challenges this year has brought us. 2020 has become the "Year of the Pandemic". But the trials and tribulations brought about by the worldwide Covid 19 virus are only part of the story.

Unrest over racial injustice, police brutality, economic inequality, a struggle for civil rights for all and the very welfare of our planet in the face of ongoing climate change consequences are putting "pain and obstacles" right in our face.

How ironic that this is all happening this year. 2020 vision is the term for visual acuity, the clarity or sharpness of vision measured at 20 feet. If you have 20-20 vision you don't need corrective lenses. You have good eyesight. This year we really need to see clearly.

How do we find that "bright, sunshiny day"?

Read the full article here.


---
Featured Resource: The Memoir Network Articles
Viga Boland is a memoir writing teacher and author. In a guest post for The Memoir Network she speaks about keeping the "ME" in your MEmoir. Your unique and personal perspective is essential. Below, with permission from the writer and The Memoir Network is an excerpt of the article, followed by a link to the full article.

Without the "me" in your memoir – the fragile and imperfect person who lived the events in your story – you leave out the human element your readers long to connect with.

Stories that enlighten us about how we think, or why we do what we do, make for interesting reading. Memoirs that explore psychological development, coming of age, family relationships and values – along with all the grief and hardship of just trying to survive – make for compelling reading. When readers feel and identify with the narrator's pain and desperation to find a solution to a problem, they pull for the narrator as they read. They keep turning pages hoping for a happy ending. And few things satisfy more than closing a book, knowing that in the end, the narrator came out on top.

Writing a personal memoir like that IS possible, but you must put the ME into your MEmoir. What does that mean? Well, just look at the word. If there's no ME in the memoir – no down-to-earth, ordinary human being who is vulnerable, has weaknesses, thinks things that make you blush, wants to do things she's been taught not to, says the wrong thing at the wrong time – then your memoir will fail to bring your story to life.

Click here to read the full article, The Personal Memoir: Keep the "Me" in your MEmoir

You can check out the The Memoir Network site for an amazing array of excellent articles and help for the aspiring memoir writer.
Closing Information
That's it for this month's issue. Thanks for reading. Be sure to visit our blog regularly, and here's to telling your story. Do give it some serious consideration because I just know you've got a great story to tell! Be sure to see the Get Started section.

Any comments, ideas or feedback is greatly appreciated. Just reply to this 'zine and tell me what you think!

Until next time, – keep your story alive!

Tom Gilbert
---