Home
---
What Story and Why
---
How to Tell
---
What's New
---
Blog
---
Life Story Resources
---
Research is Fun
---
Get Started
---
Highlight Site
---
Sample Writing
---
Free Newsletter
---
Articles
---
About
---
Contact Us
---
Privacy Terms
---
[?] Subscribe To
This Site
The "Your Life is Your Story" Blog

©
Tom Gilbert
Read about quality family history and life story news, views, methods, products, links, services

...and whatever else catches our fancy

Read past entries - see the blog archive index
---
Aretha Franklin Tribute - One of a Kind

March 11, 2019

Last night the CBS television network aired an incredible tribute to the late Queen of Soul, the one and only Aretha Franklin. It was a star-studded event with many amazing singers from a wide range of genres. That was fitting as Aretha Franklin was great singing any type of music. It was fun and emotional to hear renditions sung with all the gusto and love that these various performers could give. From Alicia Keys, Patti LaBelle and Celine Dion to John Legend, Yolanda Adams and Jennifer Hudson (and many more) it was a memorable night. I find it especially appropriate that this Grammy Awards Tribute was aired during Women's History Month.

Aretha Franklin's influence on people through her music and activism has been widely noted, especially since her passing on August 16, 2018. I, for one, am looking forward to the Aretha biopic that is being made with Jennifer Hudson in the starring role. She was handpicked for the project by Aretha herself.

---

They Called Him "The Kid"

March 7, 2019

What's in a nickname?

How's that for a question? Nicknames are pretty common. I bet you've had one or more. My dad called me "Butch" when I was about seven or eight. I remember not liking it.

Some nicknames come out of common usage. For instance, a parent may just call one of their kids "boy" or "girl". In a loving way, you know, like girl! Get over here!

I know of someone who calls one of her sons "Baby Brother" and one of her daughters "Yady". But she actually didn't come up with the names, it was other family members who called them that and it stuck. That's kind of how nicknames work. Someone starts it and it catches on.

Billy the Kid, a famous western outlaw, did much of his carousing in New Mexico. I live here in "The Land of Enchantment" and New Mexico was truly the wild, wild west back in "The Kid's" day. There is a new movie just coming out about Billy and his nemesis, the sheriff, Pat Garrett. It's coincidentally titled,

The Kid

.

Nicknames can be fun or frivolous, but for those of us who have one it is part of our story. Here's looking at you, kid.

---

Still Celebrating African-American History Month

February 25, 2019

We are in the last week of February, the shortest month of the year, but one of the deepest months in terms of celebrating people who have impacted our world in many incredible ways.

African-American History Month

happens each February and perhaps it is an opportunity for you to learn more about some of the people who have changed our world with their contributions.

As a teacher I like to think that we can learn from peoples' lives, regardless of the color of their skin, and in any month of the year. Still, I applaud that we have a month dedicated to the extraordinary contributions of African-Americans. One of my favorites is

Maya Angelou.

She was a marvelous writer, dancer, actor, poet and humanitarian.

One of her best loved memoirs is

I Know Why the Caged Bird Sings.

She faced a lot of challenges in her life and through her journey she learned to make the best of life and to remind us of some powerful lessons, like "I've learned that people will forget what you said, people will forget what you did, but people will never forget how you made them feel." You can find out more about her life with this article online at the

Encyclopedia of World Biography

.

This month I continue to work on a life story about another African-American who has lived quite an interesting Life. Lenora just turned 90 on Valentine's Day. I interviewed her in December and it has been very interesting for me to learn about her inspirational life. She raised her five children and also another five children after her sister's untimely death. She is a great lover of jazz and met some real giants "back in the day" such as Miles Davis and Billie Holiday. It just reaffirms once again to me that "everyone has a story to tell."

---

Opportunity Declared Officially Dead


....the Mars rover, that is.

February 20, 2019



Opportunity

is dead (story here)...but not before going way beyond the expectations of NASA and scientists who study Mars.

The rover was sent to Mars in 2003 and landed on January 24, 2004. Immediately it went to work studying the

Red Planet

and sending back bountiful amounts of interesting data. One of its most important discoveries was evidence that water once did indeed flow on Mars, many millenia ago.

The rover was expected to work for 90 days, but it ended up being 15 years. What does that tell us? That with machines as well as human lives, we don't often know how much time we've got.

I am a fan of space exploration. Teaching 5th grade each year allows me to tap into the Science curriculum to study and teach about our solar system and our universe. Even better, here in Albuquerque, New Mexico we team with the Air Force Research Lab La Luz Academy to be part of

Mission to Mars

. It is something all the 5th grade classes in any schools, public or private, can participate in. It's really great as we study Mars and do a field trip at the end of the year to "Mars" - actually the Convention Center where we build plastic habitats and pretend we are colonists.

Someday, maybe not so far off, humans really will travel to Mars. It's the next frontier. Living lives of exploration, both inner and outer, is essential to a full and meaningful life.

Thanks
, Opportunity
, for doing what you did. You may have died, but you fed our minds and our imaginations. And there are still plenty of other ways to explore Mars. Curiosity

is still functioning and sending back information. There is still much to learn - about Mars and about living.

---

MVP in Character, Frank Robinson Was One of the All Time Baseball Greats

February 7, 2019


I heard the news earlier today that baseball great Frank Robinson passed away. He was 83 and had a career in Major League Baseball that included 21 seasons as an amazing player and another 16 years as a manager.

He was the first African-American to manage a Major League Baseball club and I find it significant that he gets the spotlight on him during this African-American History Month. But Frank Robinson was a great person who could and would be judged by his character and not the color of his skin (as Martin Luther King Jr. dreamed).

Already a big star for the Cincinnati Reds, Robinson was traded at the age of 29 to the Baltimore Orioles and his first season with the birds in 1966 was one of the greatest in baseball history. He won the triple crown (leading the American League in home runs, average and runs batted in). He also led the Orioles to their first World Series Championship and he won the Most Valuable Award. Now he had also won the MVP with the Reds in 1961 and to this day he is the only player to win the MVP in both leagues!

Thanks for all the greatness, Frank. And for showing that you were a real MVP in character. Read more about Frank Robinson with this article on mlb.com.

---

Get Back 50 Years

January 30, 2019


50 years ago today the Beatles played their final public show, that is if you could call 42 minutes of live Beatles songs atop their Apple Records Building a concert. At this stage of their career the lads were on the verge of breakup. Lots of tension, even minutes before going to the roof to plug in and play a variety of songs they were working on, including "Get Back" with Bill Preston on keyboards.

For Baby Boomers and Beatles fans this is an important event in our lives. The Beatles were the band that changed everything for us. From the days of the Fab Four from Liverpool to a worldwide phenomenon, the Beatles were an incredible sensation. All these years later their music still resonates and people still discover them and enjoy their music more than fifty years later.

It's interesting to watch the live performance from January 30, 1969. It was cold on the roof and the band played five songs, some of them with multiple takes. But how cool. It was a real surprise for people on the streets below. According to this CBS News story, the famed film director Peter Jackson is working on a film that will include footage from this rooftop performance along with never-released footage of the "Let It Be" sessions. Something to look forward to as we look back (and maybe mentally and emotionally "get back") 50 years.

---

Life Lesson Quotes from Martin Luther King Jr.

January 22, 2019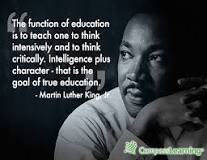 A day after we observed the Martin Luther King Jr. holiday I am once again incredibly impressed by the legacy of the man. He did a lot in his life to promote justice and civil rights. Like so many that call forth the importance of making changes in our world to improve relationships with others his life came to an end too soon because of an assasin's bullet.

50 years later it is good to be reminded of some of the most powerful life lesson quotes from Doctor Martin Luther King Jr. Here are three:



The function of

education

is to teach one to think intensively and to think critically. Intelligence plus character - that is the goal of true

education

.





People fail to get along because they fear each other; they fear each other because they don't know each other; they don't know each other because they have not communicated with each other.





We may have all come on different ships, but we're in the same boat now

.

Let's face it, those are some really fine words to live by. We all need to overcome our difficulties with "others" and realize we each have a right to dignity, to pursuing our dreams, living our lives, enjoying peace and happiness and also honoring each person's unique life story.

Yes, King is gone, but not forgotten. One of the best ways to honor him is to take his words to heart and try practicing what he preached.
---
Your-Life-Your-Story.com
Copyright © 2003 - 2019 All rights reserved
Email Tom Gilbert