Home
---
What Story and Why
---
How to Tell
---
What's New
---
Blog
---
Life Story Resources
---
Research is Fun
---
Get Started
---
Highlight Site
---
Sample Writing
---
Free Newsletter
---
Articles
---
About
---
Contact Us
---
Privacy Terms
---
[?] Subscribe To
This Site
The "Your Life is Your Story" Blog

©
Tom Gilbert
Read about quality family history and life story news, views, methods, products, links, services

...and whatever else catches our fancy

Read past entries - see the blog archive index
---
100th Anniversary of Armistice Day

Yesterday, November 11, was the 100th anniversary of the end of World War One. This became known as

Armistice Day

, although in the United States the name of the day has since been renamed Veterans Day to honor all members of our military for their service. (You might want to check out this song by Paul Simon,

Armistice Day

.)

By 1918 people were very relieved to have the end of the bloody and global conflict. It was the worst war the world had ever experienced and people were praying it would never happen again. Unfortunately, just over twenty years later the world was at it again.

History teaches us that we must learn from our mistakes and learn about our past or we make those mistakes again. Looks like we are still learning.

The

National Museum of American History

has put together a lot of rememberances and resources to learn more about WWI and the people that experienced it. Even though the anniversary was yesterday there is plenty to check out. I think it is important to recognize the high cost of service that veterans pay. The history of the world is something we all contribute to in various ways. Your history may not seem like it is significant in light of major events, but you and your family are still part of the stories of humanity. It is important for us to put our lives in the context of what is happening in the world.

Keep that in mind as you go through your days. You never know when something may impact you that connects you to many others. Witnessing the events of just the past couple of weeks with an election, a few mass shootings, and the horrific fires in California make that very apparent to me.

---

The Civic Thing To Do

November 7, 2018

One day after Election Day in the United States and the pundits and the public are absorbing the results. This was what we refer to as the Midterm Election because it comes halfway through the term of the United States President. And it has significance as people elect congress members, governors, and a great number of state legislators.

It is important to also recognize that on the ballot in many places there are bonds and issues, along with various public service candidates. The democratic process where citizens are allowed to participate in choosing their representatives and having a say in government should never be taken for granted.

Despite the great opportunity and responsibility to exercise your civic right to vote, many people still do not vote. There are many reasons why. Some people are apathetic, thinking their vote doesn't matter. I have heard people say the whole system is rigged. Others just don't seem interested or educated about it. I can understand the cynicism. But change can only happen when people decide to say and do something.

I believe voting is the civic thing to do. I remember how excited I was in 1974 when as an 18-year old I finally got my first opportunity to vote. It was exciting. I continue to vote in elections, and not just during the presidential election year.

One of the things that is interesting about this election is the growing diversity of elected officials. More women and more from different backgrounds. Here in New Mexico we elected one of the first ever Native American women to the House of Representatives. Deb Haaland hails from the Laguna Pueblo in New Mexico and now will represent Congressional District 3. She will join Sharice Davids from Kansas as part of the next Congress.

If you live in a country that allows you to participate in choosing elected officials I hope you exercise your right to vote. Of course, it is each individual's choice, but not everyone has the opportunity.

---

Go for Memoir Writing Month

November 1, 2018

Today on the start of a new month, November, you have a great opportunity. You can finally get started on writing your memoir!

Or maybe you've been stalled and need to re-start.

How about getting some free tips to help you? All this month you can get free lessons, 30 in all, through the November is Memoir Writing Month program offered by the Memoir Network.

I strongly believe that many people want to tell their story, to write their memoir, but just are not sure how to go about it. We all need tips and resources to help motivate us. One of the things I know that helps me is to write about things I am passionate about. One in particular is my love of baseball, especially the Boston Red Sox, who just won the World Series! Boy, I find it really easy to journal and write about this great season the Sox just had. I've been a lifelong fan of the team, so this is not my first time celebrating a world champtionship. But it was an especially enjoyable finish to an incredible season.

You probably have some things you are passionate about. Writing about them and how they have been part of your life story can be very satisfying and motivating in moving your memoir project along.

Denis Ledoux of the Memoir Network has lots of great ideas, tips and resources he is willing to share with you as part of your free membership in the

My Memoir Education Program.

It's a great time to check it out because during November he is giving you 30 posted lessons that will offer new facets of looking at your memoir and at your writing. Give it a try. It's free. I know I will be following the program myself as I am always looking for fresh ideas. No doubt I will be using some of these ideas and sharing my notes about memoir writing all during

November is Memoir Writing Month

.

---
---

Putting Your Story in Order

October 24, 2018

If you are a subscriber of my free

Your Life Is Your Story

newsletter then you have already probably read the featured article for October about putting your story in order. I make some points about how and why this is important as you are doing your life story writing and organizing your material.

There is not one way to organize your experiences. But I think it can be helpful to try some different approaches.

The order of your stories in your memoir is important. It can establish a theme and a tempo. One way is to put it in chronological order. Start at the beginning of the time of the story and move across time to the place where the story concludes. This is probably the easiest approach, but it isn't necessarily the best way to do it.

| read more |

---
This Month Share Your Family Stories

October 16, 2018

October is

National Family History Month

. We are halfway through the month, but it is not too late for you to try to preserve some of your family stories. The first step is to sit down and have a talk with those people in your family who have the interesting and important stories to tell. As they remind us at the

Talk of a Lifetime

site, those stories will only last forever if you have that talk with your family members and pass the stories on.

Probably everybody in your family is interested in knowing more about their family elders. But not everyone is willing to be the

family historian

. Hopefully someone is willing to take on that responsibility. Is it you? Are you good at asking questions and then listening?

Nowadays we have so much technology at our fingertips that you don't need to have super fancy equipment. Most smart phones will record conversations with decent quality. Somebody needs to take the responsibility of preserving your valuable family history. There is a lot of information easily obtained to help you with this task (hint: have you looked around my site?). And there are lots of people who are available for hire who are good at helping you preserve life stories (insert wink for another not so subtle hint).

Some of our stories are lighthearted and heartwarming. Others tell of times of great challenge. Many families have both kinds of stories. Your message in a story dealing with adversity may well be inspiration for another, maybe even a complete stranger. Here's a story shared by the Living Legacy Project about immigrants from El Salvador years ago who had to deal with some very tough times, the type of story that is still happening today, more than thirty years later. You can read Rage, Fear and Helplessness online.

---

Baseball Season Ending Drama

September 30, 2018

Oh how I love baseball! Those of you who have followed my postings over the years know this to be true. The game represents so many things that I find important in life, suoing above and beyond, doing your best, and also knowing how to handle both winning and losing.

ch as facing each moment, knowing when to to take a pitch (pause and reflect) or be laser-like focused and ready to hit (when you

have

to make a decision). There is offense and defense, teamwork and camaraderie, leadership and rules, g
It really is a game that encompasses it all. I even wrote about this in

Seeing Life Through the Eyes of a Baseball Fan

.

Today is the final day of the regular season of Major League Baseball. Some teams are just playing it out and then heading home for the offseason. Others have clinched a spot in the playoffs and are gearing up for the games to determine who will play in the World Series. And there are still a couple of divisions in the National League (the Central and West) where things are up in the air and four teams who will be in the playoffs are battling to determine who wins their division and who will be in the wild card one game playoff. So it is pretty fun to be a fan and exciting to follow the exploits of the Los Angeles Dodgers, Colorado Rockies, Milwaukee Brewers and Chicago Cubs.

As a lifelong Boston Red Sox fan I've already enjoyed watching my team win well over 100 games and locking up their division. It has truly been a historic season, but anything less than winning the World Series will be a bit of a dissapointment after such a great season.

No matter how you feel about baseball remember that life is typically a long haul, similar to the stretch of a baseball season. There are ups and downs, high drama, injuries, rainouts, double-headers, intense battles, great plays and a lots of fun.

I've been reading a very enjoyable memoir by Jon Peters, a baseball star in his youth who set the record for most high school pitching victories in a row (51) in 1989. He loves baseball and was sure he would eventually have a career in professional ball, but life threw him a few changeups. He struggled through adversity and shares his story in

When Life Grabs You by the Baseballs

.

---

Family History Helpful Resources

September 24, 2018

September is almost finished. The summer has wrapped up, Fall is in the air, and when October rolls around it is a great time to take stock of your family because it is

National Family History Month

. What type of family history have you "harvested"?

If the answer is little to none then I encourage you to start planning to do something. It could be as small a project as a picture book or scrapbook, or more extensive like a manuscript about the patriarchs of your familly.

Personally, I favor doing memoirs. This form of personal history is flexible because you focus on a theme, like your love of cars or baseball, or maybe you want to write about a particular time in your life, a slice of your personal history. A friend of mine recently did this with his memoir,

Head Bangin' Radio

, about working in radio during the heady days of hard rock and heavy metal, especially at the renowned one time king of metal radio stations, Pure Rock 105.5 KNAC.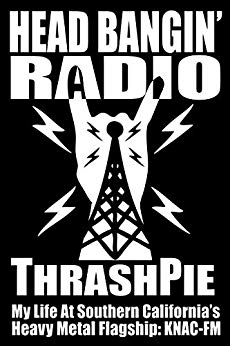 I worked at that station in the late 1980's and I remember well the diehard fans and the love of music that we all shared, along with some wild times and, let us say, adventurous exploits. The bands, like Metallica, Guns n' Roses, Iron Maiden and Ozzy Osbourne (just a few) were heroes to our listeners and the station was something of a hero to the bands because we played a lot of music that other stations in Southern California wouldn't consider giving any exposure.

Ted Pritchard, better known as Thrasher or ThrashPie, morning man and entertainer, worked hard to write his memoir. I read it over the weekend and it was fun, funny and brought back a lot of memories. One of the things that struck me was how it helped the author reminisce about his life in radio and some of the amazing things that happened along the way, including a real brush with near death (read the book to find out more).

I've posted plenty of resources for you about preserving your story and you can check them out on this website. If you haven't explored them then please take a look. And start considering what an adventure your life has been. You probably have a pretty good story to tell.


---
Everybody has a story to tell!
Your-Life-Your-Story.com
Copyright © 2003 - 2018 All rights reserved
Email Tom Gilbert