Home
---
What Story and Why
---
How to Tell
---
What's New
---
Blog
---
Life Story Resources
---
Research is Fun
---
Get Started
---
Highlight Site
---
Sample Writing
---
Free Newsletter
---
Articles
---
About
---
Contact Us
---
Privacy Terms
---
[?] Subscribe To
This Site
The "Your Life is Your Story" Blog

©
Tom Gilbert
Read about quality family history and life story news, views, methods, products, links, services

...and whatever else catches our fancy

Read past entries - see the blog archive index
---
Happy Little Chill

February 28, 2021


If you are a fan of

Bob Ross

then you know that the painter was a longtime host of his own television show. In "The Joy of Painting" Ross, in his charming calm style, would instruct everyday people how to find joy as they released their inherent artistic talent through brush and paint.

The show was not intended for the serious artist, although if you were one there was plenty of good to be found in his show. The magic was how he gave those of us who felt we weren't artistic some confidence from following his lead. His style was low key and he encouraged viewers to make the most of the "happy little accidents" that our errant brushstrokes might make.

And he was actually quite a talented painter. I personally believe everyone has some kind of artistic talent. We all have a creative spirit. Sometimes it needs encouragement to come out of hiding. Bob Ross provided that encouragement better than most.

Bob Ross died in 1995 but his legacy endures. In some ways his popularity keeps growing. The show has been popular in reruns for many years on public television, used to stream on Netflix and now you can watch past episodes on Hulu. Ross may be more popular than ever as a result of our isolation time during the pandemic. A piece on

CBS Sunday Morning

revealed to me two things I was unaware of.

One, that his show was filmed in a house in Muncie, Indiana. They converted it into a TV studio for the show.

Secondly, that same house is now a museum and homage to Bob Ross and his painting show, called the

Bob Ross Experience

.

There are lots of painting classes that carry on the style and essence of Bob Ross' instruction. I've attended a couple. It's not uncommon to have people at such events state, "Bob Ross is my boss."

Over and over again the average person has discovered they can actually create a decent painting as a result of the instruction from Ross. The encouragement he gives and the confidence it instills is a bonus. How refreshing in a world often full of hype and exagerated promises to discover that you, too, can paint, and learn it from a person who was so calm and self-effacing. He was a master at showing us how to be happy and chill at the same time.

---

Gary Parker and the Surgery Ship

February 26, 2021


Ahoy Matey! Here's something you might not have heard of. There is a ship that is improving and even saving lives through their offering of surgery and dental care to people who normally would not have access to that health care.

They call it the

Surgery Ship

.

National Geographic

has documented this ship and its incredible mission and you can check it out online.

Gary Parker is the Chief Medical Officer and an Oral & Maxillofacial Surgeon. He is part of a crew of 400 coming from over 35 nations. Most of the people benefitting are in Africa and living in deep poverty.

Gary has been working on this ship, along with his wife, for 33 years! They even have raised their own children during this time. It is a tale of incredible devotion and dedication.

You can hear more about Gary Parker and the work of the

Surgery Ship

by listening to his appearance on John Fischer's

Blog Talk Radio

. Fischer is a musician, minister and really great guy reaching out through the Internet to connect people and their stories. He is working to make the world a little better and a little more faithful to a message of hope and love.

---

Video Recording Your Life Story

February 17, 2021


Many people want to record their life story in some fashion. As a personal historian I highly recommend it! But how to go about it. Photos, a written narrative, scrapbook or maybe using a website service. These are all viable options.

But when you consider our modern technology, especially the incredible advancement in video recording and editing, using your smart phone could be the way to go. Now I am no aficianado on this, but I do know there are many apps to make it possible without breaking your budget or freaking you out with techno overload.

Here's a suggestion.

My Living Legacy

is the creation of Dick Liersch. He's an experienced videographer. Remember the big, bulky cameras of the 1980's? He started with that and he's been recording life stories and helping others do the same for years. With his super affordable guide you get step-by-step instructions. So even a novice can create a video you'd be proud to own and show.

And I am not kidding about the affordability. The download is just $5.95! Create a video storybook of a lifetime. First step is to check out Dick's story here.

---

Frontier Restaurant is Fifty

February 10, 2021


It seems most communities have a favored restaurant. Some place famous for food and ambience. In Albuquerque it is arguably the Frontier Restaurant on Central. It's across the street from the University of New Mexico and for fifty years has been a much loved hangout.

What makes a local eatery so favored and legendary? Certainly the food is part of it. The Frontier is renowned for their tasty breakfast menu and great hamburgers and other lunchtime items. Their cinnamon bun alone is worth a visit.

But the "recipe" for their status is much more. When the owners Dorothy and Larry Rainosek opened the place 50 years ago this day, February 10, 1971, they had come to Albuquerque with a U-haul, a couple of kids and some big dreams. Those dreams certainly grew. The restaurant has expanded, has some great local art on the walls, and is a place where you can have good conversation to go with some downhome cooking. It's not a

fancy-pants

gourmet establishment. It's good grub though. And good vibes.

Sure, Covid 19 has stretched them thin like so many other food operators. But they are weathering the pandemic and providing take out. The Frontier has established itself as a much loved place that locals favor and visitors make a trip to like some kind of pilgramage.

Albuquerque, New Mexico has an interesting multi-cultural environment. Red and Green chile, the Southwest climate and the enchantment that has to be experienced before it gets under your skin. Some people complain about crime or the economy, but I have found for many years that it is an appealing city to live in. The Frontier Restauarant, now celebrating its golden fiftieth anniversary, is firmly established as part of what we like to call the 'Burqueno flavor.

---

Super Sober Bowl

February 7, 2021


Today is the Super Bowl. It's the 55th Big Game. LV in Roman Numerals, which is the way they like to display it.

On this Super Bowl Sunday we are still immersed in a society dealing with a pandemic, Covid 19. It is a virus that has not "simply gone away". No, it is still here and it is a fact of our lives.

Yes, we have vaccines now. Yes, we have dealt for a year with precautions and the results when they are not followed. Not everything that has happened has been bad. Science has made strides and impressive gains in the creation of vaccines. People have had to reset and maybe slow down and do an inner check on what really matters.

This is not to overlook the tragic aspects of the pandemic. The struggles with illness, isolation, death and economic hardship are every bit as real as the virus itself.

But on this Super Bowl Sunday maybe we will do a couple of things. One is that we might get a bit of an escape from the preoccupation with our pandemic situation. The other thing is that we might continue to be real about what really matters. Life is often risky, but it is also quite beautiful.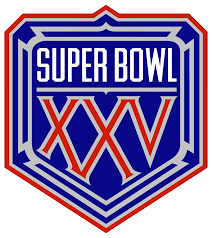 Thirty years ago, in January of 1991, another Super Bowl was played in Tampa, Florida. It was one of the most exciting games ever, going down to a final seconds field goal, a victory for the New York Giants and another heartbreak for the Buffalo Bills.

I was there.

I was also not drinking. White knuckling it, really. I was anxious, worried and angry. But I was at the Big Game.

My job at the time was Program Director for a rock n' roll radio station. And the night before the game I was pulled over and booked for drunk driving. I spent the night in jail. Got bailed out in the morning by an unhappy and angry wife. Tail between my legs. Realizing maybe something was happening that I had no real control over.

Some of us are powerless over certain things. Like alcohol. And some of us have lives that are unmanageable on our own power. That was me. I just hadn't realized it yet.

I know it now, all too well, and I live each day sober and aware that "one is too many and a thousand is not enough". So today I will enjoy a sober Super Bowl, my 30th in a row. It doesn't mean I won't laugh at humorous beer commercials, or even be around a couple of people who will drink and enjoy their adult beverages. It's going to be just myself, my wife, my sister and brother-in-law. They can drink. I choose not to. My sister and brother-in-law are from Kansas City and love the Chiefs. It'll be fun.

But it will also be a day when we four are cautious. I am not going to risk lives either through the Covid 19 virus or the insanity of taking a drink.

I want you to know that turning point for me in 1991 was a tough place to be at the time. However, it put me on a path that has been the best thing for my life.

Super Sober Sunday. For me, the right thing today.

---
Your-Life-Your-Story.com
Copyright © 2003 - 2021 All rights reserved
Email Tom Gilbert