Home
---
What Story and Why
---
How to Tell
---
What's New
---
Blog
---
Life Story Resources
---
Research is Fun
---
Get Started
---
Highlight Site
---
Sample Writing
---
Free Newsletter
---
Articles
---
About
---
Contact Us
---
Privacy Terms
---
[?] Subscribe To
This Site
The "Your Life is Your Story" Blog

©
Tom Gilbert
Read about quality family history and life story news, views, methods, products, links, services

...and whatever else catches our fancy

Read past entries - see the blog archive index
---
Hi Mom, I Just Wanted to Say

May 9, 2021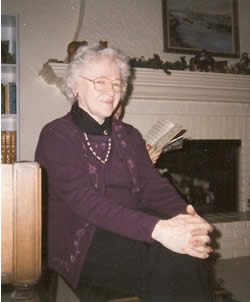 Today is Mother's Day 2021. I am thinking of Mom and of other women and their great gifts of motherhood. The ultimate gift is giving birth and nurturing the new life.

Mom, I do miss you. I wish I could have a chat. What would I say?

Of course I would say that I love you very much. Also, I would tell you that I have flashes of memories, seeing you in the kitchen, sitting across from me at the chapel of the Center for Action and Contemplation, having a heart-to-heart talk at your house in KC, thinking of the times you got mad when you caught me smoking cigarettes or doing something I shouldn't have. You were a fierce lioness when the situation called for it. But mostly you were calm and loving and in your quiet presence I felt safe. Those final days in June of 2006, sitting at your bedside as you slowly passed from the cancer, were transforming.

You pulled us all closer that week. Family and friends gathered, shared memories, tears and laughter, and mostly love (see

Opening Death's Door

).

Thanks, Mom. I just wanted to say hi and I wish I had called you more often. I should have written more, too, but the cards and letters over the years from you were like manna from Heaven.

---

The Order of Your Stories in a Memoir Matters

May 7, 2021


Our lives are lived out in moments and experiences. Over time they help to shape our beliefs, values, habits and much more. When we spend time reminiscing and attempt to make sense of our lives we often want to share that. This is done by telling the story of our life and our various experiences. You need to spend time figuring out what your story is and why you want to preserve this story. Once you have done this the next step is to determine how you will do it.

Part of the how is taking the many experiences you write about and putting them into some kind of order. There is not one way to organize your experiences. But I think it can be helpful to try some different approaches.

| read more |

---
Describing Friends

April 27, 2021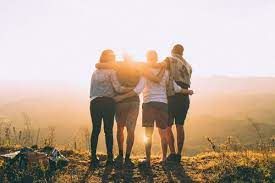 How would you describe a best friend? This was a question and a quick write assignment for my students today.

Actually, I asked them to write about a best friend and describe them without saying who they are. As usual, I modeled this. And I found myself reflecting on good friends. What is it about them that comes to mind?

Best friends are true friends. They will stick with you through thick and thin.

Best friends will also call you on your stuff. We all need that, even when it hurts a bit. True friends won't give up on you, support you and will be there when you need them. But best friends are also people who can be honest enough with us to let us know if we are doing wrong. The best of those best can do that with some tact. I know from exprerience that you can get easily upset at your good friends, but the best will have good intentions and even be considerate. You might not like what they say at the time, but maybe it sinks in later and you discover the truth.

That can make the bonds of your friendship grow stronger.

Another quality of a best friend is how you can hang out and be together without a lot of talking. Sometimes just

being there

is what we need from a friend. Or for a friend.

When you are writing about your life and those experiences that matter keep in mind those good friends. Whether you name them or not, acknowledging their importance in your life and describing their qualities and place in your story is part of being a friend.

---

Big Exhale

April 21, 2021


A big exhale. That's how I've heard it described and that's how I personally feel. America has been holding our collective breath in anticipation of the jury's verdict in the Derek Chauvin case. When it was announced yesterday that the former Minnesota police officer was found guilty on all three counts you could almost actually hear people exhale.

"I can't breathe" were some of George Floyd's final words on May 25, 2020. A police officer had Floyd handcuffed on the ground and was kneeling on his neck for an agonizing nine minutes and 29 seconds. It was captured on video by one of the bystanders and it went viral. It sparked protests far and wide.

Police officers have been on trial before in cases involving too much force, often leading to death, and all too frequently African-Americans the victims. And unfortunately the track record of convictions for police officers in such cases has been extremely rare.

There is no doubt that the job of police person is difficult. But there is also a great responsibility that comes with the position. The big question now is what needed reforms will take place.

We are witnessing history and we are part of history. I think most people want a peaceful and safe society and that does require some law and order. We also need safety and protection for all people. I have thought several times since the verdict was announced about the great quote from Martin Luther King Jr., "The arc of the moral universe is long but it bends towards justice."

---

Hobbies Help Happiness

April 16, 2021

Friday is here and most of us enjoy what the weekend brings. Maybe you will spend some time engaging in a hobby. Hobbies help our happiness. They give us purpose, meaning, a creative outlet, and they can even relieve stress.

One of my blog entries, from May of 2016, tells us how hobbies can help us identify some of our passions and that in turn can give us interesting content to include in a life story or memoir.

Certainly things like playing cards or other games, especially at family gatherings, can lead to some reminiscing. Or what about a day on the lake or the golf course?

You can get geography and history lessons from collecting stamps or coins from around the world.

One of the things I enjoy is playing guitar. It's a hobby - I am not nearly good enough for public performances. But I enjoy playing and singing as a way to relax. Get me around a few friends, family members, or even a classroom full of students and I might break into a song. I was doing that today with my 5th graders.

If you want to start a new hobby or even search for new ideas then check out

A Full Guide On How To Start A New Hobby

. It's posted on the SewingIsAwesome.com website. Some of the takeaways for me from the article included how hobbies can introduce us to new people, widen our knowledge and skills, and improve our confidence and self-esteem. Win, win and win.

---

Ike the Intersection Dog

April 12, 2021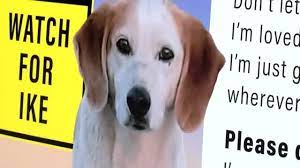 I am sure you have seen people on street corners holding signs and asking for help and handouts. But you probably haven't seen dogs panhandling before. But in Ironton, Missouri, along Highway 21 at a three-way intersection it is a common sight.

Ike, the panhandling hound, has been sitting in the middle of the intersection every day. He's not homeless and he's also not in any great need for a meal. But he will take one! He sits calmly in the middle of traffic and there is a sign nearby asking drivers to watch for him and to understand he's loved, but just likes sitting there and getting handouts.

The town has discovered it's pointless to try to stop Ike from his panhandling and also found a way to generate some income from his growing fame. They printed t-shirts with Ike's likeness and the revenue from the sales goes to Backpack Impact, a local organization providing meals for kids on the weekend who might not eat otherwise. It's a well-known fact that lots of kids rely on school meals for some of their regular eating. Weekends could be a hunger stretch without others helping out, so what a great way to channel Ike's fame to a good cause.

Meanwhile, if you are ever in the area keep an eye out for Ike because he likes to lay right in the middle of the intersection, ready for food offerings from passerbys. Just don't give him hot dogs. Apparently he won't eat them.
| see news story from KMOV TV for more |
---
Your-Life-Your-Story.com
Copyright © 2003 - 2021 All rights reserved
Email Tom Gilbert