Home
---
What Story and Why
---
How to Tell
---
What's New
---
Blog
---
Life Story Resources
---
Research is Fun
---
Get Started
---
Highlight Site
---
Sample Writing
---
Free Newsletter
---
Articles
---
About
---
Contact Us
---
Privacy Terms
---
[?] Subscribe To
This Site
The "Your Life is Your Story" Blog

©
Tom Gilbert
Read about quality family history and life story news, views, methods, products, links, services

...and whatever else catches our fancy

Read past entries - see the blog archive index
---
Spiritual Memoirs Help You Consider the Meaning of Your Life

September 15, 2021

You are on a journey. This life journey takes you to physical places, but also places we can only call spiritual. The inner journey is where you try to make sense of it all.

In some ways I think every memoir has a spiritual angle. Some people write about their life and their spirituality, their faith, in an overt way. Others refer to it in a more subtle way. However you approach it, realize that the meaning of life is discovered only as we live it.

I really enjoy exploring the deeper questions about life and how things connect. It does require having a willingness to believe in things we might not be able to clearly explain or point to. That's okay. We all encounter the "unknown" at various stages of life.

For myself, I know that there have been some particular life events where it became clear to me that something bigger than me was at work. Call it what you want - God, Spirit, the Universe, Love - this "bigger thing" has made an impact over and over again.

In an article by John Longhurst,

Spiritual memoirs reflect on the deeper meanings of life

, there is the consideration that many people have about their lives beyond just the life events. This is what storytelling and sharing our life experiences is all about. And many people relate to these stories, especially the spiritual aspect.

I invite you to consider the spiritual side of your story. It doesn't have to be the central part of your memoir. However, it might help you better appreciate the journey you are on.

---

Memories of 9/11 or Learning the History

September 9, 2021


Twenty years ago. It seems like a long time. But the memory of that fateful day in September of 2001 is etched in the minds of those who lived through it. Not just those who were there in New York City, Washington D.C. or Pennsylvania. People around the country and around the world can recall where they were when they began hearing and seeing the news of the 9-11 terrorist attacks.

But what of those who were just babies, or not even born? To them it is history that they hear about. We teach it in schools. We share it with our families. This kind of historical event is different from those long ago before we were born. And there is no doubt that the world has changed in some sad and frightening ways since that day of terror.



ABC News

is airing a special on Friday night with Diane Sawyer that features children of victims of 9-11. Over the years they have kept in touch with some women who were pregnant at the time and whose babies never knew their fathers, at least not physically.

There are many now adults who were also very young children and who have spent two decades grieving the loss of fathers they never knew. Imagine that burden.

We must remember history. We must not forget those who suffer as a result of events like September 11, 2001. I've been to NYC and the Memorials and museum. While I wasn't personally touched by the tragedy I have been with some who were. I've listened to their stories and felt their pain. Some survived. Some did not. The wounds are real, but I believe that we can find ways to make our wounds sacred. They can be touchstones, yes, of pain, but also of spiritual growth and development.

A world without war, terrorism, hate and violence seems like a pipe dream. But it is not impossible. Worthy goals like peaceful living and caring for others are how we change the world.

---

Reworking Work

September 6, 2021


Today is

Labor Day

. It is historically a day to recognize the labor movement and workers. As a teacher AND a writer/personal historian I truly appreciate days off. So I am enjoying a slower pace on this holiday.

At the same time, I am someone who tends to stay busy. One of the gifts of an unrushed day is the opportunity to reflect, write and ponder how I can be a better version of myself. I become more productive when taking time to "stop and smell the roses", as the saying goes.

Our society has taken some gut punches surrounding how we spend time, what it means to have meaningful work, how to deal with heavy issues like health (Covid has done a major shakeup in this area) and dealing with uncertainty and the unexpected.

An important lesson that I hope more of us have learned in the past year and a half is that we all are better off when we live in the present moment. Plans are still necessary, but things often don't go the way we plan. No kidding.

Companies and those who deal with them regarding labor and the workforce have discovered what I think has been on the minds of many of us, even if it was in our subconscious. The way we work, the kind of jobs we do, the rewards (or lack of) for giving our efforts to build a sustainable life have all been brought into a greater focus as the result of a pandemic, our turbulent politics and the realities of our use of natural resources.

I care about this alot. For my own well-being and also for the future of the children I teach. The combination of teaching young children and working with more elderly life story clients is an intriguing mix.

We have opportunities to rework how we work. A survey by PwC reveals how many people are trying to align their values with a new work reality. And companies like Red Havas are taking steps to cater to the new workforce reality with intentional decisions on how to handle meetings (go for a walk with your co-workers), more time off (two more paid summer days off a month), hybrid workplace opportunities, and mental wellbeing considerations (they ask their employees to take one hour a week "on the clock" to actively improve their physical and mental health, such as reading a book, getting exercise or learning a new skill).

Life should not be all about work. It should be all about living. How we approach that living includes finding ways to support ourselves and our families. Isn't it time we all took a good hard look and came up with more ways to re-work the way we make a living? One of the reasons years ago I invested in creating an online business was to give myself more purpose and freedom. Take a look at what I use.

---

Charlie Watts Drumming Had Rock, But Mainly Roll

August 26, 2021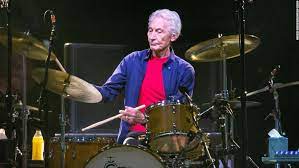 The news that Charlie Watts, drummer for the Rolling Stones, had passed away on Tuesday hit the music world pretty hard. It certainly was one of those deaths that made me pause, like the wind had gone out of me, and I literally had to sit with this information for a couple of days beforeI could post about it.

Arguably, the Rolling Stones are the seminal rock n' roll band. And Charlie, the smooth, dapper dresser and drummer, had a wonderful way of keeping the beat steady and just this side of sloppy. What I mean by that is he wasn't a pounder of the skins, not a basher. And he also wasn't one of those cocktail piano jazz backbeats. He was indeed a lover of jazz and that had a lot to do with how he played. But he also understood the rock n' roll the Stones created and championed for nearly 60 years.

I must credit MIke Edison, author of

Sympathy for the Drummer: Why Charlie Watts Matters

, for the insight that Charlie had the "roll" so crucial to

rock n' roll

. I heard him interviewed on a local radio station this morning, discussing his book and the recent passing of Mr. Watts. And he made that point.

It's inevitable that many of the important music makers of the 60s and 70s are dying off. Ok, boomer. I am from that generation. Charlie Watts was 80, surrounded by family and he reportedly went peacefully. I hope at 65 I have many more good years, but one never knows.

What is important is how we live our lives. Everyone seems to share he same opinion about the importance of the Stones' drummer. Keith and Mick both admit that they he was the

driving

force, as it should be with a rhythm instrument like drums. Watts had the rock

and

the roll.

---

Cell Phone Inventor Changed the World

August 23, 2021


My first "car" phone was like a regular phone attached to a big box. I could take it out of the car or plug it into the car. This was in 1987 and I was working in Southern California for a radio station. It was a primitive time for cell phones, but I thought I was quite the "hot shot" to have this phone courtesy of my employer.

Those phones in the 1980s were vastly different from the smart the phones of today. Remember those big brick size phones that looked like an Army two-way radio?

Marty Cooper was and is a visionary. He is the "Father of the cell phone" and without his innovations and tenacity for seeing the birth of the cellphone become a reality our world would be very different. Think of all the apps and social media on top of texting and calling that we do with our modern devices.



Cutting the Cord

is Mr. Cooper's memoir. In it you can learn the whole story and it sounds like he's lived an amazing life. I found out about it by watching CBS Sunday morning yesterday. You can see that segment here.

---
Your-Life-Your-Story.com
Copyright © 2003 - 2021 All rights reserved
Email Tom Gilbert