Greetings



"Your past is your story up to now. The future is the story yet to come. The present is where you live with that experience, your hopes and your dreams."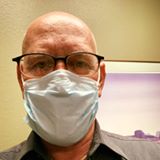 ---


Your Life is Your Story Newsletter

August 30, 2020
Issue #175 - School Daze

From Tom Gilbert – Editor and Writer, www.your-life-your-story.com

In this Issue:
Opening remarks: Mask On, Mask Off
Featured Article: School Daze
Featured Resource: The Memoir Professional
---
Opening Remarks: Mask On, Mask Off
A fact of life this summer is the wearing of a face covering, a mask to protect me and others from the spread of the coronavirus.

It might be hard to find anything stirring up more conversation and conflict. I admit it is uncomfortable to wear one for any length of time. Some people think it is a downright infringement on their personal freedom.

I just want the whole pandemic to end. If wearing a mask helps then I am going to wear one. I will put it on when I need to and take it off when I can. Mask on, mask off. There's a metaphor in there somewhere and I will let you contemplate it.

---

Thank you so much for being part of the Your Life Is Your Story community. Thanks to all our subscribers. I hope you enjoy this month's issue.

You are receiving this e-zine because you signed up for it or someone who is subscribed passed it along to you. If a friend DID forward this to you consider subscribing by visiting our signup page . Also, let me know what you'd like to see more of in this newsletter – simply reply to this email e-zine.

– Tom
Featured Article: School Daze
---
By Tom Gilbert - Copyright © August, 2020

Let's face it - the idea of school has put most of us in some kind of a daze. Daze, as in a state of stunned confusion or bewilderment. Stupor and shock.

That is not really what school should be about. Then again, most of what we are dealing with in the face of the global pandemic of COVID 19 is not what our so called normal life should be about.

Typically in August families would be gearing up for another academic year. They'd be shopping for supplies. Kids would be trying on new clothes and shoes. Backpacks and lunch boxes. Attempts at getting back to a routine that involved a little more discipline and not so much play or vacation time.

By now teachers would be knee deep in lesson planning, classroom setup, collaboration and a myriad of other things that constitute the hectic days of "back to school". You know, fervent activity.

I know. I am a teacher. This is my tenth year in this career. At this point I can pretty much state I am a seasoned educator, although I am constantly evolving and growing. Learning. It is one of the things I most value about the occupation. Teachers get to be lifelong learners. It's a goal I have for all my students.

By now you've heard the arguments for and against in person schooling. Face to face is the better way to learn - I don't dispute it. But safety is also the educator's primary directive. Nobody learns well in environments where the health and welfare of the child is threatened.

The truth of the situation, like it or not, is that as long as the virus is active and taking people down there is not a way to guarantee a safe in-person schooling. I know some are trying. Masks, social distancing and disinfecting rule the day. It might sound good in theory, the application of these precautions in buildings full of young people, some so young and full of zeal and enthusiasm for being together that no matter how hard we try they are going to get close to each other.

I appreciate the argument for the need for students to socialize. The importance of social and emotional learning is damn important. And the young people long for the interaction, to see their friends and to get meals, play at recess, and work in groups with hands on activities. Yes, I get it. But have you thought about how that is supposed to happen when everyone is to maintain a six-foot separation, wear a mask, and not share materials? No tossing a ball to each other; no high fives or hugs.That's not really healthy socializing.

So I have been busy trying to create engaging interaction and teaching via computer screens and the Internet. I am building a community of fifth graders as best I can, virtually. It's hard. However, it has its possibilities. We are all finding ways to learn about life and our world. The Internet does open us vast possibilities of discovery. We've got some pretty amazing tools of technology.

Still, there is plenty of bewilderment. I am at times stupefied. School days are also a school daze. It won't stop the educating, though. Not if I can help it.

Read other articles here.


---
Featured Resource: The Memoir Professional
What does it take to be a Memoir Professional? It is a valued vocation for those with the valuable skills to help others engage in life reflection and memoir creation.

Being a Memoir Professional means the ability to help people craft engaging life stories. That can include coaching, workshops, editing, co-writing or "ghost writing", and other ways to guide, encourage, and support clients in one of the most important undertakings of their life - leaving a legacy, a tale of personal history, a footprint that shows they lived, loved and mattered.

So it is an honorable and admirable thing to be, this Memoir Professional. Thanks to the Memoir Network and their years of expertise, the Memoir Professional Package is available. It is reasonably priced, affordable really when you consider all that the package entails. I took the course years ago and I am still mining the nuggets that help me be successful when working with life story clients.

There are many people who desire to tell their life story and are not really sure how to go about it. You could be that professional guide who helps them make their dream a reality. Plus, you will become a much better writer, editor, coach and consultant. These are excellent skills that come with engaging in the process taught through the Memoir Professional Package.

You can check out the key points and answer questions you may have of The Memoir Professional Package and then make an informed decision if this is right for you. Full disclosure, if you sign up I get a commission as an affiliate. I believe this package is worth it, but you decide. If you end up embarking on the path of Memoir Professional you will find it rewarding in many ways.
Closing Information
That's it for this month's issue. Thanks for reading. Be sure to visit our blog regularly, and here's to telling your story. Do give it some serious consideration because I just know you've got a great story to tell! Be sure to see the Get Started section.

Any comments, ideas or feedback is greatly appreciated. Just reply to this 'zine and tell me what you think!

Until next time, – keep your story alive!

Tom Gilbert
---