Greetings



"Your past is your story up to now. The future is the story yet to come. The present is where you live with that experience, your hopes and your dreams."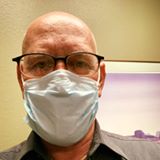 ---


Your Life is Your Story Newsletter

October 31, 2020
Issue #177 - Howling at the Moon

From Tom Gilbert – Editor and Writer, www.your-life-your-story.com

In this Issue:
Opening remarks: Full Moon Halloween
Featured Article: Howling at the Moon
Featured Resource: Memoir Writing Month
---
Opening Remarks: Full Moon Halloween
It hasn't happened since 1944 that we have had a full moon on Halloween.

The full moon tonight is also the second full moon of the month, a rare occurrence that happens on the average every 2.5 years. So we have what we refer to as a Blue Moon. Blue Moon and Halloween - could we make for a more spooky setting?

We also turn back our clocks one hour as we head back to Standard Time, ending the Daylight Savings Time Season. So we get an extra hour of ghoulishness. Don't even get me started on how we are all already wearing masks, the coronavirus is spiking and Election Day is just a couple of days away. Whew!

In honor of this Halloween edition of our newsletter I am reflecting on the phrase, "howling at the moon". And I also want to get you thinking about your memoir as November is traditionally a month dedicated to memoir writing. A full slate to go along with the full moon.

---

Thank you so much for being part of the Your Life Is Your Story community. Thanks to all our subscribers. I hope you enjoy this month's issue.

You are receiving this e-zine because you signed up for it or someone who is subscribed passed it along to you. If a friend DID forward this to you consider subscribing by visiting our signup page . Also, let me know what you'd like to see more of in this newsletter – simply reply to this email e-zine.

– Tom
Featured Article: Howling at the Moon
---
By Tom Gilbert - Copyright © October 31, 2020

Have you ever wondered what is meant by the phrase, "Howling at the moon?" It's been a saying for years. According to one dictionary source I looked at, the phrase means wasting time or energy on something you cannot have and bemoaning that fact.

Too many people probably fall into this trap of wishing for something they can't have or crying over their sad state of affairs. Self-pity isn't pretty, but sometimes it is hard to avoid. The trick is to treat yourself to a dose of reality and remember that "this too shall pass" and "your now is probably just fine". This is not to diminish real problems. But there are many who often miss out on some current joy by dwelling on things they cannot control.

Most people are aware that dogs and wolves are prone to howling at night. Whether they are actually howling at the moon is up for debate, but there is something about a big, bright full moon that inspires awe. Plus I don't think animals get caught up dwelling on their misery. They seem to be more in the moment, so seeing a big bright orb in the sky excites them.

Full moons are not that rare. We get one every month due to the orbit of the moon around our planet and the way the sun's light is reflected from the natural satellite in our night sky. Once in a while, about every two and a half years, we get two full moons in a month. One of those rare occasions is happening this October. In fact, the second full moon of the month is on the last night of the month, Halloween. Somehow this special lunar event seems appropriate this year. We've had so many other strange and spooky things this year, so why not this as well.

Legend has it that werewolves come into full metamorphosis when the moon is full. Ah-oooh, werewolves of London and every other place under the, er, um, moon.

In researching the phrase "howling at the moon" I discovered a rather strange and growing trend. Since April of this year of the pandemic, some people have been practicing a nightly ritual of howling at the moon. It's true. The Facebook Group encourages its followers to go outside each evening at 8 and let loose with a howl. Yes, there is a hashtag: #Howlat8.

I've always thought of howling at the moon as being a way for people to cut loose and let off steam. Maybe there is something to such a primal act that connects us. This year in particular people may feel the need to do it. I suppose it is not that different from people making noise with cheers, clapping and banging on pots and pans to show appreciation for healthcare workers during this season of the coronavirus.

In Albuquerque, New Mexico we get the awe-inspiring sight of a full moon rising over the Sandia Mountains that stand majestically on the east edge of our city. It really is special, particularly just as it appears over the crest in full orange-orb glory. When I see it this evening I think I will give an appreciative howl.

You can also read other life story articles here.


---
Featured Resource: Memoir Writing Month
Our friends at the Memoir Network are once again bringing you many resources, including instruction and support, for all of the would-be memoir writers.

November is Memoir Writing Month. The Memoir Network calls it NIMW for short and it is a good opportunity to dedicate, or re-dedicate yourself to writing the stories of your personal or family history.

You will find a post each day in the month of November to inspire and motivate you on your memoir writing journey.

To discover what there is for you head on over to their website at The Memoir Network.
Closing Information
That's it for this month's issue. Thanks for reading. Be sure to visit our blog regularly, and here's to telling your story. Do give it some serious consideration because I just know you've got a great story to tell! Be sure to see the Get Started section.

Any comments, ideas or feedback is greatly appreciated. Just reply to this 'zine and tell me what you think!

Until next time, – keep your story alive!

Tom Gilbert
---