Greetings



"Your past is your story up to now. The future is the story yet to come. The present is where you live with that experience, your hopes and your dreams."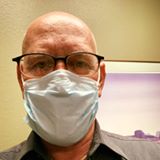 ---


Your Life is Your Story Newsletter

January 31, 2021
Issue #180 – Lost Art of Letter Writing

From Tom Gilbert – Editor and Writer, www.your-life-your-story.com

In this Issue:
Opening remarks: Keep Calm and Carry On
Featured Article: Lost Art of Letter Writing
Featured Resource: America's Footprint
---
Opening Remarks: Keep Calm and Carry On
It is something of a catchphrase or cliché. Keep Calm and Carry On.

Nevertheless, I like the idea. In a world too often full of calamity, strife and stress it is a good idea to choose a path of serenity.

That isn't an easy path to travel. Many people are high on drama. I, for one, am working on keeping calm. And doing what I need to. Whatever is in front of me. Choosing the next right thing. It's a good journey.

---

Thank you so much for being part of the Your Life Is Your Story community. Thanks to all our subscribers. I hope you enjoy this month's issue.

You are receiving this e-zine because you signed up for it or someone who is subscribed passed it along to you. If a friend DID forward this to you consider subscribing by visiting our signup page . Also, let me know what you'd like to see more of in this newsletter – simply reply to this email e-zine.

– Tom
Featured Article: Lost Art of Letter Writing
---
By Tom Gilbert - Copyright © January, 2021

One of these days, I'm going to sit down and write a long letter to all the good friends I have known. And I'm gonna try and thank them for all the good times together though so apart we've grown. - Neil Young "One of These Days"

Letter writing has become a lost art. There are still people writing them. Not like it used to be, however. Before email, texts and mobile devices there was a time when people would actually sit down and write by hand long and loving letters. I know! What a commitment.

Sometimes letters weren't so loving. They might be confrontational. Mean. Inciting.

Those are not the kind of letters I am thinking about. I prefer the insightful, inspirational and significant - letters that are heartfelt, honest and caring. Wow, to be able to pen letters like that is an art.

My mom was good at it. She would take the time - and it does take time - to write letters. Ones that showed such consideration for others. Maybe that is where I get my appreciation for letters. I sometimes hang my head in shame when I think about how little I really understood and was thankful for those letters at the time. But they mean something now. Those letters are a connection to a past and to my mother, my family, my blood.

My father was not much for letters, not until after my mother died in 2006. Then, all of a sudden, he began to put words to paper and write to me. It was special. We never were that great at communicating in person. I discovered through his letters another side of him. It was a revelation.

I am as guilty as anyone else about not taking the time to write letters. When I do, though, it gives me a chance to not just talk about surface things. I savor the times when I find the words that get right to the heart of the matter. Sometimes those words are phrased in veil terms, at other times they might be outright clear and funny. I like writing those kinds of letters. I like receiving them.

I have a friend from high school who for a number of years was quite the pen pal. He stayed and worked in Rome, New York. I moved on to college in Oklahoma and then off on my adventures in radio broadcasting.

The letters we exchanged were lengthy, typewritten and multi-sheet commentaries on life and what we were both experiencing in our twenties. We'd discuss the state of the nation, riff on music, politics, sports and really anything that was catching our fancy back in the day. We don't write to each other anymore. But maybe we should.

When was the last time you actually sat down and wrote a real letter? It's on my mind. There are people in my life that I need to tell in words how important they are, how much I care about them, what I am grateful for about their part in my life.

You can also read other life story articles here.


---
Featured Resource: America's Footprint
I mentioned America's Footprint last month. The CEO went through quite a year, including dealing with the death of his mother.

This month I pass on to you something from their website, 5 Gift Ideas for Loved Ones That Are Terminally Ill. It's a profound article, but contains some really important tips, like giving the dying the gift of time and your presence. You can read it here.
Closing Information
That's it for this month's issue. Thanks for reading. Be sure to visit our blog regularly, and here's to telling your story. Do give it some serious consideration because I just know you've got a great story to tell! Be sure to see the Get Started section.

Any comments, ideas or feedback is greatly appreciated. Just reply to this 'zine and tell me what you think!

Until next time, – keep your story alive!

Tom Gilbert
---