Greetings



"Your past is your story up to now. The future is the story yet to come. The present is where you live with that experience, your hopes and your dreams."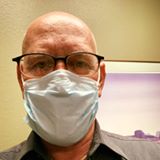 ---


Your Life is Your Story Newsletter

March 31, 2021
Issue #182 – Right Size

From Tom Gilbert – Editor and Writer, www.your-life-your-story.com

In this Issue:
Opening remarks: And We're Back
Featured Article: Right Size
Featured Resource: The Memorable Story / Write Your First Memoir Draft
---
Opening Remarks: And We're Back
Back from what? The break, the brink, or maybe just the big pause we might call a year of Covid? Not so fast. We aren't entirely done with the virus or the pandemic. But it does feel like we may finally be emerging from the worst.

Or are we? Experts tell us to be optimistic with the vaccines. And they caution against letting our guard down.

I must agree with that. Before we all rush to a pre-pandemic state of normalcy, let's look where we've been and remember that living one day at a time and being wise about the dangers of a virus is important. Even though I and many of my family members have been vaccinated we are still taking precautions. And that is wise. So, too, is the wisdom I hope we've all gained about what is important in our lives. Our lives matter and our stories matter. Thanks for reading this month's issue and I hope you find some inspiration and encouragement to tell your story.

---

Thank you so much for being part of the Your Life Is Your Story community. Thanks to all our subscribers. I hope you enjoy this month's issue.

You are receiving this e-zine because you signed up for it or someone who is subscribed passed it along to you. If a friend DID forward this to you consider subscribing by visiting our signup page . Also, let me know what you'd like to see more of in this newsletter – simply reply to this email e-zine.

– Tom
Featured Article: Right Size
---
By Tom Gilbert - Copyright © March, 2021

Maybe you have heard the expression, being right sized. I discovered the profound spiritual insight of "right sized" years ago. It means essentially that you humbly accept that you are no better and no less than who you truly are.

Now getting to that realization took a fair amount of work. Honestly, I had to go through something of a crisis and begin a process of recovery before I could recognize the truth. The truth I speak of is that we all on our life journeys face challenges. Some bigger than others. For me it was the realization that my life was unmanageable and that I was powerless over certain things that I, well, couldn't stop doing without help.

Some people want to proclaim that size matters and what they really mean is bigger is better. But that is not always the case. Sometimes it is true. Often it is not.

One of the things I've learned this past year is that there are many things that needed to be re-evaluated. Recognizing the real importance of money, food, shelter, family, friends and just the freedom to go places without all the restrictions we've necessarily been under during the Covid 19 pandemic.

In addition to helping people with life story work, I also am an elementary school teacher. And in a few days I will have students return in person to the classroom for the first time in over a year. It's going to be an adjustment. It's going to be a challenge. And it is also going to be an amazing opportunity. Being in the presence of young people and sharing experience, knowledge and encouragement is something I find deeply rewarding. Our class size will be smaller than normal. The physical distance between us during the day will be bigger than non-pandemic days. But it will all be worth it if we can achieve the right size of being. That size is not bigger or better than who we should be. And it also is not less than who we deserve to be.

It's going to be right. The right size.

You can read other life story articles here.


---
Featured Resource: The Memorable Story / Write Your First Memoir Draft
Since you are reading this newsletter you probably have at some time thought about writing your own life story. Many people want to tell their story in a memoir. It's an ambitious, yet achievable goal. But you need direction, help and inspiration.

I would like to suggest you investigate a program that can get you to write that first memoir draft.

This program will help you shape your story. It will help you in ways you may not have even considered. Longtime memoir mentor Denis LeDoux and The Memoir Network have been assisting people - everyday people like you and I - craft highly readable and profound life stories. I must give full disclosure that as an affiliate I will get compensated for anyone who purchases the Memorable Story / Write Your First Memoir Draft. But I tell you truthfully that I recommend the program not because it might earn me a few dollars. I do it because I believe strongly that people should preserve their story and this program will help you make that a reality. It really is a great investment in something very important - your story!

The enrollment is open now, but there is a significant discount through April 9. At least visit the site and read for yourself the many benefits, from the self-paced audio and written modules of instructions to the affirmations, memoir writing assignments and much more. Here's the link: here.
Closing Information
That's it for this month's issue. Thanks for reading. Be sure to visit our blog regularly, and here's to telling your story. Do give it some serious consideration because I just know you've got a great story to tell! Be sure to see the Get Started section.

Any comments, ideas or feedback is greatly appreciated. Just reply to this 'zine and tell me what you think!

Until next time, – keep your story alive!

Tom Gilbert
---