Digital Family History – Telling Your Life Story in Multi-Media on CD, Website, Ebook
Online or Hard Drive – Preserve Your Story in a Digital Format
We've already discussed the many ways of telling your life story. I'll admit there is a certain pleasure and comfort that comes from reading a book. There is the feel of the pages, the convenience of taking it with you. Still, today's technology is affording us some wonderful alternatives.

The computer age has been here long enough now that many take a PC for granted. It's surprising sometimes to recognize that twenty years ago this was an unusual or luxury item and just over ten years ago the Internet was a vast unknown.

Today there are desktop computers, laptops/notebooks, PDA's (personal digital assistants), wireless and broadband online connections, mobile phones ad nauseum. It's a high-tech world and we might as well get used to it.

Even if you are "old school" there are some real advantages to putting your life story into a form that is readily available on a computer and/or online.

It certainly makes it easier to edit. The files are stored there and you won't lose them as easily as discarded pieces of paper or worn and crumpled notebooks. (Do make backups!).

Having your story or your family history on a web site is pretty cool. Because you can combine text with some nice visual design (colors, layout, pictures and even audio!) the story of your life can come alive in ways that are limited by just print.
What's the Deal with E-Books?
I really like the advantage of e-books. What's that, you ask? An electronic book is a way to put the words into print in a digital format. The files are stored in code, like PDF files (what you see so commonly and read through the free Adobe Acrobat Reader - if you don't already have it on your computer get it now as a free download


E-books have become immensely popular, in some cases outstripping sales of printed books. E-readers, like the Kindle and Nook, are selling well. The cost of an e-book is much less than traditional printing, certainly for the writer/publisher, and often for the consumer. Putting your life story into an e-book format can have some real advantages.

***Note: If you want a better idea of what an e-book is like you can find many free ones throughout the World Wide Web. Of course, I've mentioned how great the Memorygrabber e-book is as a life story/family history tool. You can purchase it and download it right away here. The value is many times the price.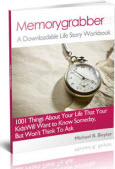 You can also take the Memorygrabber e-book for a test drive. Download a free trial sample here.

The Family History Jumpstart e-book is a great way to get started in preserving family history, and there is even a way to brand the book to your site to promote traffic for your online efforts!


You can download a free copy from us here!
---
Put Your Story or Family History Online
Web sites are a great way to share family stories and history. It can be one person as the "webmaster" or get several involved. It really isn't as hard or intimidating to create a web site as you might think. Especially when you have those who specifically cater to this service.



Write and Build Your Life Story Online!



Use the free

I'm a Story

(imastory.com) website to write and post your memoir or life story. Or interview a family member and write about them. You can keep it private or share it with the world.

Rolland Love

, a fine writer himself, is the man behind

I'm a Story

and his mission is to get people to preserve life stories.


Another option is America's Footprint. This is one of the newer membership websites that enables you to create a digital legacy, a time capsule if you will, of your life story. It is stores safely online, with full privacy protection, your writing, pictures, memories and more for you and future generations. There is plenty of helpful guidance, along with a blog full of inspirational stories, so that you can get started on developing your own digital legacy. Get more information here.

Find what works best for you. Maybe it is using one of these services. Perhaps you will simply find some web space and build a site from scratch. Be sure to come back here often as we offer additional help.
---
***Tip***
You can build great web sites for your biography, life story, family history or for any purpose (especially one that brings lots of great traffic to your site) by using Site Build It! - see more.
It's what I use for this site and if you are serious about establishing a real Internet presence and/or online business go here to find out more.


---
Online Tribute Sites
The growing trend of tribute online sites for those who have passed on is another option. These memorials in cyberspace are the focus of Legacy.com and Livingtributes.com.


I'm also willing to give you some personal direction and answer your questions. Feel free to drop me an email.
---
Everybody has a story to tell!
Your-Life-Your-Story.com
Copyright © 2003 - 2022 All rights reserved
Email Tom Gilbert