Home
---
What Story and Why
---
How to Tell
---
What's New
---
Blog
---
Research is Fun
---
Get Started
---
Highlight Site
---
Sample Writing
---
Free Newsletter
---
Articles
---
About
---
Contact Us
---
Privacy Terms
---
[?] Subscribe To
This Site

The Finish Line
Article by Tom Gilbert
(written and © January, 2007)

Running a marathon is a big accomplishment. Less than one percent of the population ever does it. You don't just get up one day, lace up your shoes and run that far. Twenty-six miles is a long distance and should be respected.

Running a marathon is also a lot like life. You don't sprint through life; you are in it for the long run and the goal at the finish line is to have lived well.

I recently completed a full marathon. The weather was unusually cold on race day. It was a Sunday morning in Phoenix, Arizona and the thermometer read 29 degrees. According to the city records it was the coldest day in seventeen years. Still, after training for several months I was prepared and I felt ready. Besides, it wasn't nearly as cold as it had been in Albuquerque the last month.

The

P. F. Chang Arizona Rock n' Roll Marathon

is one of the most popular in the world. The number of entries was staggering. Between the half marathon and the full there were over 37,000 runners and walkers. This was my second event with

Team in Training

, the world's largest endurance training program. The coaches and volunteers of this organization raise funds for research and improved patient aid for those battling Leukemia, Lymphoma and other blood cancers. Over the years they have raised million dollars for the

Leukemia and Lymphoma Society

(more here).

It takes a great deal of motivation to run a full marathon. My drive came, in part, from successfully completing a half marathon in San Diego with

Team in Training

. Participating in that event opened my eyes, and my heart, to how running long distance races can be a great personal accomplishment as well as a way to support a worthy cause.

My other reason for running was that I, like many others, know what it is like to lose a loved one to cancer. My brother-in-law, Rob, died from Leukemia in 1989. And my mother succumbed to pancreatic cancer in June of 2006.

I was also working in the radio industry and our station promoted Team in Training and encouraged others to participate. It seemed like a good idea to personally accept the challenge of training and running. And it has been both difficult and extremely rewarding.

All along the course in Phoenix there were people cheering us on. Many people were running for charitable causes. But it was my impression the largest group of supporters was there for the Team in Training participants. You couldn't miss us in our vibrant purple shirts and It felt really great whenever people would clap, yell and cheer us on. Many held up signs of support. The greatest incentives were the ones that caused big lumps in my throat. From time to time I'd run by someone holding a sign or wearing a shirt that read, "I'm a cancer survivor".

It is true that you hit what is referred to as "the wall" in the latter miles of a marathon. About mile 21 or 22 the debate began in my head. I began to question whether I could actually finish. What kept me going was a combination of prayer, positive thinking, remembering all the long training runs, thinking about the everyday pain and challenges that cancer patients go through, and mostly just chanting "Rob, Mom – Rob, Mom".

My son called me on my cell phone right as I was reaching the 25th mile. It was good to hear his encouragement. I knew that he and my wife were waiting at the finish line. I knew that others were keeping it up, running and reaching the finish line. And I knew there were people at that very moment crossing the finish line of their life. Sadly, every ten minutes a person dies from cancer. Many do it with remarkable courage. It's important to finish, and if you can, finish strong.

Around the final bend I saw the band of balloons stretched over the finish line and the many people cheering as we approached the end of our long, hard run. My legs and feet were aching, but from somewhere deep inside came a sudden drive and my stride began to lengthen and my pace quickened. As I crossed the finish line with arms in the air I knew that this was something much bigger than a personal accomplishment. This was a celebration of life and spirit.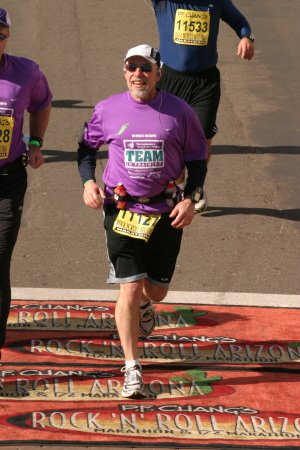 ---
Back to the Articles Page
Return to the Home Page
---