Life Lessons from "A Soldier's Passage"
Life lessons can be learned from the passing of elders as shown in Paul Ingles' loving tribute to his father with the film, "A Soldier's Passage".

Anyone who has been present for the final breaths of a loved one's long life understands that it is a transformational experience.
Death comes to us all and if we are fortunate enough to be surrounded by loving family members then it can be a very holy moment.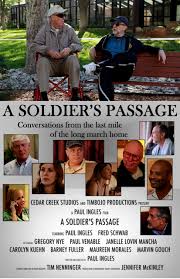 For Paul Ingles, writer/director/actor in A Soldier's Passage - Conversations from the last mile of the long march home, witnessing the passing of his father was a gift, one he says was "the most profound experience I've ever experienced."
Ingles' based his first feature-length film on the final months of an elder's life and he also played himself in the mostly true re-enactment of the final months and eventual passing of his WWII veteran father.
Paul changes the names of family members and other key people, such as his therapist who helps him through the process of those final months, but clearly the real life events on which the docu-drama is based contains many meaningful life lessons.
Among those lessons, learned through the great teacher, experience, is patience when elders begun to struggle with end-of-life physical, mental and emotional trials.
We must be patient with the elder and also with ourselves.
Dying is part of living, and for those who live long lives and eventually pass from the complications of old age or disease, it's a process.
The film moves at a deliberate and sometimes slow pace. This gives it plenty of time to develop the story of a man facing the impending end of a long life.
The "old soldier" is in decline and he's dealing with both the frustrations of a body that no longer allows him to be independent and also the anxiety and eventual desire for the end to come.
Support from family members, with all it's sacrifice and emotional toll, is explored.

The father is able to open up about his marriage and parenting. He remembers some of the frightening events from his war experience as part of General Patton's army in the Battle of the Bulge.
He also relishes his lifelong love of baseball and his favorite team, the Boston Red Sox, who finally won a world series in his lifetime.
In the end we find we've been privy to some intimate moments.
Those moments can be personal treasurers, as I've experienced with the passing of my own parents.
For those interested in exploring A Soldier's Passage more deeply, you can view the entire film as well as some excerpts on YouTube here.