The Pilot Who Soared on Eagles Wings
In memory of my father, Thomas M. Gilbert, Jr.
written January 20, 2012 by Tom Gilbert, son.
My father, Thomas M. Gilbert Junior, USAF Colonel and pilot
My dad served 26 years in the United States Air Force. He loved to fly! He often remarked that he couldn't believe his good fortune at being paid to do it for so many years.
---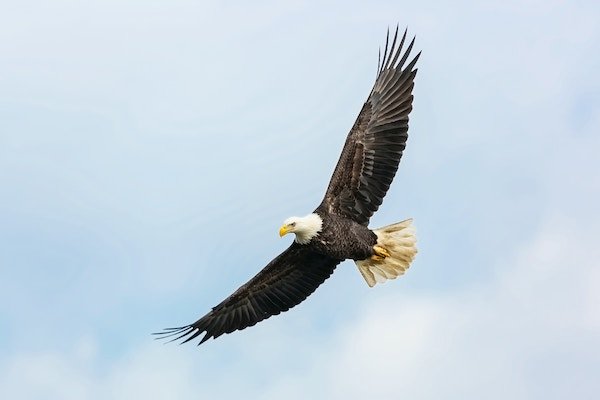 Photo by Mathew Schwartz on Unsplash
Dad also had a strong faith, but it came after many years of seeking and as a result of some significant spiritual experiences. One of his favorite Bible verses comes from Isaiah 40:31, "those who hope in the Lord will renew their strength. They will soar on wings like eagles".
That verse really spoke to him. I can only imagine what it must have been like to soar through the clouds at twice the speed of sound in a big bomber jet.
Dad passed away a few days ago on January 14, 2012. He'd been sick and in and out of the hospital the past few months. It became clearer to family that his time on earth was nearing an end.
My sister, Leslie, lives in Kansas City and so was able to keep tabs on Dad and let us know how things were going. Brother Doug in Virginia and I in Albuquerque made the wise decision in November to book a flight to visit. We chose the Martin Luther King, Jr. holiday weekend. It would give us a three day weekend and seemed like good timing. We had no idea just how good the timing would be!

When we got to town and went to see Dad we discovered that he'd been moved from the rehabilitation hospital back to St. Joseph's Emergency Department. Apparently he'd gone into respiratory distress again.
We arrived and saw him and conferred with doctors. After the last time he'd been hospitalized and intubated. It was necessary so he could breathe on a ventilator.
But not this time as we'd discovered that wasn't his wishes. Dad didn't want any more heroic measures.
So he was moved to the intensive care unit and we spent the rest of the day with him. He was made as comfortable as possible and we were with him through that holy time as his breathing slowed and he eventually died peacefully.
Oh, it is impossible to describe, but it was amazing to surround him with love and for all of us to be there. I sure hope when my time comes that I may have such a loving passing.
---
To really know my father you had to appreciate his two sides.
One was the tough and authoritarian Air Force Colonel. The other was softer and often silly.
At Christmas time he'd put a bow on his head from one of the presents. He could giggle, snuggle and crack puns. And he loved animals. There were many dogs and cats over the years.
One of his most beloved pets was Peachy the parakeet. That little bird would hop onto the edge of Dad's glass and sometimes take a sip. Once it was a martini and Peachy fell in! Guess he got a bit tipsy. When Peachy died Dad cried real tears and it was one of the first times I heard him remark, "My face is leaking."
---
My father was a decorated war hero in Vietnam and had a few harrowing combat missions.
One time he had a wing catch on fire and barely made it back to base. Another time his wingman was blown out of the sky by an anti-aircraft missile. This enraged him and he flew back and strafed the missile site with his F-4 machine guns, having previously used up his weapon payload.
He took out the site and then made a vertical ascent to get away. He blacked out from the G-forces, but a voice he later attributed to Mary, the Blessed Mother, told him, "Tom, wake up!". He came to and was able to regain control of the jet.

My father wasn't a Catholic at the time of this experience and was still sort of seeking. The rest of the family had already converted and Dad used to tease us when we'd go to mass, telling us to "say hello to Mary" for him. It seems Mary was answering.
After Vietnam Dad went through a conversion, became a devout Catholic and got very involved in his church and helping the Sanctuary of Hope Retreat Center.

I'm sure his faith served him well in his final days. We've all gained insight and strength from the stories about him and the time we've spent together to honor him at his funeral.
---

My Dad
Dad also really had his affairs well prepared before death. This makes a huge difference and is a big help to a family. You should certainly plan your legacy and how you will help your loved ones when your time to die comes along.

Soaring on eagle's wings; the rank insignia for a full Colonel is an Eagle. How appropriate for a pilot who loved to fly. I picture him now flying above the clouds, at peace after a good, long life of 83 years.

| obituary of Thomas M. Gilbert, Jr. here on Legacy.com|