Home
---
What Story and Why
---
How to Tell
---
What's New
---
Blog
---
Research is Fun
---
Get Started
---
Highlight Site
---
Sample Writing
---
Free Newsletter
---
Articles
---
About
---
Contact Us
---
Privacy Terms
---
[?] Subscribe To
This Site

Under the Hood

Searching out your life memories with a "checkup from the neckup"
Article by Tom Gilbert © May 31, 2012



I swear I found the key to the universe in the engine of an old parked car

. Bruce Springsteen from "Growin' Up"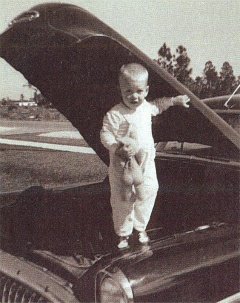 Leslie, my sister, found this picture of me when I was in Kansas City for my father's funeral in January. It is dated February of 1958. That would put my age at two years and a couple of months. I am holding my beloved "Ted Bear" that I dragged everywhere. As you can see, I am standing under the hood of our family car, one of those big old Buicks, a big, solid car.

I have never been very good at working on cars. But I certainly admire those who have the knack. My brother, Doug, is one. So is a friend of mine. Paul is not only handy with a wrench and knowledgeable about cars – he actually likes tinkering with them. Imagine that – I always look at it as a chore! At any rate, it makes me feel less guilty when he offers to do some repairs that normally would be cost prohibitive at the auto shop. Sure, I pay for the parts and give him something for his time, but nothing like the fees I'd incur at the neighborhood mechanic. There are times and jobs when I go to them, too, mind you. But the bonus of getting together with a friend or family member to spend some time under the hood of your ride can create important memories. Even those you laugh at now, but caused a lot of grief at the time, like breaking a bolt or a belt.

The metaphor of standing under the hood got me thinking. What is "under the hood", i.e. inside our heads? We all have things that "drive" us. Our personal "horse power" helps us accomplish goals and pursue dreams. As I gaze down the tunnel of time I can't help but wonder about this young Tom. Surely I am full of wonder, like any two year old boy.

I have a two year old grandson and he is a joy...and a challenge. My wife watches him during the work day and tells me Jacob definitely knows what he wants. I love being around him when I can. He's getting quite talkative and cracks me up when he snorts like a pig or points out something in the sky he spies with his keen, young eyes. I can't remember times like that with my granddad, but I'm sure they happened.

What do you want out of life? How have the years and experiences shaped you? Have you started writing any of it down? Get "under the hood" of your life experiences. A good personal historian can be like a trusted mechanic. We can analyze your life experiences with professional detachment while being empathetic and encouraging. We can point out where you might need a topic checkup, such as playing sports ("What happened when your friends picked teams? Did you get picked early or last?"). Or perhaps when reminiscing about your school days ("Did you always do your homework, or did you procrastinate until the very end?").

Personal Historians can help you fine tune your memories. Your life story matters. Go for a "drive" down the highways and byways of your life and let a personal historian be your navigator.