Veterans History Project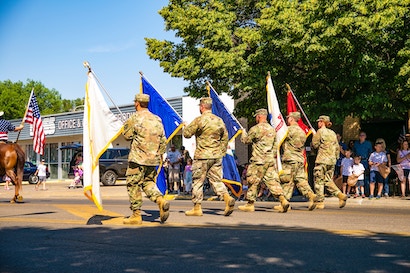 Photo by Ian MacDonald on Unsplash
In the United States there are thousands of American Veterans, men and women who have served their country in various 20th century wars. Each of them has a story, often a vivid and heartfelt account that is not a history of war but personal recollections that make us laugh, cry and remember.
The Veterans History Project collects and preserves the extraordinary wartime stories of ordinary people. It is a project of the American Folklore Center of the Library of Congress. The United States Congress created the Veterans History Project in 2000 and it is an ongoing project. It received a great boost of publicity from the release of "The War: A Ken Burns Film", the in-depth documentary that aired on PBS Television. Another documentary by Burns on the Vietnam War makes it even more apparent how important it is to preserve the stories of veterans.

This is an incredibly important endeavor; more so because so many veterans are elderly and there is an urgency to gather their stories.
The Veterans History Project relies on volunteers to interview, record, compile and donate materials. All are encouraged to participate: veterans, civilians, adults, young people, men, women, scholars, students, amateurs, and experts. In turn, participants can rely on the Library of Congress to preserve, catalog, and share these collections now and in the future.
The stories can be told through personal narratives in written form, audio oral history or video-taped interviews. Also valuable are correspondence such as letters, postcards and personal diaries. Visual materials are also helpful including photographs, scrapbooks and drawings.

Veterans History Project
---
Anyone can help preserve a veteran's personal history. The Veterans History Project website has a great deal of information on how to collect story information and submit it to them. You can even submit a story online. Start by viewing the VHP Field Kit Companion Video.
Another wonderful aspect of the Veterans History Project site is the opportunity to discover some of the many stories that you can read and view. These compelling accounts of wartime service are from men and women, civilian and military, representing many ranks, jobs, branches of service, and theaters of war. Their stories — told in their own words through letters, diaries, and oral history interviews — teach us, amuse us, and inspire us. They also sometimes sadden us, with tales of lost lives, lost time, and lost innocence, all in service to our country.
November is the month we remember those who've served with Veterans Day (November 11). We also recognize the many members of our Armed Forces currently deployed around the world.
Memorial Day on the last Monday of each May is another day to remember and honor veterans, those who gave their lives in the service of the country.

I hope you will visit the Veterans History Project website and also consider being a part of it.