Greetings



"Your past is your story up to now. The future is the story yet to come. The present is where you live with that experience, your hopes and your dreams."
---


Your Life is Your Story Newsletter

May 13, 2009
Issue #065 – May may be the month

From Tom Gilbert – Editor and Writer, www.your-life-your-story.com

In this Issue:

Opening remarks: May may be the month
Featured Article: May Is Personal History Awareness Month
Resources You Can Use
---
Opening Remarks: May may be the month
The month of May is special for personal historians. But this year it has been extra special for me.

Every May is Personal History Month, as recognized by the Association of Personal Historians. Mother's Day was May 10. May 16 is International Storytelling Day. The theme this year is about human rights and immigration.

Canada has Victoria Day on May 18th. And a special day of remembrance is May 25th, Memorial Day.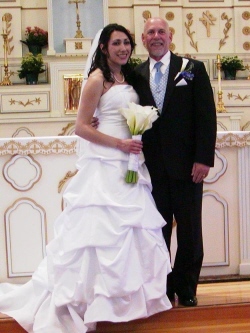 But May 2 was a day that I will always treasure. My daughter married and it was truly a beautiful and blessed occasion. Walking her down the aisle I was bursting with pride. I'm excited for this new part of her life with her husband, Nathan. And I've gained a son-in-law. Family is so important. And so is preserving your family history.
---
You are receiving this e-zine because you signed up for it or someone who is subscribed passed it along to you. If a friend DID forward this to you consider subscribing by visiting our signup page . Also, let me know what you'd like to see more of in this newsletter – simply reply to this email e-zine.
While the main focus of this newsletter is to share thoughts, ideas, and insights on life story writing you should know that I offer various services and also mention some products and services that can be helpful. You are under no obligation to purchase anything, but if any of these products or services are helpful and you decide to utilize them then I am most grateful.
Thanks for reading. – Tom
---
Featured Article: May Is Personal History Awareness Month
Article by Tom Gilbert - Copyright © May, 2009

The month of May is set aside by personal historians as the month to generate awareness about the importance of personal history. The Association of Personal Historians (APH ) officially recognizes this month and encourages people to do something to preserve their personal and/or family history.

I consider life story capture to be something of a personal mission. Everyone has a story and I think it is so important for us to record, preserve and validate our stories. How will people remember you, your parents, your grandparents and other ancestors?

Did you know that most people today cannot name their great-grandparents?

Does that give you pause? It should. Because that means your great-grandchildren may not know anything about you.

Unless, that is, you do something to preserve your story (and the stories of your family).

When it comes right down to it, the history that we know is basically biographies of other people. Significant historical events are recalled through the memories of those who lived through them. Ask those who grew up during the Great Depression. Ask yourself about September 11, 2001. You can easily get the idea.

Many people get overwhelmed when they begin to contemplate a life story project. I can sympathize. But that's no excuse for not doing something. Any project begins with some basic steps. The way to get started is to – get started!

You can read other articles on life-story writing here.
---
Resources You Can Use
There are many ways to capture your life story. Your Life Is Your Story can show you how to use different means, such as the MemoryGrabber, MemoryPress, Priceless Legacy Company, Journal Software as well as recommended books about memoir and writing your life story.

Check out these family and personal history/life story services and I look forward to working with you to capture your life story.
Closing Information
That's it for this month's issue. Thanks for reading. Be sure to visit our blog regularly, and here's to telling your story. Do give it some serious consideration because I just know you've got a great story to tell! Be sure to see the Get Started section.

Any comments, ideas or feedback is greatly appreciated. Just reply to this 'zine and tell me what you think!

Until next time, – keep your story alive!

Tom Gilbert
---