Greetings



"Your past is your story up to now. The future is the story yet to come. The present is where you live with that experience, your hopes and your dreams."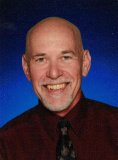 ---


Your Life is Your Story Newsletter

September 23, 2013
Issue #109 – Photo Stories

From Tom Gilbert – Editor and Writer, www.your-life-your-story.com

In this Issue:

Opening remarks: Bad to the Bone
Featured Article: Photo Stories
Featured Resource: Memory Grabber; Memoir Network
---
Opening Remarks: Bad to the Bone
Albuquerque, New Mexico has been my home for two different periods of my life. 1979 to 1987 I worked at a radio station, the first eight years of my professional broadcasting career. When I moved to Southern California in May of '87 it began a ten year run in five markets. My wife is from New Mexico and she wasn't so fond of all that moving around. When the opportunity came to move back to Albuquerque in 1997 I jumped at the chance.

For the past 16 years I've enjoyed living here in the Southwest. My children have grown up, I've had a few different jobs and now work as a 5th grade teacher. My wife and I enjoy our grandkids and we also have enjoyed from the start the amazing television drama, Breaking Bad. The show has become a favorite of many people and is full of intrigue and fascinating characters. It's a bit dark, but highly entertaining. I was happy to see it win the Best Drama award on the Emmy's last night. And thanks to the show creator, Vince Gilligan, for the shout out to Albuquerque.
---
Thank you to all our subscribers. I hope you enjoy this month's issue. You are receiving this e-zine because you signed up for it or someone who is subscribed passed it along to you. If a friend DID forward this to you consider subscribing by visiting our signup page . Also, let me know what you'd like to see more of in this newsletter – simply reply to this email e-zine.
While the main focus of this newsletter is to share thoughts, ideas, and insights on life story writing you should know that I offer various services and also mention some products and services that can be helpful. You are under no obligation to purchase anything, but if any of these products or services are helpful and you decide to utilize them then I am most grateful.
Thanks for reading. – Tom
---
Featured Article: Photo Stories
By Tom Gilbert - Copyright © September, 2013

Every picture tells a story and telling your story with pictures from various stages of your life has become a very popular way to preserve memories.

If you search the Internet for photo books you will discover a number of options. While I am no expert on these various providers it appears that there are many affordable and easy-to-use choices. A few options include Mixbook, Smilebox, Snapfish, Picaboo and Shutterfly. When you visit these providers' websites you will typically find all the information you need to upload your photos, add text and utilize a wide variety of template or custom options. Prices range from some discounted $10 to $20 smaller books to a $100 or more for higher quality books with lay-flat pages and attractive coffee book styles.

While I focus mostly on the written narratives in my life story work, I do believe photographs aptly placed throughout a printed memoir, autobiography or family history is important. The pictures can transport you back in time or create an emotional bond to a story. Spectacular sights, such as a great sunset or breathtaking view, can inspire and delight.
Recently I snapped this picture on an early morning walk with my dog, Shadow. I love how the sky is painted with the pink, orange and yellows across clouds bathed in dawn's early light. My iPhone actually did an impressive job of capturing this view. I even shared the photo with my 5th grade students and had them all do drawings of it to display at our state fair.
---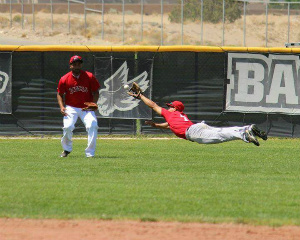 I have a nephew who is a pretty good baseball player. I've enjoyed watching him grow from a tiny tot to a man. He really blossomed in high school ball. One of his exploits is forever etched in my memory when he hit a first pitch fastball in a line drive over the left field fence for a grand slam home run. Now in his junior year of college he continues to impress with his hitting and defensive prowess. He probably won't play major league baseball, but as far as I'm concerned he's an elite player, as demonstrated by this picture of him in full horizontal extension an instant before he caught the ball. The photographer's eye captured a great shot.

Every picture does tell a story, one worth a thousand or more words. Look through your photo albums. Consider how you will use some of them in your life story work. If you aren't creating a photo book you can still post pictures online or in other media. Chris Wells of Life Legacy Photography creates wonderful legacy photo streams. You may also want to investigate Legacy Stories where you can upload photographs and record short audio narrations.

As you can see from this article there are many ways to preserve memories through your photos and the stories we are reminded of as we gaze down the lens of time. You can read other life story articles here.
---
Featured Resources
Memorygrabber
Bringing memories to mind from your past can sometimes be a struggle. That's why The Memorygrabber by Michael Boyter is such an excellent tool. This extremely informative and helpful e-book will guide you through various times in your life, and help you compile lists that you will refer to time and again as you construct your life story. Grab those memories with the very affordable Memorygrabber from Family History Products. Go here for more information.
Memoir Network
The Memoir Network has been busy with a number of special offers and Denis Ledoux has been writing quite a few articles that he shares on his site. I continue to refer to his excellent Turning Memories Into Memoirs book in my personal history work. Over the years this book has steadily sold and it has proven to be a useful how-to guide to personal life story writers. You can get more information here.
Closing Information
That's it for this month's issue. Thanks for reading. Be sure to visit our blog regularly, and here's to telling your story. Do give it some serious consideration because I just know you've got a great story to tell! Be sure to see the Get Started section.

Any comments, ideas or feedback is greatly appreciated. Just reply to this 'zine and tell me what you think!

Until next time, – keep your story alive!

Tom Gilbert
---