The "Your Life is Your Story" Blog Archives
Read about quality family history and life story news, views, methods, products, links, services

...and whatever else catches our fancy
May-June, 2005
current blog entries
blog archive index
---
June 22, 2005

There is no question that the world and our lives have changed because of computers and technology. Such technology could not exist without the integrated circuit. The inventor was a tall (6 foot 6 inches) and quiet man who was hired by Texas Instruments in 1958. His work led to the development of the microchip and now we use computers and other devices with tiny chips, powerful memory and blazing processing speeds to do many things we take for granted.

Jack Kilby passed away at the age of 81 on Monday. There are only a handful of people who could rightly be considered a person who changed the course of history. Kilby is right up there with Thomas Edison, the Wright Brothers and Henry Ford. His work was widely recognized and acclaimed, including the Nobel Prize in Physics in 2000. You can read an interesting piece by John Markoff of the New York Times on Jack Kilby here.
---
June 15, 2005

Yesterday I remarked about my parent's 54th wedding anniversary. That's pretty good. However, today I saw a news story about Percy Arrowsmith. He just passed away at the age of 105. His wife is 100 which made them the oldest married couple in the world. They celebrated their 80th anniversary on June 1!. Story here.
---
June 14, 2005

On this day in 1775 the U.S. Army was established. Two years later on the same day Congress adopted the Stars and Stripes as our official flag - hence Flag Day.

On June 14, 1951, the U.S. Census Bureau dedicates UNIVAC, the world's first commercially produced electronic digital computer. UNIVAC, which stood for Universal Automatic Computer, was developed by J. Presper Eckert and John Mauchly, makers of ENIAC, the first general-purpose electronic digital computer. These giant computers, which used thousands of vacuum tubes for computation, were the forerunners of today's digital computers. (from the History Channel) However, the same day is better known in my family as the day my parents - Thomas Marshall Gilbert, Jr. and Jeanne Brainerd - wed. 54 years is a pretty good start!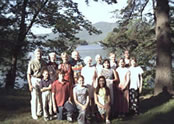 Back in June of 2001 we held a family reunion for their 50th anniversary at beautful Lake George, New York. I wrote a dedication to them, "50 Years On" that you can read here.






---
June 9, 2005

One of the greatest autobiographies written comes from the pen of the great American statesman, Benjamin Franklin. He wrote, "If you would not be forgotten, as soon as you are dead and rotten, either write things worth reading, or do things worth the writing." Certainly he did many things worth reading about. You can view his autobiography on line here.
---
June 8, 2005

Another prominent actress has passed away, succombing to cancer on Monday. Anne Bancroft was successful on stage and screen and one of the few actors with Tony, Emmy and Oscar awards. Most will remember her from The Graduate with Dustin Hoffman. She had many other notable roles including her Oscar winning performance in The Miracle Worker.

I figure Anne must have had a wonderful sense of humor to be married to Mel Brooks. In an industry where relationships rarely last several years she and Brooks were together forty years. Reportedly Mel Brooks had a passerby serve as a witness when the wedding ceremony was held in New York County Hall.

Anne Bancroft was 73. Peter Marks Washington Post article is interesting - here.
---
June 5, 2005

"Change your thoughts and you change your world."
-- Norman Vincent Peale

What do you think about most of the time? Are you filled with worries and anxieties about all the problems and challenges you face? Are you constantly thinking of work, even on your days off, or worse, on vacation? Are you thinking about yourself — or what you can bring to life?

People who are involved in daily living and being part of other people's lives have richer and more rewarding experiences. I understand how easy it is to get trapped in the tyranny of the "things we need to do". But we must remember that some of the things we need to do involve appreciating life, especially the things we take for granted.

As you build the memories you treasure in years to come take the time to slow down and be with the ones you love. Step out and take a few risks. Get involved with helping others, especially those who would benefit from the special gifts and talents you have. It's the saying, "you can't keep it unless you give it away". Counter-intuitive? Yes, but when you do it you'll find that others will be grateful for your service. And you will find life is bigger and better than you thought.
---
May 25, 2005

Pairing up young people with elders in a community has led to some fascinating sharing of life stories for a group of participants in Encinitas, California. Lois Sunrich is the founder of "Legacies: Encinitas Youth Elder Story Arts Project."

You can read an online article on the project by By Amanda Daniels of the Union-Tribune. Lois Sunrich has her StoryArts, Inc site which includes more info about the Legacies projects.
---
May 24, 2005

You may have heard of StoryCorps. I featured them as a previous Highlight Site (here). They have a recording booth set up in Grand Central Station (New York City) and people can go in and record their story and get a CD copy of it - a short and quick oral history.

StoryCorps is evidently taking the concept on the road with two mobile recording units, so you might want to watch for it in a city near you. They plan to have a MobileBooth blog to chronicle their journeys. See more here.
---
May 19, 2005

Rick Kamen is a personal history writer and his featured product is what he calls "Heirloom Stories". It's best exemplified by his book about his dad, The Harness Maker's Son.

The book has several chapters of short stories and life incidents that frequently have a moral lesson. Rick's father learned a lot from his father and those lessons are a big part of this book. If you visit Heirloom Stories you can sign up to have some of those stories emailed free to you, or you can purchase the book. I don't get financial gain from directing you there. I just think it's a neat deal.

Rick's father, Jack Kamen, passed away last week at the age of 91. Good thing Rick Kamen had the foresight to record his father's life stories.
---
May 2, 2005

Imagine that you know that in a day or so you and many of your friends, family members and neighbors will die. You will be rounded up by an army and taken to a death camp. With this knowledge you decide to write a letter to your son and in it review your life and how you are now facing death.

This is the story of a Russian Jewish woman living in a Ukrainian city seized by the Germans in 1941 and writes her son a final letter. You can watch the moving tale on a new episode of INDEPENDENT LENS on PBS. Go here to check your local listings and to get more information.

---
Everybody has a story to tell!
Your-Life-Your-Story.com
Copyright © 2003 - 2008 All rights reserved
Email Tom Gilbert
---