Home
---
What Story and Why
---
How to Tell
---
What's New
---
Blog
---
Life Story Resources
---
Research is Fun
---
Get Started
---
Highlight Site
---
Sample Writing
---
Free Newsletter
---
Articles
---
About
---
Contact Us
---
Privacy Terms
---
[?] Subscribe To
This Site
The "Your Life is Your Story" Blog

©
Tom Gilbert
Read about quality family history and life story news, views, methods, products, links, services

...and whatever else catches our fancy

Read past entries - see the blog archive index
---
Born Dead on a Winter's Night Memoir

August 24, 2016

Rolland Love is a bit of a modern day Mark Twain. He's adventurous and likes to fish and the outdoors. He's been involved in re-enacting the Lewis and Clark expedition. He teaches about life stories. And he spins some very engaging tales. I've used his novel,

Blue Hole

, in my 5th grade classes for a few years.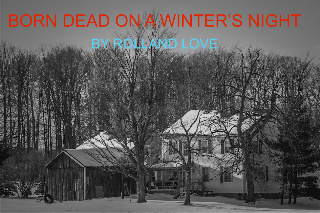 Now he has released his memoir,

Born Dead on a Winter's Night

and it is garnering lots of good reviews. If you want to check it out he is currently presenting it a few chapters at a time during August and September. It's an opportunity to read it for free in serialization form (more here). I'm thinking of having my 5th graders read it as part of my lessons on personal narrative writing.

"There was never yet an uninteresting life. Such a thing is an impossibility. Inside of the dullest exterior there is a drama, a comedy, and a tragedy."
—Mark Twain.

---

Simone Biles Has a Story of Gold

August 15, 2016

One of the greatest stories to emerge from the 2016 Summer Olympic Games in Rio de Janeiro is that of gymnastic dynamo Simone Biles. If you have been following the events you know that she is being called the greatest female gymnast ever. Already she has won three gold medals and has a shot at more. And she is only 19!


But to know her story is to know the

real

gold. She had a rough start to life. Her father had abandoned the family and she never knew him. Her mother was addicted to drugs and alcohol and Simone and her younger sister spent time in foster care before her grandparents stepped in and eventually adopted and raised them. That was a fortuitous twist of fate. The grandparents assumed the role of parents at a time in life when most parents are thinking about retirement. It was a sacrifice, but they have a strong faith and they passed that on to the girls. (see more with this story at the Daily Mail)

Simone Biles is 4 feet 8 inches, petite, but muscular and incredibly talented. She had to work very hard to develop that talent. The amount of time an elite athlete must train and the stamina and perseverance to make the Olympic team is incredible. What a great story and a shining light to others! Simone Biles has a real story of gold, more than the medals and world titles she is achieving.

---

A Golden Anniversary for Beatles Revolver Album

August 8, 2016


The Beatles are arguably the most influential rock band of all time. Their songwriting and creativity were outstanding in their relatively short recording span of seven years. When they released their seventh album it was clear the group had taken both studio recording and songwriting to a new level. Yes,

Rubber Soul

set the stage, but 50 years later

Revolver

is still considered one of the greatest albums ever. Many would say it is the Beatles' best.

Every song is a gem; there are no duds. Highlights for me include

Taxman, Eleanor Rigby, Good Day Sunshine, Here,There and Everywhere

and

She Said, She Said

. But no complaints on any other tracks, including

Got To Get You Into My Life, I'm Only Sleeping

and

For No One

.

If you visit The Beatles official website you can find plenty of info about Revolver, including a video clip, "The Making Of Revolver". But you can go even more in-depth with an excellent special by Beatles audiophile and radio broadcaster/ producer Paul Ingles.

Everything Was Right: The Beatles' Revolver

has stories from various people connected to the album, the band and also comments from some other musical artists, all articulating why the album was so good along with some little known facts. One of those tidbits is that the name of the album, "Revolver", had nothing to do with guns. It was a play on words - an album spins on a turntable, so this LP was a "revolver".

It's remarkable for me to realize that we are fifty years removed from this incredibly cultural and artistic creative period of the mid-1960's. This album more than withstands the test of time. If anything, it might be better with age!

---

Gobi, the Ultra Running Dog

August 5, 2016

This is a tale of a dog unlike any other I've heard. It starts by admiring the amazing physical accomplishments of ultra-marathon runners. I do a bit of long distance running myself and have completed a couple of full marathons (26.2 miles) and about a doze half marathons. It takes a lot of training, stamina and perseverance. But some runners will go on races that are a hundred miles or more, often in extreme conditions.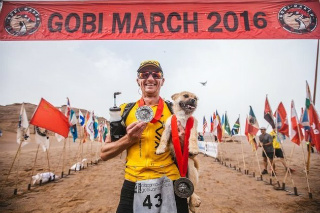 Such was the case of Dion Leonard, a Scottish ultra-marathon runner. He was in the middle of running a 155 mile race across the Gobi desert in China. I guess you might not blame him if he started hallucinating. But what he saw was not an illusion. On day two of the race a stray pup ran up alongside him. She stayed with him for a few days and ran over 77 miles! They became fast friends and Leonard pretty much saw this as a sign that the dog and he were meant to be together.

It turns out that would not be so easy. The expense and time (over $5,000 and four months to get medical clearance, including a period of quarantine) before this remarkbale little dog could join him in Scotland was quite extensive.

After running a crowd-funding campaign and utiliing the power of social media (there is a Facebook page) plans are underway for Gobi, what he appropriately named the dog, to join him at home by Christmas. Read more of this remarkable story here on Huffington Post.

---

You Don't Have to Agree to Listen

July 31, 2016

Let's face it - as soon as we disagree with someone it becomes really hard to listen. We get defensive, on edge, start blocking out what they are saying and considering our counter response. It reminds me of the old Saturday Night Live skit with Jane Curtin and Dan Akroyd (here).

So how do we listen when we disagree? This was on Benjamin Mathes' mind as he stood outside the Republican National Convention holding a "Free Listening" sign.

He wrote a great post about this and one of the key points he made was that we need to first get the story about the person we disagree with (their biography, where they are coming from) so you can open up the real possibility of understanding.

We don't have to agree in order to listen. Asking someone to tell you their story, how they came to their point of view, is much more respectable than lashing out with your counterpoint and can help both parties grow. As Stephen Covey's 7 Habits teach, as well as the prayer of St. Francis, "seek first to understand, then to be understood".

---

David Bald Eagle - An Amazing Life by a True American

July 28, 2016

I learned about a remarkable man who passed away last Friday at the age of 97. This man lived an extraordinary life. Some of his experiences included being a musician, professional baseball player, champion ballroom dancer, rodeo cowboy, movie stunt double, actor, tribal chief and war hero.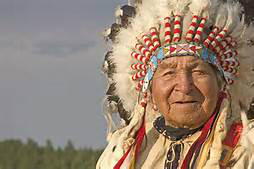 The biggest clue in all of that is tribal chief. Here was a real American. This Lakota man, David Bald Eagle, has left quite a legacy and, I think, example for the rest of us. In his amazing life he had plenty of heartbreak including parachuting behind enemy lines in the Normandy invasion during World War II and being shot so severely he nearly died. In fact, the first medics to reach him left him for dead, but fortunately sometime later British troops came across him and discovered a faint pulse and saved his life. He was apparently a very brave soldier. I think one of his heroic acts was re-enlisting. He'd been discharged on December 7, 1941. That's right, Pearl Harbor Day. When he got the news about the Japanese attack he immediately signed back up.

He met an English dance teacher while in the Army. After the war they were married. Tragically she was killed in a car crash while pregnant with his first child. He became somewhat suicidal and would do incredibly risky things, such as race car driving, skydiving, bareback bull riding and working as a stunt double in the movies. The thing is he was so good at these death-defying activities that he became quite successful.

He did find another love of his life years later, marrying a young Belgian actress. They raised a large family on a ranch on the Cheyenne River Reservation. He became a tribal chief. And he passed on the history and stories of the Lakota people to younger generations, keeping their legacies alive. There is a very good article about him on

NPR

.

This man showed what it means to live a full and meaningful life.

---

Live Storytelling Popularity Keeps Growing

July 25, 2016

The craft of live storytelling is as old as, well, people talking to each other. Much of history has been passed down orally. And someone who can spin a good yarn will almost always have an audience.

Sharing elements of your life story to others in a live talking event is a growing phenomenon.

The Moth

, a New York City nonprofit founded in 1997, has been credited with the current popularity of live storytelling. In Tuscon, Arizona there are some groups who are discovering they are building both community and empathy with others by sharing elements of their personal experience in live storytelling environments.



Odyssey Storytelling

is one of these groups. "People are hungry for real stories, told from the heart," relates executive director Jen Clark. One of the positives she sees is how the relating of our stories helps break down stereotypes, something our culture truly needs, as evidenced by much of the divisiveness we are witnessing these days (see more with article at tuscon.com).

It can be intimidating to get up in front of people, especially strangers, to reveal personal antidotes about your life. But it can also be empowering. As a 5th grade teacher who also engages in personal history work I am always encouraging the development of presentation skills. We need to be able to express ourselves and the power of storytelling is helpful in many areas of life.

---

Mentors that Matter

July 18, 2016

If you are fortunate there have been people in your life who've had a positive influence, perhaps even a life-changing impact. Thank goodness that such people exist!



Stories of You Books

is a publishing company looking for short (1000 words) essays about those teachers, coaches, friends, parents or mentors who have been a good role model and inspiration on a person's life. Do you have such a story to share? Your mentor that matters could be well known or not. They might be someone you've never actually met, except through reading and learning about them. It's possible it could even be a fictional character from a book or story that changed your life.

The plan is to publish an anthology,

The Mentor that Matters

, sixty stories picked from the submissions. I am not connected to this project in anyway, but I think it is worth sharing the information. The deadline to enter is August 15. Give this some thought as you might have a story about a helpful person in your life that could inspire others. There is no entry fee or cost to submit; there will be no payment to authors chosen. However, you could benefit from the exposure, get two complimentary print copies and contribute to a lasting legacy while paying tribute to someone who impacted your life for the better.

Details are available here.

---


Liminal Space Puts You on the Threshold of Real Change

July 13, 2016

There are certain times in our lives when real change can occur. Usually these are times when we are taken out of "business as usual" and we suddenly see things differently. It is as if we have a new pair of glasses, a vision of reality that is clearer, more pristine, than we realized.

This breakthrough in experiencing life is not always a happy occurence. People get shaken to the core by loss and tragedy. This can also bring about an awakening in our perceptions. And while we may feel we are seeing things clearer we also may be shaken in our understanding of what it's all about.

When you are on the doorstep of such change you are on the threshold of something special. Suddenly you are more open to the way things are.

It is what it is

now means something more than a glib cliche.

People who know a lot more about this than me indicate that this "standing on the threshold of real change" is called being in liminal space. All true transformation takes place in this space. When you are between the familiar and unknown real change and growth can occur. Letting go of what we are certain of can be unsettling, but it can also be freeing. You might feel a little crazy, but in the end I have found these experiences have been profound.

I know that when I have been in liminal space I've found my writing is deeper, richer, and more insightful. In a word, real.

Not all of our life story writing can be so dramatic, insightful or "heavy". I don't think any of us could handle being in liminal space all of the time. But I do hope that you experience it sometimes. And when you do, pause and take some time to reflect on what you are going through. It just might lead you to a greater insight and appreciation for your life journey.

---
Everybody has a story to tell!
Your-Life-Your-Story.com
Copyright © 2003 - 2016 All rights reserved
Email Tom Gilbert