Home
---
What Story and Why
---
How to Tell
---
What's New
---
Blog
---
Life Story Resources
---
Research is Fun
---
Get Started
---
Highlight Site
---
Sample Writing
---
Free Newsletter
---
Articles
---
About
---
Contact Us
---
Privacy Terms
---
[?] Subscribe To
This Site
The "Your Life is Your Story" Blog

©
Tom Gilbert
Read about quality family history and life story news, views, methods, products, links, services

...and whatever else catches our fancy

Read past entries - see the blog archive index
---
Celebrate the Earth Today

April 22, 2018

Today is

Earth Day 2018

. Our common home needs to be treated with love, respect, and care. Despite the many differences and challenges we face, Mother Earth is our planet. We've got to treat our planet better. It is not disposable, just as our lives are precious and not to be thrown away.

There is a terrific animated Google Doodle Video featuring Jane Goodall that you should watch. See it here.

---

Advance Directives Give Voice to Your Life and Death Care

April 17, 2018

Nobody likes to think about it. We are all going to die. But if you don't think about the end of life and express ahead of time your thoughts on how you want medical care to proceed if you are in a life and death situation then you put the burden on someone else. You leave the difficult decision to continue with family or medical providers.

An

advance directive

is not really that complicated and there is plenty of information on the web to get you started. A Google search on the term reveals over a million and a half results and includes a definition and sites where you can get forms or directions. You should certainly make sure you create something that meets any legal needs. Doctors, hospitals, and legal firms can provide advice and information, too.

My son is a registered nurse working in an intensive care unit. He sees firsthand the angst and challenges for people when a patient doesn't have an advance directive. He reminds me that this is something people really need to do.

I also encourage people to think about any thoughts, values and messages you want to share in advance of death. An ethical will (sometimes called a Legacy Letter) is a great way to write out your gratitude for family and loved ones and is a cherished document for them to keep.

Just yesterday I found out a friend of mine, not much older than me, suddenly passed away from a heart attack. So writing this post is a timely reminder to you and me. Live your life fully, but also plan ahead.

---

Her Goal Really Was to Climb a Mountain

April 12, 2018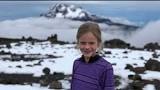 Some people view major goals, the ones that are very difficult and challenging, as metaphorically a

mountain to climb

. But for 7-year old Montana Kelly, a second grader from Austin, Texas, this was

literally

her goal. She wanted to be the youngest girl to ever climb to the top of Mount Kilimanjaro. That is not insignificant; the mountain is higher than 19,000 feet!

She did it, accompanied by her mother and some guides. It wasn't easy and on top of the physical toll on her body she also had to keep up with her school work at night in her tent. As an elementary school teacher I find this particularly inspiring.

Completing the climb is pretty amazing for anyone, especially a girl so young. She has a special memory to treasure for the rest of her life. I think her mother also will consider this a life highlight.

What makes her accomplishment even more special is that Montana did in honor of her father who she lost when she was just three years old. A great tribute by a true hero.

| link to the ABC News story |

---

When I Walk

April 8, 2017

When I walk I go to another place. Literally, of course, as in the places my feet take me. But I am speaking also of another place, a meditative and contemplative space, where I can think, reflect, dream and just be.

For me, walking is more than exercise. Surely it does satisfy that necessary movement of body parts. Staying fit and limber is important, especially as I age. When I walk, however, my perceived age is not my actual chronological age. Certainly I do not feel sixty-two as I stroll, amber or trudge the path.



The Path

. Part of my purpose in walking is to be on this

Path

. Not a destination, instead a journey. When I walk I write. Yes, my head composes thoughts and reflections that often turn into prose. I walked about a mile and a half before sitting down to write this piece.

When I walk I slow down. I take in the surroundings, breathe the air (which today was a bit challenging since the trees are blooming and my allergies have awakened!), and my sense of smell and sight goes to work.

| continue reading |


French Policeman Arnaud Beltrame Gave His Life to Save a Stranger

March 27, 2018

A rare act of courage resulted in saving the life of a terrorist hostage. A female supermarket employee was probably going to die, but French policeman Arnaud Beltrame convinced the terrorists to let him exchange places with her (see news story).

This man already had a history of courage and service. His family knew about his selflessness. "Beyond his job, he gave his life for someone else, for a stranger, " stated his brother, Cedric, in a radio interview in France. President Emmanuel Macron has announced plans for a ceremony to formally recognize his heroism.

We never truly know what will happen each day. Here was a twist of fate with a person willing to give his life to save another, the greatest sacrifice anyone can make. Amidst the daily onslaught of negative news stories it is good to see that even in tragedy there can be goodness. Arnaud Beltrame deserves to be recognized for his incredible self sacrifice.

---

Marching for Our Lives and Our Future

March 24, 2018

Are we really paying attention to what is going on? (You might want to listen to this song by Chicago to realize history is repeating itself).

Every day matters. Every life matters.

So proud of some of our young people today. So hopeful that things can change.



The March of Our Lives
is about sensible gun control and safety for our children, our schools and all our lives. But it is more than that.

More will be revealed from today's events. Keep working for a better world because your life matters, your story matters and we are all in this together - whether you believe that or not. I do and I hope you do, too.

---

Stephen Hawking Dies on Pi Day

March 14, 2018

Stephen Hawking, the famed and brilliant physicist, has died at 76. On Pi Day, no less. March 14 is called that because it numerically represents 3.14, the first three digits of pi, the ratio of the circumference of a circle to its diameter.

It seems fitting somehow that Hawking died on such a day, although he had admitted before that he's been expecting death for sometime. He lived long past the expectancy of someone with ALS (the degenerative muscular disease). His life was celebrated in the award winning movie,

The Theory of Everything

.

There was much to his life. He wasn't a believer in God (at least in any traditional sense), but he did believe in the wonders of the universe and had a lot to say about that. His thoughts about death and God are somewhat represented in this TIME post. He also must have had a good sense of humour - he made a guest appearance on The Big Bang Theory which naturally delighted the cast of science nerds, especially Sheldon.

Hawking will continue to inspire others with his thoughts and words (A Brief History of Time), just as all great minds have. Perhaps I will check out some of that today while having a slice of pie.

---

Celebrating International Women's Day Google Style

March 8, 2018

Today, March 8, is International Women's Day. It was established to help bring more attention to the need for gender equality. Far too long has there been too many instances where there is not the same economic opportunity for women compared to men. The movement is growing for equal pay for equal work and more opportunity for women to be in positions of power and leadership.

The concept of equality is something most people can get behind. But it isn't the way of the world. Yet.

On this International Women's Day Google created more than a memorable doodle. They gave several women artists from around the world the opportunity to showcase a story with their drawings and animations. It's pretty interesting to see. After today you will have to visit the Google Doodles page to find these. I do encourage you to view them. Also, women are encouraged to use the hashtag,

#HerStoryOurStory

to express themselves and share their stories. You can read about it with various online posts (here and here for example).

Way to Celebrate International Women's Day Google style!

---
Everybody has a story to tell!
Your-Life-Your-Story.com
Copyright © 2003 - 2018 All rights reserved
Email Tom Gilbert