Home
---
What Story and Why
---
How to Tell
---
What's New
---
Blog
---
Life Story Resources
---
Research is Fun
---
Get Started
---
Highlight Site
---
Sample Writing
---
Free Newsletter
---
Articles
---
About
---
Contact Us
---
Privacy Terms
---
[?] Subscribe To
This Site
The "Your Life is Your Story" Blog

©
Tom Gilbert
Read about quality family history and life story news, views, methods, products, links, services

...and whatever else catches our fancy

Read past entries - see the blog archive index
---
The Right Way to Pre-Write

December 12, 2017

Before you record a single word with pen, word processor or tablet you first need to do something very important. It is indeed part of the writing process and it is known as

pre

-writing.

Pre-writing is important for a number of reasons. As Denis LeDoux of

The Memoir Network

lays out in his excellent article,

Three Tips for Effective Memoir Pre-Writing

, you can do all sorts of things that prime the pump for your writing, including making memory lists, reading your journals, letters, newspaper clippings, and talking to people that are part of your reminiscing.

By the way, a great free coaching offer from Mr. LeDoux and

The Memoir Network

takes place on December 20. Take advantage of the offer and see how working with a memoir coach can help you move your story forward.


---

No Longer an Unknown Sailor Hero at Pearl Harbor

December 6, 2017

Most people are familiar with the "Day of Infamy" on December 7, 1941 when the Japanese surprise attack on the United States Naval Fleet at Pearl Harbor in Hawaii caused massive casualties and brought America into World War II.

It was a Sunday morning and one sailor, Boatswain's Mate Joe George, had been ordered to stay on his ship, the Vestal, because he'd been brought back after a night of drinking and some fighting. It was not unusual for this sailor; he had a history of such behavior. But it was fortuitous that he was on his ship when the attack came. Because he helped save the lives of some sailors on the Arizona which had been heavily hit in the attack and was aflame and about to sink.

Joe George heaved a line from the Vestal to the Arizona and some men escaped being roasted alive by going hand-over-hand on the line to safety on the Vestal. Donald Stratton and Lauren Bruner were two men who made it to safety. But for many years, until this past summer, the sailor who saved them was unknown.

As a result of a life story book and an oral history interview the facts eventually came together and Joe George was finally recognized and awarded a Bronze Star medal of valor. Unfortunately he didn't live to receive it this year, but his daughter, Joe Ann Taylor was able to attend a ceremony at the White House where the previously unknown sailor got his due. He is unknown no more. I encourage you to read and see the moving story about this that aired this past weekend on

CBS Sunday Morning

. It is a nice way to commemorate this year's 76 anniversary of Pearl Harbor.

---

Youth and Elders Co-write Memoirs

November 30, 2017

As you may have noticed from my recent posts, I think it is a good idea to record life stories and having young people talk to their elders can spur the process and help the elders reminisce and share their experiences and life insights. The young people gain a valuable perspective; the elders get the satisfaction of passing on values and history to the younger generation. It seems like a win-win.

This idea is validated with a story out of Australia. In

Students bond with aged care residents by writing down their memoirs

a 102-year old woman, Florence Wheeler, shared her life story with 16-year old Nathan McCarthy. They were just one young and old couple that worked together and it appears it was a good experience for both, despite any initial doubts.

The program was part of Rostrevor College's English curriculum that paired nine year 10 students with residents of an aged care center in Adelaide. According to the communications director for Allity Aged Care, Janet Leung, "For residents, maintaining the community connection leads to a better frame of mind and to better health."

Young and old, working together to tell life stories is a great way to co-write a memoir.

---

National Day of Listening from StoryCorps

November 24, 2017

Every year since 2008

StoryCorps

has encouraged families to spend time the day after Thanksgiving to share stories about their lives and to even record them. Most families gather for a big meal and time together on the Thanksgiving Holiday. The next day can be a great time to find out more about your family members. It is especially important for the young people to do this with a family elder. There are values and wisdom to share and pass on.



NPR (National Public Radio

) partners with

StoryCorps

and here's a post to encourage and help you with the day of listening. You can also find out more about

StoryCorps

with this upclose look I put together. I have had

StoryCorps

featured as a highlight site from

Your Life Is Your Story

.

---

Talk to a Ten Year Old

November 20, 2017

In my role as a 5th grade teacher I spend a lot of time learning about how ten and eleven year olds view the world. They don't have the same perspective as adults - and that can help elders understand something about what it is like growing up as a kid these days. It's not the same as it was 20, 30 or 50 years ago.

Likewise, elders can give young people insight into what it was like to be a kid growing up in a different time. When I was ten we would ride bikes around the neighborhood and our parents were not worried. We'd drink water from the garden hose and stay out until the streetlights came on. People aren't willing to take that kind of risk anymore, and understandably so. Sadly, our world is less safe for kids.

If you are past fifty then you are of a generation foreign to most children. They have no idea what a world without computers, smart phones or the Internet was like! But they are kids with active imaginations and lots of curiosity. Talk to a ten year old and let them know you have some interesting experiences to share. Get them wondering what like was like "back in the day". Let them know it is okay to make mistakes, to try new things, to wonder and to play. Children enjoy playing, but they need to know about the past. They learn history from you, the elder in their life.

---



Stories of Veterans Are Vital to Preserve

November 11, 2017

Another

Veterans Day

is upon us and once again we observe how important it is to pay tribute to the many men and women who have served our country. In the United States there are thousands of American Veterans - men and women who have served their country in various 20th century wars. Each of them has a story, often a vivid and heartfelt account that is not a history of war but personal recollections that make us laugh, cry and remember.

The Veterans History Project collects and preserves the extraordinary wartime stories of ordinary people. It is a project of the American Folklore Center of the Library of Congress. The United States Congress created the Veterans History Project in 2000 and it is an ongoing project. It received a great boost of publicity from the release of

The War: A Ken Burns Film

, the in-depth documentarythat aired on PBS Television. And the more recent documentary by Burns on the Vietnam War makes it even more apparent how important it is to preserve the stories of veterans.

| read more |


---

Rolling Stone Magazine Turns Fifty

November 9, 2017

Fifty years ago today the very first issue of

Rolling Stone

debuted. Over the years it has been a very influential magazine. The writers mostly covered the rapidly emerging and evolving musical and cultural scene of the 1960-70's.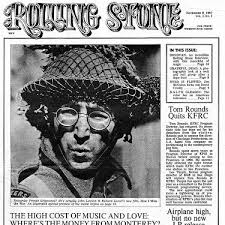 It was a heady time in 1967. Jann Wenner, the founder and editor, chose John Lennon to be on the cover of the first issue. Over the years

Rolling Stone

revered and chronicled Lennon, going to great lengths to document the life and music of the Beatle and songwriter. But at one point Wenner and Lennon had a falling out when Wenner made a book of an interview that Lennon only wanted published in the magazine.

There has been a lot ot talk and coverage about the magazine and Wenner. I admit to reading the magazine almost religiously over the years, especially when in my high school and college years, but also for the time I spent in rock radio. It's interesting how the magazine often panned albums that have since become considered classics (such as the first Led Zeppelin release).



Rolling Stone

also has had a political side and anyone who has read much of Hunter S. Thompson's work published for the 'zine can't help but marvel at the gonzo journalism he churned out.

At age 71 Wenner has decided to put the magazine up for sale, but he hopes to stay on in some capacity. It will be interesting to see what the future holds for a magazine still closely connected to the music and culture of today, even though its heyday is arguably in the past.

If you are interested in learning and reading more you might want to check out the

CBS Sunday Morning

piece that aired last Sunday. There is also a controversial new biography by Joe Hagan about Jann Wenner that has just been released,

Sticky Fingers: The Life and Times of Jann Wenner and Rolling Stone Magazine

. In it the author maintains that Wenner was obsessed with celebrity. Wenner isn't pleased with the end result although he hired Hagan to do the book and gave him great access to information.

One thing that cannot be denied -

Rolling Stone

magazine is fifty and its historical impact on the Baby Boomer generation is a huge part of its legacy.

---

Funeral For Fats

November 2, 2017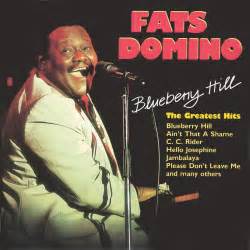 Today, All Souls Day or Day of the Dead (Dia de los Muertos) is a good day to say goodbye to rock n' rock architect Fats Domino. New Orleans did just that with the traditional funeral procession known as second line (see NPR article).

New Orleans is a special city with a great musical heritage. NOLA residents came out in force to remember one of their own, a great songwriter and inspiration to many other musicians. Fats Domino had so many great songs, from "I'm Walkin'", "Ain't That a Shame", and "Blue Monday" to the timeless "Blueberry Hill". Yeah, hard to top his hit parade.

Fats Domino was born Antoine Domino in 1947. He died last week, October 24, but his legacy will live on. Nice that he got the funeral sendoff that only New Orleans can deliver.

---
Everybody has a story to tell!
Your-Life-Your-Story.com
Copyright © 2003 - 2017 All rights reserved
Email Tom Gilbert