Home
---
What Story and Why
---
How to Tell
---
What's New
---
Blog
---
Life Story Resources
---
Research is Fun
---
Get Started
---
Highlight Site
---
Sample Writing
---
Free Newsletter
---
Articles
---
About
---
Contact Us
---
Privacy Terms
---
[?] Subscribe To
This Site
The "Your Life is Your Story" Blog

©
Tom Gilbert
Read about quality family history and life story news, views, methods, products, links, services

...and whatever else catches our fancy

Read past entries - see the blog archive index
---
May 20th is Me@20 Day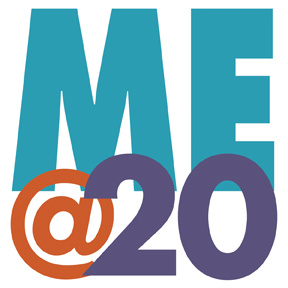 May 20, 2015

Today members of the

Association of Personal Historians

are posting about themselves at age 20. It is a way to celebrate

Personal History Awareness Month

and the 20th anniversary of the association. Members worldwide are helping people just like you in preserving their life stories and personal history.

As I reminisced about my life at 20 it helped me to remember what it is like to recall past events and my feelings towards them. For instance, where I lived, the music I listened to, and some of the major headlines of that time. You can read my

Me@20

post here. Be sure to check out some of other terrific blog postings by APH member at this link.

---

That Could Be Your Sister or Brother Sitting Across From You at a Writer's Workshop

May 19, 2015

Two women who'd never met enrolled in the same writer's class and discovered they were sisters! An odd and endearing personal history story by Correy Kilgannon of the

New York Times

- here.

---

Be Aware! May is Personal History Awareness Month

May 18, 2015

Yes, I know, we've already passed the halfway point in the month of May, but there is still plenty to celebrate about personal history in this month we like to refer to as

Personal History Awareness Month

. Every year I comment on it and I've written on the topic (see this article, as well as Memories for the Merry Month of May).

This month an excellent post by Sarah White, current President of the

Association of Personal Historians

, focuses not just on the importance of personal history and life story preservation, but also on the importance of Personal History

AWARENESS

!

Every year I see the growing interest in life story work, memoir, family history, genealogy, story telling and all the things that make up personal history. Have you considered your how you will preserve your life story?

In a couple of days there will be a special event promoted by

APH

. This year the association celebrates 20 years as an organization and we members are reminiscing about our lives at age twenty.

Me@20

posts will erupt online in blog posts and social media - watch this spot for more.

---

Throwback Thursday - My Son Walks the Graduation Line

May 14, 2015

Three years ago to the day my son Eric graduated from High School. I wrote about it on this blog and found myself ruminating about the significance of High School graduation. It is special on many levels. By extension, you can consider any graduation an important milestone and ending-leads-to-new-beginning.

Also three years ago I was finishing up my first year teaching. It is a second career that I've started after over 30 years doing radio broadcasting, along with a few others things (personal historian included). It is not easy to teach, but it is very rewarding. My current crop of 5th graders will soon be out for the summer and after that break they will start middle school, a significant new beginning.

Here's to all of us who continue on the path of learning in life.

---

William Zinsser Wrote and Lived Well

May 13, 2015


William Zinsser, a terrific writing instructor and gifted writer, died Tuesday at the age of 92. His book

Writing Well

has sold over 1.5 million copies and has bee revised a few times (just as any good writing should). I've always enjoyed reading his advice and "hearing" his voice through the written word. Supposedly it took him until his 50's to truly find his voice.

Zinsser was good about commenting on memoir writing, such as in his

Inventing the Truth: The Art and Craft of Memoir

and his own story in a teaching memoir, Writing About Your Life. Find out much more about William Zinsser with this New York Times article.


---

Mom's Best Cooking Isn't Always A Meal

May 10, 2015

Mother's Day 2015 and I've enjoyed celebrating this weekend. My wife and I just returned from a family gathering at her parent's house. We go there most Sundays. Today the grownup kids (her siblings), along with some grandchildren and a great-grandchild, were there as we fixed a meal and thanked Mom for all she does for us. And, of course, we also thanked all the other mothers.

My wife's mom (everybody calls her Nana) is a second mother to me, especially since my own mother passed away in 2006. She is a caring person - and a good cook! One of the highlights of the Sunday gatherings is the meal. She makes some great ones, including ribs, meatloaf, and green chile enchiladas!

Mom's typically are the family chefs, although many men also enjoy preparing meals. A

New York Times

article from May 5,

A Mother's Cookbook Shares More Than Recipes

has the author, Kim Severson, reminiscing about her mom's recipes and old cookbooks. They were food-stained and dog-eared, showing how often they were used. Apparently this is not unusual. The Smithsonian Institution's National Museum of American History has a collection of Julia Child's cookbooks and they are just as worn and stained.

Thank you to all the moms who work hard each day to feed their families, and for the special and most important ingredient stirred in, love.

---

Your Legacy Smile - New (Free) Book
...and happy Personal History Awareness Month

May 4, 2015

May is here, traditionally

Personal History Awareness Month

, and so it is always good to spend time during the month to promote the importance of telling your story. Your personal history matters - to you and others!


It was a few years ago when Robb Lucy (Your Legacy Smile) and I first crossed cyber-paths. Robb is another passionate advocate for people sharing their lives and stories. More than that, he wants everyone to have a legacy and to enjoy it now, before you die! His new book,

Legacies Aren't Just for Dead People!

is out and today and tomorrow he's offering free Kindle versions and 50% off paperback versions. I just downloaded my Kindle copy and I look forward to digging into it and learning more from a kindred spirit.

Your story has lessons for others. Share it. I appreciate what Robb is doing and also his incredibly generous offer. Today was a good day for a freebie. Maybe somebody already said to you, "May the 4th Be With You!"

---

Throwback Thursday - Death as Transition

April 30, 2015

It has been two years since my Aunt Liz passed away. She was my mom's older sister and she lived an amazing life full of travel and adventure. She was extremely well-read, enjoyed art and culture, and like many people from Boston, unwilling to talk too much about herself. As a result, I didn't get the life story from her that I had hoped for. But she still gave me insight into some family history.

About two years ago on April 29 I was musing about people, particularly my aunt, dying and wondering at the analogy some use about dying, that it is like

the passing of a baton

. We are carrying the "baton" of this life and when we die we pass it off.

| continue reading |

---

Deliberating on Diversity and Difficulty in Life Stories

April 29, 2015

One of the good reasons for more people to tell and preserve their life story is how it adds to our understanding of humanity and society. The history of people starts with each person and spreads to include families, communities and larger groups (ethnic, religious and cultural to name a few).

There can be some amazing revelations that can further our understanding and appreciation of people when we hear the diverse stories of people lives. We need to know more about those who've dealt with difficulty. Addictions, abuse, imprisonment, disabilities, mental illness and poverty are just a few areas where people have often struggled - and triumphed - in life. Many people with such stories wonder if they should be telling their story.

In the continuing series of

2

0 reasons to write your family history

(featured on the APH blog) includes a post about this. #8 The need for diverse family histories by Elisabeth Pozzi-Thanner digs into this subject with rich insight.

---

Ten Years of YouTube and the Importance of Video Personal History

April 23, 2015

The video site where most people find and watch videos on the Internet just turned ten years old.

YouTube

is a decade old and it is amazing how much it impacts our world now. Videos going viral gives a lot of people their 15 minutes of fame, from silly cat videos to amazing celebrity stories; the discovery of previously unknown talent and the legacies of families and their personal history.

A CNET article, YoutTube turns 10: The video site that went viral, helps us understand how the video channel has evolved. No doubt on demand video programming will continue to grow and YouTube is poised to continue as a leader.

One of the ways people preserve their personal history is by recording video pieces. Some are interviews, others well-crafted and edited documentaries. You can view some excellent examples on

YouTube

by searching Association of Personal Historians. Watch some samples, discover more about what personal history is and even see an overview of the popular "Show and Tell" events that many personal historians are hosting in the month of May.

---

Santa Fe Runner is Boston Strong

April 20 2015

Two years after the bombings at the Boston Marathon runners took to the streets of Beantown to run another 26.2 miles of the historic event. Like last year, emotions were also strong as people recalled the victims and the importance of keeping our cities and streets safe from terrorism.

I was re-reading my post from two years ago,

Bombs at Boston Marathon - A Runner's Lament

, and recalling my feelings when the news broke. Although I probably will never run in the Boston Marathon, I have run marathons and I understand the difficulty of the training and the actual event. I felt a special bond with those in Boston that fateful day. My writing about this event has become part of my life story and one way I've connected my life to the world at large.

This year my state of New Mexico is bursting with pride as the women's division winner (story KOAT.com), Caroline Rotich, is a runner from Kenya that has made her home in Santa Fe for a decade. Winning the Boston Marathon, one of the most prestigious events for runners, is something she considers a longtime goal. Now she is "Boston Strong".

---
Everybody has a story to tell!
Your-Life-Your-Story.com
Copyright © 2003 - 2015 All rights reserved
Email Tom Gilbert