Family History & Life Story Services
Here are some products and services you can use to capture your life story - autobiography, biography, memoir
There are various products and services that you can use to capture your life story. On this page you can find out more about how to use them and

Your Life Is Your Story

services to tell your story.



Professional Personal Historian Life Story Services





Your Life Is Your Story

can develop a custom designed life story package based on the number of interviews, amount of transcribing, writing, final product development and your budget. The result is a legacy (biography, autobiography, memoir, etc) you and your family - including future generations - will treasure. Every project is unique.

Preparing your story, knowing what you want to tell and deciding how you want to go about it are all important considerations. There are several articles on this website to help you prepare. Fill out the form on the Get Started page and get free information or you can Contact us to find out more.

Additionally, this page contains other family history and life story service options for your personal history project.



Short Professional Bio

Looking to step up your professional profile? Job searching is extremely competitive - give yourself an extra edge. Check out our special offer on a One Page Professional Bio - It is affordable priced and this service can help you in many ways. I've had many clients seek me out to write their short, professional biography. Many need something for trade publications or other media exposure, or to provide for companies or organizations who need to know more about their background, personal experience and life values.

This is also an option to make a beginning on your personal history story. A 1-2 page biography can be the foundation for a more extensive personal history.

Find out more here.

Life Story Editing Services

Hiring a skilled writer who is capable of taking your writing and editing it into a stronger final version can be a very worthwhile investment. Even better, as your editor I can suggest ways to take the memories you've written about and rephrase them in a better way. Good editors are typically good writers. And good writers who are also excellent teachers can encourage and illuminate you with their input. Let me help you refine your writing. Or if you are stuck, I can help you get back on track. Find out more here.




Legacy Keepers



Legacy Keepers is a company that operates a nationwide network of highly skilled personal historians, graphic designers, filmmakers, and audio text and video editors. Their services yield quality video, audio and written products. You should be able to get the life story final product that is best for you, whether that's a great book of memories and pictures, a video-biography or a listening to the voice of the person reminiscing.

I've checked them out and it's a good resource to refer you to. Click the banner to find out more and get your FREE interview guide.


Write and Build Your Life Story Online!


Use the free

I'm a Story

(imastory.com) website to write and post your memoir or life story. Or interview a family member and write about them. You can keep it private or share it with the world. Rolland Love, a fine writer himself, is the man behind

I'm a Story

and his mission is to get people to preserve life stories. He is especially interested in schools getting young people involved interviewing family members and helping preserve their history. Towards that end he's created some curriculum to show you how and is actively working to get more schools involved. What a great idea!

Once you've written your story (using helpful prompts and tools) you can save it and take the next step to have your book designed and printed.

I'm a Story

doesn't offer that service, but there are plenty of places to turn to for that.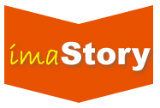 Details here.
The MemoryGrabber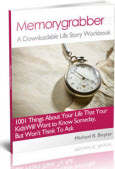 The MemoryGrabber is a terrific product.
This product is fun to use and guides you through the process of preserving your personal history. And the price is hard to beat - just $14.95 and backed by a money-back guarantee if you are not completely satisfied.
The
MemoryGrabber
has been updated with some additional innovations.

The new version includes more great questions, timeline development and the ability to type and save your work right into the PDF e-book workbook using the free Foxit PDF reader.
Michael Boyter is the man behind the site and this has been a labor of love for him for a few years. He is the self-appointed family historian for his clan and he encourages you to move the past into the future...one family story at a time!
I personally use this great product with clients. It's inexpensive and highly readable.


Journal Software



Do you keep a journal? Check out the award-winning DavidRM Personal Journaling Software - The Journal.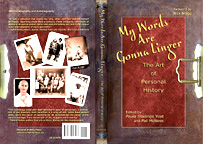 There are a number of helpful books about life story writing. An excellent anthology has been released from the Association of Personal Historians. My Words Are Gonna Linger contains a number of life stories from various members of APH. You can order the book online.

Turning Memories Into Memoirs - A Handbook for Writing Lifestories by Denis Ledoux - here.






Your Legacy of Love: Realize the Gift in Goodbye by Gemini Adams - here.



Read our review - here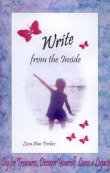 Write From The Inside by Lissa Ann Forbes - here.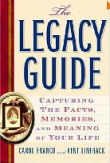 The Legacy Guide by Carol Franco and Kent Lineback - here.









You can sign up for regular updates from Your Life is Your Story with our RSS Feed. You can get more info here.

We also send out a free monthly newsletter full of inspiration, resources and life story news. It comes right to your email (and your privacy is strictly guarded). Get more information and sign up here.