Home
---
What Story and Why
---
How to Tell
---
What's New
---
Blog
---
Research is Fun
---
Get Started
---
Highlight Site
---
Sample Writing
---
Free Newsletter
---
Articles
---
About
---
Contact Us
---
Privacy Terms
---
[?] Subscribe To
This Site

The "Your Life is Your Story" Blog Archives
Read about quality family history and life story news, views, methods, products, links, services

...and whatever else catches our fancy
August, 2009
current blog entries
blog archive index
---
August 31, 2009

NPR (National Public Radio) has begun a new feature. It focuses on the various "Main Streets" in America. For instance, their first dispatch was from Chattanooga, Tennessee. A musically sounding name for a town, for sure, but what you might not know about this quaint southern town is that Main Street includes a revitalized arts district and a prostitution strip. They had interviews from both sectors on this episode.

I find this idea intriguing, another twist to the "On the Road" type features made popular by people like Charles Kuralt. There is a website for all this, www.mappingmainstreet.org, and you can get lots of information, follow a blog and search out information on other towns' Main Streets. It is participatory - you can contribute photos, video and stories. The history of our towns is part of our personal histories.

And sometimes even now, when I'm feeling lonely and beat
I drift back in time and I find my feet
Down on Mainstreet - from Bob Seger's song, "Main Street"
---
August 26, 2009

The Lion of the Senate, Ted Kennedy, leaves an important family legacy

He was the "Lion of the Senate" and his lengthy career on Capitol Hill spanned decades of change and often turbulent times in America. He authored hundreds of legislation and co-authored hundreds more. But many of us remember him, at least in part, as living in the shadow of his older brothers. Ted Kennedy, longtime senator from Massachusetts, has died.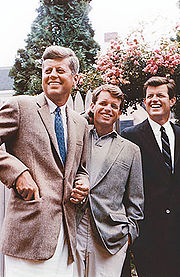 The Kennedy family has been storied and a political dynasty. Joseph, Jr. was the son expected to become president, but he died young as an aviator in World War Two. The mantle went to the next son, John F. Kennedy, and, of course, he did become president, only to be cut down by an assassin's bullet in his first term. The assassination of brother Robert Kennedy was a further tragedy. And there have been more deaths of young Kennedy men over the years. Edward Kennedy lived to the age of 77 and he became the patriarch of the family.

It was not his destiny to be president of the United States. We can look to his great contributions in the Senate and public service. He was very involved in civil rights, education and health care. But more importantly, we can look to ourselves and our own families during this time when the Kennedy's are in the spotlight. What is it about our legacies that matters? How do we preserve and pass on the family stories and values? What do we treasure about our parents and our siblings, our elders and the children, that need to be honored and remembered? This is the important work of personal history preservation. This is why I am involved in life story capture. Lives remembered is the real stuff of history. If you don't do it in your family then who will?
---
August 21, 2009

With the end of August rapidly approaching I wanted to alert you to the opportunity to take advantage of the introductory pricing of the Priceless Legacy Company LifeStory Package. Getting a full hardbound book with color photographs, plus the DVD digital slideshow and CD of your oral interviews for just $1,299 is one of the very best deals available - particularly when you consider the high quality of the end product.

The price is going up $200, so if you want to take advantage of savings be sure to contact me. I have more about the service here.
---
August 18, 2009

It seems it is a special breed of people who run in endurance races. I'm speaking of marathons (26.2 miles) and half-marathons (13.1 miles). In reality, this "special breed" can be everyday people - your co-workers, friends, neighbors - even you!

The inspirational stories of those who are battling life threatening blood cancers (Leukemia, Lymphoma and so on) spur me on to continue with Team in Training to raise money for research and patient care for the Leukemia & Lymphoma Society. I've run marathons and I'm currently training for another half-marathon and so far I'm happy to relate that people have donated nearly $2,000 to my fundraising goal. There are many good causes, but this one is close to my heart for many reasons, including friends and family members who've died from cancer.

One of my life-story services is Your Life Changing Event. If you read some of the short testimonies posted at the Team in Training site it will give you a good idea of what this means. (more here)
---
August 16, 2009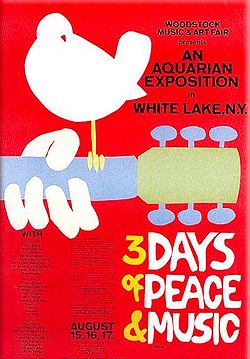 In August of 1969 hundreds of thousands of young people from around the United States arrived in upstate New York for an event that defined a generation. The Woodstock Music and Art Fair, billed as 3 days of peace and music, was that – and much more. August 15, 16, and 17 were the dates, but it spilled into the 18th when Hendrix woke everybody up Monday morning with his amazing set. Now it is 40 years later and the world is looking back and remembering Woodstock.

Over the years I've met many people who claim to have been at the Woodstock Festival. Some of them probably really were there. One of them is a friend who told me he was nearly 16 at the time, living in Connecticut and playing in a rock band. He convinced his mom to drive him and his band mates to the festival and she did. Amazingly, she even came back and picked them up afterwards. Barry has lots of stories about that experience. Others have their memories and stories. You can read some of them at woodstockstory.com . The site has a wealth of information about the Woodstock anniversary, original festival, other similar gatherings and more. There is even information about Artie Kornfield's soon-to-be-released memoir, The Pied Piper of Woodstock (more here).
A fellow radio broadcaster I know here in Albuquerque also put together a great radio special that has been airing nationally on public radio stations. Paul Ingles produced Back to the Garden: Woodstock Remembered and you can find out more about it, even listen online, here. I also recommend seeing the AARP slideshow featuring commentary from Paul and wonderful pictures from the 1969 Woodstock event.
The influence of the Woodstock generation carries on. I've always felt that music is a universal language and the message of peace, love and understanding is essential for our world and our lives.
---
August 14, 2009

The Original Guitar Hero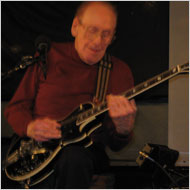 When I heard the news yesterday that Les Paul died at the age of 94 (see NPR story)it stirred emotions and memories. Although I don't claim any real guitar talent, I do respect the instrument and I've enjoyed the sounds that players make. This is especially true with the electric guitar. I grew up in the 60's and 70's and rock music sprung from that era, often with profound innovations.

Les Paul was a true innovator. Not only did he pioneer the electric guitar (can you imagine the looks he got when he first toted his amplified "log" into clubs?), but he was a virtuoso with the instrument. The musicians who admired him are an all star cast. Of course most of them played the Gibson guitar named for Les Paul. Jeff Beck, Eric Clapton, Jimmy Page, Billy Gibbons, Steve Miller, Joe Satriani and countless others took electric rock guitar playing to new heights and all were inspired by Les Paul. They didn't just like the instrument - they liked his playing. "It's like a butterfly," said Jeff Beck. "Just lightning speed, but accurate and musical."

Les Paul had a number of hits and grammy's. His first wife Mary Ford was a singer and she and Paul recorded together. Les Paul came up with the fascinating idea of multi-track recording and would overdub her voice to great effect.

If I am blessed to live into my nineties I hope I keep the spark of life going like Les Paul did. At 93 he was still playing the Iridium, a basement venue on Broadway at 51st Street in New York. And one of my favorite albums was Les Paul & Friends: American Made, World Played, released in 2005 when he turned 90.

Legends, inventors and innovators live on and Les Paul certainly left his legacy.
---
August 12, 2009

Help for Memoir Writers From Twitter

Can Twitter help you write your memoir? Perhaps. Even though posts are limited to 140 characters, people on Twitter come together to discuss topics. Such is the case every other Wednesday evening at 8pm Eastern Time for a chat. Specifically, a Twitter chat about writing memoirs.

Alexis Grant is journalist, traveler and author who moderates the weekly #memoirchat. (Thanks to Stefani Tywford alerting me to this via another social media network - Facebook).
---
August 11, 2009

Unless you've been off the grid (in which case you aren't reading this anyway) you know about the social media phenomenon. The continued online use of YouTube, MySpace, Twitter, LinkedIn and Facebook is extensive.

A BusinessWeek article notes that research is showing that one of the largest demographic groups are the Boomers. Members 55 and older grew 25% in the last month alone. Since I am in my...ahem...mid 50's...and use Facebook...I can confirm this with the number of boomers I know and interact with. Here's the article.
---
August 10, 2009

If you haven't had the opportunity to "get away" from your daily routine this summer you might be doing yourself a disservice.

I know it is hard to take time off when you are busy and have lots of competing priorities. (Believe me, I Know!). And most of us are dealing with the economic downturn which limits vacation possibilities (again, I know).


But it is still so important to step out of your routine once in a while. If not, you can fall into a rut.

This past weekend my wife, son and I went camping in the beautiful Jemez mountains, about two hours from our home in Albuquerque. One of the highlights was visiting the Jemez Falls. Just getting away from home, in the cool mountain air and immersed in the beauty of nature, even for a couple of days does wonders for my outlook. It helps to see the "bigger" picture of life. We enjoyed some much needed family time before the school year starts up.

Be sure not to get boxed-in with your daily routine. Take some time to get outside the box.





---
August 5, 2009

DJ who helped make the Pink Floyd and Wizard of Oz synchronicity famous

George Taylor Morris was a nationally known radio broadcaster and held gigs in major cities, including Boston and New York. He had stints with national networks like NBC's "The Source" and as the first Program Director for the Westwood One Radio Network. He was most recently on-air with XM Satellite Radio's "Deep Tracks" and was the primary host of their interview program, "XM Artist Confidential". He died of throat cancer at the age of 62 this past Saturday.

I mention all this here because as a longtime radio broadcaster, mostly in rock radio (like George Taylor Morris - known to most as GTM) and any time one of our "brothers of the airwaves" passes it is noteworthy to the fraternity of radio men and women.

My first program director position was for KFMG-FM (Rock 108) in Albuquerque, NM and we were one of the first stations to carry the weekly syndicated program Reeling in the Years". Each week host George Taylor Morris would take us back through the years and play the big rock songs of that era along with interviews, music history tidbits and soundbytes from the time (commercials, newscasts, etc). It was a great program and George had a lot to do with the quality of it.

Perhaps GTM was best known for helping further the notoriety of what has become known as the Dark Side of Oz. He was tipped to the amazing coincidences when you watch the classic film, "The Wizard of Oz" and synch up Pink Floyd's "Dark Side of the Moon". I've seen it and it is amazing the way certain "coincidental" moments of synchonicity happen (see Rolling Stones video mashup for some of the best ones).

GTM, I salute you. Thanks for all the great shows.

Chicago Tribune obit here.
---
August 3, 2009

Ghostwriters Can't Let Ego Interfere

If one chooses the work of a ghostwriter it requires some sacrifice. You have to be willing to listen to the subject's story and write about it with detail and with interesting prose. But, you can't let the fact that you are the writer interfere with the story or the "voice" of the subject. And you can't let ego - yours or the subject's - prevent you from a job well done.

Nevertheless, quality writers who do "ghost" other people's life stories can be rightfully proud of their work and who can blame them if they long for a bit more recognition than they get. Sanford Dody, a noted ghostwriter for a number of celebrities including Bette Davis and Helen Hayes, apparently struggled with this "life in the shadows" (Wall Street Journal story). He recently died (July 4 at the age of 90), but he did get his say in his memoir, Giving up the Ghost.
---