Home
---
What Story and Why
---
How to Tell
---
What's New
---
Blog
---
Research is Fun
---
Get Started
---
Highlight Site
---
Sample Writing
---
Free Newsletter
---
Articles
---
About
---
Contact Us
---
Privacy Terms
---
[?] Subscribe To
This Site

The "Your Life is Your Story" Blog Archives
Read about quality family history and life story news, views, methods, products, links, services

...and whatever else catches our fancy
June, 2009
current blog entries
blog archive index
---
June 30, 2009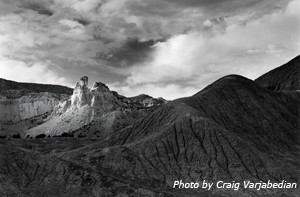 One of the most beautiful places I've ever been is Ghost Ranch in Northern New Mexico near Abiquiu. It is a very scenic and highly spiritual place and I've had the privilege of making a retreat there back in 2004. Georgia O'Keeffe, the famous artist, lived many years there.

A new book is out by photographer Craig Varjabedian that features photos he took of Ghost Ranch. I found out about it at the New Mexico Magazine site. The book is titled Ghost Ranch and the Faraway Nearby, a great title for those of us who live here in the "Land of Enchantment".

If you ever get the chance be sure to visit Ghost Ranch. And there are various events held there throughout the year, including an upcoming Writer's Conference, November 4-8, hosted by CLASSeminars.
---
June 29, 2009

A personal history area that I don't work in but have an admiration for is video biography. There are a number of ways to go about creating one. I think something more than a camera on the subject as they answer questions ("talking head" style) is more interesting. So I like to see some effects, some footage from the past - stills and video - and a story presentation.

There are many who are very capable of putting together high quality bio's. I offer some suggestions on my Video Biographies page.
---
June 26, 2009

The deaths yesterday of Farrah Fawcett and Michael Jackson, combined with Ed McMahon's passing a few days ago, have put celebrity death in the news. The morning show at a radio station I worked at years ago in Grand Rapids, Michigan had a recurring bit called "Celebrity Death Watch". When a high-profile celeb died they always said two more would happen within a week. And that was usually the case.

Death is something we all will experience, our own as well as those of friends and family. Sometimes we can prepare for it. Fawcett's long battle with cancer was coming to an end and everyone knew it. Other times it is a complete surprise. When the news came across yesterday that the "King of Pop" had died unexpectedly I was startled. I hadn't thought much about Michael Jackson recently. Usually only when he did more eccentric behavior and it was reported by the press. There was plenty of that in the past 10-20 years. Nevertheless, he had a tremendous legacy of music.

For most of us - going through life without the glare of the media spotlight - we should still be living each day like it might be our last. In other words, one day at a time full present to life, people and the moment. But also appreciating our journey. That's where life story capture of your personal history comes in. Preserve your story and pass it on.
---
June 23, 2009

Ed McMahon - Sidekick King

It's not as easy to play "second banana" to superstar talent as some people might think. Ed McMahon made a career out of it, being the sidekick and supporter to Johnny Carson throughout their "Tonight Show" run. "H-e-e-e-e-r-e's Johnny!!" was his trademark intro, and then after Johnny's monologue there was always great banter.

McMahon, 86, passed away early Tuesday. He'd been in failing health for a few months.

McMahon did such a stellar job in his supporting role to Carson that it's often been parodied. But having a loyal right-hand man has been important throughout history. Every star pitcher has a good catcher, Presidents need a VP (although that's not always been such a great supporting post), and talkshow hosts like a good sidekick.

Ed McMahon had a long and full entertainment career. In addition to the "Tonight Show" he also was a pitchman for American Family Publishers' sweepstakes, co-host to the Jerry Lewis Muscular Dystrophy Association Telethon, host of "Star Search" and also appeared on other shows and commercials. Maybe tonight he's introducing Johnny in that great talkshow in the sky. (AP story)
---
June 22, 2009

So another Father's Day has come and gone. You said "Happy Father's Day, gave a card, shared a meal" - now is it back to the same old same old?

Staying connected with family and sharing the "brotherhood" of fatherhood is critical for men. There is no way to fully appreciate what being a father is like until you are one. And there is a way to pass on our lessons and values. We do this by spending quality time together, showing appreciation - and preserving stories.

My son-in-law got his first Father's Day wishes/cards yesterday. Baby is due in February. I'm excited about becoming a grandfather. My dad and father-in-law are looking forward to becoming a great-grand.

Make some plans and take some action to preserve the life stories of fathers. I'm ready to hear from you and offer help. There are some wonderful and affordable ways to do it.

And visit the National Center for Fathering at fathers.com for a wealth of resources and good reading.
---
June 20, 2009
"Laws alone can not secure freedom of expression; in order that every man present his views without penalty there must be spirit of tolerance in the entire population. "

The above is a timely quote given what we are seeing happening in Iran. You might be surprised who said it. Albert Einstein (I saw it on my personalized Google page where I have a daily Einstein quotation).

Protesters have taken to the streets and the Islamic Regime has been responding harshly and with violence (AP story). The constant struggle for freedom and justice continues in our world. You are watching history. I hope and pray that peace and justice ultimately will prevail in Iran in the wake of these protests over that country's recent election results.

I am in the midst of a lifestory project with a couple from Iran who settled years ago here in New Mexico and have had an interesting life. They've often spoken of their desire for an Iranian government that would respect the people and protect freedoms. Knowing them makes the news more real - certainly more personal. And reminds me that most people desire the same thing - respect, dignity, justice and freedoms.
---
June 19, 2009

In a very tough economic climate and a national crisis Americans turn to the newly elected President to lead them out of this turbulent time.

Sounds like today, but this is the lead of a press release promoting a new documentary set to air on the Smithsonian Channel on Labor Day weekend. The program, Soul of a People: Writing America's Story, details the Federal Writers Project, an arts program created through President Franklin D. Roosevelt's Works Progress Administration (WPA) during the Great Depression.

It must have been an exciting and fascinating assignment for the various writers who spread out across America to interview citizens for a series of state travel guides. The portrait of 1930 Americana that was captured including both triumphs and tragedies and ignited controversy. Some well-known writers like Saul Bellows, John Cheever and Studs Terkel participated. This shoud be a fascinating 2-part documentary.
---
June 17, 2009

Bittersweet and Beautiful Man and Boy Story

In a reminiscence about her Dad and a special experience he had in Normandy with a little orphan French boy, writer Diane Covington gives us a beautiful and bittersweet story. Very timely with Father's Day so near. Read Finding Gilbert at Reader's Digest and relish the great sequence of events.
---
June 16, 2009

For all you writers...and would-be writers: I got a kick out of reading this post, On Avoiding Writing. Hey! It's not just me - other people find tons of distractions and excuses when they really should be finishing a writing project. Honestly, I do knuckle down and get it done, but sometimes I tend to procrastinate too much. Maybe it is the intensity of a looming deadline that motivates me. Sometimes I do write better when I am forced to write rapidly. Of course, I must always come back to what I've written and be sure to review and re-write. It's often just getting that first burst out that generates some decent output.

So, if Michael Hyatt (CEO of Thomas Nelson, Inc. and the one who quoted P.J. O'Rourke in his entry about avoiding writing) struggles with some of the same challenges to writing it is somehow comforting to me. It doesn't excuse my avoidance, but it makes me feel like I'm not alone.

And yes, now that I've written this I realize the necessity of getting back to the article I've committed to finishing today!
---
June 12, 2009

The buzz continues to grow about the social network Twitter, particularly since high-profile celebs like Ellen Degeneres and Oprah Winfrey have started tweeting and promoting the site. Frankly, I find it hard to devote much time to it. It reminds me of the early days of web surfing and how easily I could start with one destination and then end up way off somewhere else and far from getting work done.

Still, Twitter is a great virtual watercooler, and it also has some good networking and business growing potential. So I check in from time to time, discover articles, people, ideas and share a bit of what I'm up to (follow me at www.twitter.com/imstom).

A blog post by Dan Curtis, a certified life coach, film documentary maker and personal historian lists 8 good reasons why personal historians should use Twitter. And those ideas will work for other occupations, too. Check it out here.
---
June 11, 2009

Etched into the Steel of Shea Stadium

The New York Mets are playing in a new stadium this year and their former home is set to be torn down. Actually, Shea Stadium will be disassembled. As you might imagine there is a great deal of history there.

I came across a website where somebody wrote about how their dad was one of the iron workers on the stadium. Apparently on the jobs he worked on he would etch his initials along with those of his wife and his child. Now this child wants to have that piece of steel when the stadium is torn down. That won't be easy, but I give him credit for pursuing this dream and asking for assistance. Read more about it this quest for a small piece of family history.
---
June 8, 2009

Never too old to learn to read - or write a book!

Richard Glaubman was a school teacher for many years, but he became an author when he met a 101 year old Texas man who didn't learn to read until he was 98. George Dawson was a grandson of a slave and had a story to tell. It was his perspective of life in America. Despite always living in poverty, and mostly uneducated, he had a positive outlook on life. It goes to show again the importance of each person's story. Fortunately Richard Glabuman was willing to hear - and then write - Dawson's life story.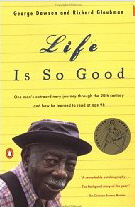 The result was Life is So Good. As mentioned in this article from the Peninsula Daily News, the author recently visited the students who were in his class when he'd discovered George Dawson and his amazing story. Those students were 4th graders at the time, but now are graduating seniors.

When Glaubman read an article to his students about Dawson, "Everybody had so many questions," Glaubman recalled. "What grade is he in? Is he in a class like ours? Does he sit at a desk like ours?' My favorite was: Does he go out to recess?" These questions and the teacher's own curiosity led to meeting the subject of what would become Dawson's life story.

Learn more at www.richardglaubman.com.
---
June 3, 2009

Running to Save Lives and Writing to Save Stories

There's two things I am doing this summer that I am very passionate about. And even though they are different activities they have some things in common.

I am running to save lives through Team in Training to fight blood cancers. The Leukemia and Lymphoma Society benefits from the fundraising I do and I get to run in a half marathon on October 18 here in Albuquerque (the Duke City half Marathon). Why would I run 13.1 miles? Aside from the fact that I've grown to enjoy endurance runs the past three years (3 half marathons and two full marathons - what can I say? I'm crazy for the endorphins), I really believe in finding a cure for cancer and the LLS has raised nearly a billion dollars over the past 20 years. They are a great organization, have helped contribute to research that has raised the survival rate for children with Leukemia from 4% in the 1960's to 80% or better today. They help with patient care. And they bring people together to help. It means a lot to those who are battling blood cancers. I've lost friends and family to Leukemia and other cancers and this is a way I can do something meaningful.

You can support me with a 100% tax-deductible donation. Go here to my personal Team in Training website and you can make your safe and secure donation online. Thanks in advance!

I also continue this summer to save stories. These are the personal histories of family, friends and others. I can help you capture your life story. In particular, I urge you to find out more about how I can be your Legacy Consultant to put together a full color book based on interviews along with a CD of the audio and a DVD containing a digital slideshow of the pictures you want as part of your life story. Discover the wonderful quality and true affordability of this Priceless Legacy service here.

TNT and PLC - saving lives and saving stories.
---
June 1, 2009

Like Butter...

If she did write and publish her memoir the public would certainly gobble it up! Barbara Streisand has been guarded about her private life. But she has finished building her dream house and in the process she documented it with a book of text and photos. In the Fall of 2010 an illustrated book of her home/compound in Malibu, California should be released. Apparently she also writes about other places she has lived. It is one way to get some of her story, but she is reportedly also doing some writing for a memoir that she may or may not publish. You can read more at The Huffington Post.
---