Home
---
What Story and Why
---
How to Tell
---
What's New
---
Blog
---
Life Story Resources
---
Research is Fun
---
Get Started
---
Sample Writing
---
Free Newsletter
---
Articles
---
About
---
Contact Us
---
Privacy Terms
---
[?] Subscribe To
This Site
The "Your Life is Your Story" Blog Archives
© Tom Gilbert

Read about quality family history and life story news, views, methods, products, links, services

...and whatever else catches our fancy of personal historian
March, 2022
current blog entries
blog archive index
---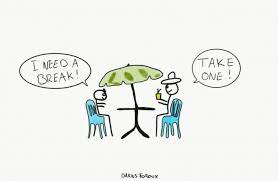 How Story Breaks Help

March 22, 2022

There are times when breaks in your story can be a good thing.

Everyone needs to take breaks. We can't be constantly on the life story treadmill. I liken it to the need to have some space where we let our stories breathe.

I've been reflecting on how we put a story together. Memoirs are a valuable way to tell about times or themes in our lives. They don't always progress in a straight line. We can go back and forth in time, pulling out nuggets from the past and looking at what we learned. Then we compare it to our present. Or even contemplate how it will help in the future.

In order to do good writing I know that discipline is necessary. You have to commit to putting in the writing time. Otherwise you won't make any real progress. And progress is key. But when you find yourself bogged down or worried that the narrative isn't good enough then it could be a good time to take a break.

Go for a walk. Do some reading. Cook a meal. Stretch and sketch. Whatever gives your mind an opportunity to recharge. We are not machines. If you try to force it you might get too discouraged. And the writing might be bad.

I believe the key is progress, not perfection. Don't give up, but don't try too hard. Writing about our lives can ultimately be a very satisfying experience. It helps us gain perspective. Remember your reasons for telling your life story.

You may find in your narrative that there are places where your story also needs breaks. It's not necessary to include every little detail. Finish telling about a time or event. Then on to the next one. This is why most books have chapters. Sure, there can be a connection from one to the next. But many life story projects I've been involved with are a series of vignettes. Slices of life, pieced together, but each also standing on its own can make for a satisfying tale.

So take a break when you need it. And when the break is over get back to it. There's a saying that was shared with me. By the yard is hard; by the inch it's a cinch.

---

Varied Hobbies and Activities Keep Life Interesting

March 15, 2022

I like music, reading, baseball and hiking. At one time, as a youth, I collected stamps. My family loves to play cards on Sundays. And the past couple of years I have been working on my culinary skills and doing more cooking.

One of the things that keeps life interesting is having varied hobbies and activities.

I wrote about this a bit back in May of 2016 with some links to a variety of hobbies to give you suggestions. I think it is important to have hobbies. There are many traditional hobbies for men (but not limited to guys) you probably are familiar with. Hunting and fishing come to mind. And yes, I know there are women who are interested too. What about those hobbies that are more unusual? Like axe throwing, blacksmithing, or quidditch. That't right Harry Potter fans, quidditch has become a thing (minus the magic flying around, but it still looks pretty fun).



Rough and Tumble Gentleman

can tell you about 72 Odd and Interesting Hobbies for Men. See what you think. You might find a new hobby or activity that will keep your life interesting.

---

Book Production Master Class

March 10, 2022

Once you write your life story manuscript you are faced with what to do with it. Print it out and put it in a three ring binder? You could, but that's pretty simple and basic.

I like the feel of a book. You don't have to aspire to your memoir being a best seller to have it printed and bound. Book production these days can be done more affordably than ever. But how do you go about it?



The Memoir Network

is presenting a

FREE

book production Master Class. It will be held on March 16 at 7 PM Eastern Daylight Time. There is no obligation to buy anything, but you can learn next steps for getting your story in book form. But you have to register for this free class.

Publishing your book your way allows you to:

• retain full control of the text, the design and the illustrations,
• act immediately on your goal of completing your project,
• make a book that reflects your taste, budget & dream.

The Master Class is free but you must register to receive details.

Want to explore e-book publishing? They will look at that, too! I think this could be time well spent. Get more info here.

---

Celebrating International Women's Day

March 8, 2022

Today, March 8, is

International Women's Day

. It truly is remarkable the accomplishments of women from all walks of life, diverse groups, histories, backgrounds and talents.

Women still are working for proper recognition in many ways and many places. I am glad for their progress and advancements, but dissapointed that too many still face discrimination or lack of opportunity and respect.

My fifth graders are working on a research project where each of them learns about a significant woman. I love this because not only do they learn more - so do I!

There are so many great women to recognize. Famous or not. My mom wasn't famous, but she was a great inspiration to me and others.

Thank you to women pioneers. To Bessie Coleman, Amelia Earhart and Sally Ride. To Harriet Tubman and Katherine Johnson. To Mary Oliver, Maya Angelou and Amanda Gorman. And so many more. If you don't recognize any of those names I just listed then do yourself a great favor and research them. Their courage and contributions continue to spread ripples of wonder and good to those who hear their voices. For their legacies are vital to our evolution.


---