Home
---
What Story and Why
---
How to Tell
---
What's New
---
Blog
---
Research is Fun
---
Get Started
---
Highlight Site
---
Sample Writing
---
Free Newsletter
---
Articles
---
About
---
Contact Us
---
Privacy Terms
---
[?] Subscribe To
This Site
Boston Be Strong and Brave

"B Strong" has been the rallying cry following the bombings at the Boston Marathon
Article and reflection by Tom Gilbert - © April 21, 2013



When fans gathered at Fenway Park in Boston on April 20, 2013 they came for more than a baseball game. The Red Sox are something of an institution in Boston and in all of baseball. Any member of the Red Sox Nation knows what it is like to have hopes and dreams fall short. It took a long time to overturn the "curse of the Bambino" when Boston sold Babe Ruth to the New York Yankees in 1920. In 2004 the Red Sox finally won a World Series, but that was after coming up short many times, often in some of the most dramatic playoffs and World Series games ever.

But on this particular Saturday Bostonians came to the ballpark both to seek companionship and a return to normalcy.They also came remember and honor the lives lost or dramatically changed after the bombings and violence of the past week. The moving tribute (here) expresses in pictures and the singing of Leonard Cohen's "Hallelujah" by Jeff Buckley what many of us have been feeling.

On Monday, April 15, bombs exploded near the finish line of the Boston Marathon. Instant terror and destruction. Loss of life and limb. Horror, fear and sadness. But also incredible compassion, kindness and bravery.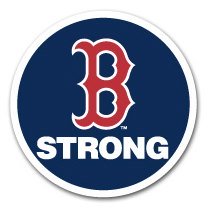 All through the week as the hunt was on to capture the suspects, the rallying cry B Strong was proclaimed. It was on the news, on social media and on the lips of all who were bonding together in their humanity, once again facing some of the worst that can happen in our world by bringing out the best mankind has to offer.

We don't yet know why two brother, Russian immigrants Tamerlan Tsarnaev and Dzhokhar Tsarnaev, set off the bombs. The older brother died in a gun battle with police authorities on Thursday night. The younger brother was injured and later captured on Friday and is in serious condition. At some point we will learn more, perhaps even their motives. What we do know is that the actions of these men took the lives of three people at the Boston Marathon (including 8-year old Martin Richard) plus an MIT campus police officer who was killed on Thursday. Their lives were cut short too soon; the lives of family and friends will forever be altered.

But live they did and even in shortened lives they will have stories that will be part of their legacy (CBS Sunday Morning tribute). Some will always be private, the domain of family and close friends. Others will emerge and be shared with the world, and they just might encourage us to do more each day of our lives to make our world a better place.

I am both a runner (two marathons and several half marathons) and a lifelong Boston Red Sox fan. The events of the past week have made me reflective in a deep way. It reminds me once again of the importance of life and of being present to the now. The human spirit cannot be killed. In doubt and fear we sometimes dwell, but it is in our collective humanity, in our compassion for others and how together we are strong when individually we are weak, that is when we discover the true meaning of life. So I say to you, today, tomorrow and always: be brave, be strong and be.