Home
---
What Story and Why
---
How to Tell
---
What's New
---
Blog
---
Research is Fun
---
Get Started
---
Highlight Site
---
Sample Writing
---
Free Newsletter
---
Articles
---
About
---
Contact Us
---
Privacy Terms
---
[?] Subscribe To
This Site
Dos Boneheads

The Adventures of Lenny and Tom
A reflection by Tom Gilbert - © July, 2012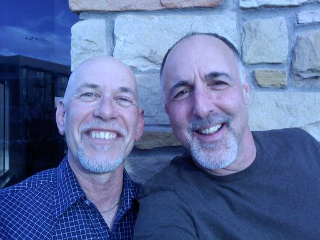 Sometimes life happens better than you could script it. My ole pal, Lenny Bloch, longtime compadre and fellow radio broadcaster, suddenly appeared before me yesterday evening. I was walking down the stairs from the top level of Isotopes Park. The Albuquerque Triple-A affiliate of the Los Angeles Dodgers had just been rained out. There'd been hope for the game as it was first delayed. I'd been at the park for a couple of hours, getting trained as the backup public address announcer. But that's a whole 'nuther story.

We had a steady afternoon shower, much needed here in the desert. Add the lightning and they decided to call off the game before it ever got started and making it up as part of a doubleheader today. So my debut over the loudspeakers at Isotopes Park will be a twin-bill!

But I digress. So there I was, trudging down the four flights of stairs, musing about my upcoming baseball duty, and I come up behind a guy who from the behind looks quite familiar. As he reaches the bottom of the steps he turns slightly to the side and I instantly recognize Lenny. I slap him on the back and he spins around. We both had the shocked and surprised facial reactions followed by vigorous guy hugs.

It was just last week I'd put a call in to my friend. "Yo, Lenny! We're coming to New York soon. Let's get together, maybe catch a game."

"Tommy, it's great to hear your voice. How's the family? We'll definitely get together. I'll be just getting back from a trip out your way. I'm heading to Arizona and maybe Taos." And the conversation went on as we yapped about traveling, family, radio, baseball and all the things we instantly fall into every time we converse.

I figured the next time I'd actually see Lenny would be in New York City on our fast approaching vacation. But there he was, big as life, in the flesh, smiling right in front of me. Time and space take a bow. Synchronicity sending tingles up my spine. What were the odds? Call it random chance, luck, coincidence or a simple twist of fate. It's crazy to contemplate, but I just accept it for what it is – spiritual and meant to be.

It turned out Lenny had taken a detour after visiting a friend in Taos and his annual stop at the hot springs in Ojo Caliente. He'd rented a car and before driving out to Arizona decided to catch the Albuquerque Isotopes game. No planned get together – he was just enjoying some personal time and going with the flow on his journey. However, the Universe had different plans. Marvelously and magically our paths intersected.

It was great catching up. If you have friends like this you know the enjoyment of such happenstance. The instant ease of conversation and the glow of companionship. We've both got a lot of history between us, and we both have plenty of separate adventures as we've traveled our paths the past thirty years. We've even got the twin chrome domes as Lenny took the plunge and shaved his noggin a few months back. It's been a few years for me. We both gave up the follicle fight and accepted our bald heads as the way it's meant to be. Call us Dos Boneheads.

I got Lenny to come by the house and my wife, Annette, who also knows Lenny from those heady early radio days in Albuquerque in the early 1980's, greatly enjoyed seeing him and catching up. Lenny had planned on a nap after the game…in his car…and I put a quick end to that. We pulled out the futon and he spent the night.

This morning we had coffee, another great little chat, and then off he drove, going west on the Interstate, a few hundred highway miles to his destination in Arizona. Time and space closed that window, hermetically sealing the memory of the surprise encounter, but captured here as I'm wont to do, being the personal historian ever mindful that our lives are our stories.