Rising From the Shards
by Carole Katsantoness
(Lenexa, Kansas )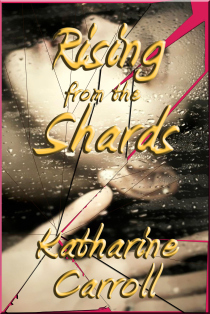 I am sitting on the edge of the exam table. The stiff, flimsy paper gown offers no protection from the chill. My blood is iced and cold seeps through every pore of my body and exits my back, only to repeat its circular drive. The tremors are uncontrollably bothersome. The barbed hooks ripping my head and face, tearing at my body and shredding my limbs for who knows how long, are somewhat dulled by the medication and a slight relief ripples through me due to being somewhere I associate with a safe haven. My eyes travel to the credentials on the wall and Dr. Benson's name. I am soothed by the familiarity and relieved it's not another strange doctor's office today.

Vaguely, through a dark gray tunnel somewhere during another life, Dr. Benson has his hand out and greets me. "How are you, Cassie? What brings you in?" His voice is too kind; I can't handle kindness right now. I can hear myself whining and wailing but I'm not sure I'm really here.

"They all say I have Post Traumatic Stress Disorder," I blubber like a fool. My God.
I can't talk to anyone without getting emotional. Where is that calm, articulate, self-assured woman I used to know? I am taking up space of the departed, on the outside looking in at the behavior of this stranger...me.