Another "Your Life is Your Story"
Recommendation

The Association of Personal Historians (APH), a not-for-profit international trade association,is comprised of some of the most talented and dedicated people around. The hundreds of members are involved in the preservation of family and business legacy, as well as the multiple ways to save personal history. The APH is dedicated to helping people preserve life stories and memories and has been around as an organizationfor over twenty years.

The passion for personal history preservation in all its various shapes and forms is at the heart of this organization. Over the years it has grown and developed many resources to help personal historians. I became a member in 2003 and I am continually impressed at how the business and the mission of personal history have evolved.

There are two key areas that APH can benefit you:

1) They can help you find the right person(s) to help you tell your story (or that of a loved one). The over 600 members from all around the United States, Canada and even a few other countries have a broad experience and ability to help in an amazing number of story preservation ways: books, oral histories, videos and more. You can easily search the Membership Directory.

2) If you are interested in becoming a personal historian, either as a professional or hobbyist, this organization has the resources and help you need. More beneficial than the in-depth content on the web site is the sense of community you get as a member.

There is a very active email discussion list, online forum, quarterly print newsletters, emails marketing services from fellow members, and the organization has created a "toolbox" of helpful resources for sale to members.

The association continues to improve offerings to members, including regional and online educational opportunities. There has been a renewed focus on networking through online webinars and lots of regional activity. And their annual conferences are superb opportunities to learn, network and have fun.




The 21th anniversary conference was this past October in Forth Worth, Texas. Two years ago APH marked a milestone - 20 years! The "Life Story People" gather each year and share how to help preserve life stories in different formats and create viable personal history businesses.
APH has a structure and organization, but it's not rule-heavy. The board members who serve as officers provide guidance and direction and are themselves active professionals in the field of personal history.
Some areas well worth exploring on the APH site are About the APH (learn about the organization, the values, history and how to join), an extensive Member's Area (jammed with resources too numerous to mention), the Newsroom (various members in the news as well as publicity about the Association) and a pretty extensive Resources and links section that will keep you surfing the Internet for a good while.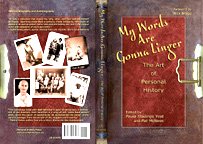 I also highly recommend the anthology of personal history stories released by APH - My Words Are Gonna Linger contains a number of life stories from various members of APH. Find out more online.


As you continue your life journey take advantage of the benefits offered from the APH web site.

Tom Gilbert, proud member of APH.


Click here for previous Highlight Sites



---
Everybody has a story to tell!
Your-Life-Your-Story.com
Copyright © 2003 - 2017 All rights reserved
Email Tom Gilbert