Home
---
What Story and Why
---
How to Tell
---
What's New
---
Blog
---
Life Story Resources
---
Research is Fun
---
Get Started
---
Highlight Site
---
Sample Writing
---
Free Newsletter
---
Articles
---
About
---
Contact Us
---
Privacy Terms
---
[?] Subscribe To
This Site
The "Your Life is Your Story" Blog Archives
© Tom Gilbert

Read about quality family history and life story news, views, methods, products, links, services

...and whatever else catches our fancy of personal historian
August, 2018
current blog entries
blog archive index
---
The Queen of Soul is Dead, RESPECT for the Queen

August 19, 2018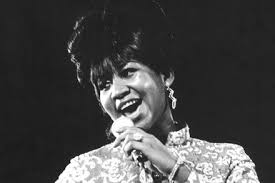 This past Thursday Aretha Franklin, one of the greatest singers of our time, died at 76 from pancreatic cancer. The date, August 16, happens to also be the day that Elvis Presley died back in 1977, andit was also Madonna's 60th birthday, but that all took backseat to the death of the great Aretha.

The day's spotlight, and the days since, have been on the Queen of Soul. Rarely have we witnessed such a powerful singer and presence. Aretha Franklin grew up in Detroit singing gospel music in her church. She could raise the roof and that never changed. In her career she gave us anthems of soul and R&B, from "Chain of Fools" to the iconic Otis Redding composition "Respect" that Redding readily admitted she "stole" and made her own.

Aretha was a great singer, no doubt about it, but she was also a voice for civil rights, women and the importance of being good and kind. Sure, she was a real life Diva, but it wasn't pretentious, it was her presence and her spirit.

Franklin sang at the presidential inaugurations of Jimmy Carter, Bill Clinton and Barack Obama. A fourth president, George W. Bush, presented her with the Presidential Medal of Freedom. At the age of 16 she went on tour with Martin Luther King, Jr., and later sang at his funeral.

Like Ray Charles, Aretha Franklin was one of a kind who could not just cover songs by other composers, she

interpreted

them and made them her own.

A great voice and a true music icon, Aretha Franklin was the Queen of Soul. Respect to the Queen.

---

Mathematics Study Says John Lennon Was Songwriter of 'In My Life'

August 12, 2018



There are places I'll remember all my life, though some have changed.

That's the opening line of the Beatles great song about life reminiscence, "In My Life".

For a long time there has been a debate about who wrote the song. Of course, John Lennon and Paul McCartney credited all their songs as Lennon-McCartney, an agreement they made when they were teenagers. But inevitably there were songs that only one of the duo completely wrote. Even with collaboration. And both McCartney and Lennon had stated they each wrote prominent parts of the song.

So now comes news that some mathematicians have used a process using statistics to identify who really wrote "In My Life". It's a bit complicated, from what I can make from this NPR interview with Keith Devlin, but the essence is that there are certain identifiable snippets of musical chords and notes that Lennon and McCartney each used repeatedly. And when you

do the math

it turns out the probability based on these snippets overwhelming confirms John Lennon wrote the song.

I am not surprised. The song always felt more like a Lennon tune to me. But that takes nothing away from the incredible collaboration between the two songmasters. I love the Beatles and the songwriting by John and Paul.

To me what is most important is how the power of music with profound lyrics can help us sort through our lives. "In My Life" is a really great song about experiences with people and places that were pivotal to John Lennon's life. I have always gravitated to songs like that, as you can tell from a 2004 article I wrote for this website,

Music Memories - Striking a Chord for Memory

.

---

Going the Extra Mile

August 8, 2018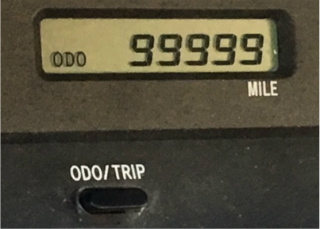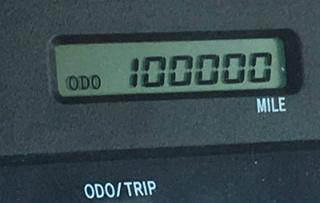 Last week my Toyota odometer clicked over from 99,999 miles to 100,000. It's a significant event in the life of an automobile. One hundred thousand miles. A lot of cars go further than that, but it still is an accomplishment.

Marking milestones is important. Graduations, certifications, achieving a long worked for goal - it is important to celebrate when you make the mark.

Which brings me to your life story. One of the hardest things to do is writing a life story. It can also be one of the most satisfying things you ever do. Yes, long hours and hard work. It is not a quick trip down memory lane, at least if you want to do it well.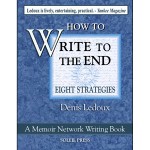 Persevering and writing to the end comes from dedication, willingness and help when you need it. You might benefit from reading the e-book,

Writing to the End

by Denis Ledoux of

The Memoir Network

. It includes encouragement and practical tips to thrive as a writer and to get your writing done. I recommend it and you can find out more along with information about the other Memoir Writing Books Series from Mr. Ledoux.





---

Howard Cato, the BMX Bike Hero

August 2, 2018

Most kids like to ride bikes. Even in later years a lot of us continue to ride a bicycle, be it for fitness or fun.

Howard Cato loved to ride bikes, in particular the tricked out with special skills riding of BMX bikes. If you are not familiar with the sport, picture motorcross with pedal power. BMX riders race and ride over and around obstacles. It's not easy.

In 1980 when Howard was just 11 he wanted to ride with the other kids in the neighborhood. But he was still learning and when they laughed and made fun of him riding with training wheels it embarrassed him. Then he got inspired.

A year later all his hard work paid off. He was doing all kinds of tricks and made a big impression with the other kids. But he wanted to take it to another level. In Oakland at that time there weren't BMX tracks so Howard and his friends at to improvise. They found places to ride with self-built ramps and jumping over abandoned cars.

Howard got really good and won a trophy at 14, taking 2nd place in the first real BMX track race he ever competed in. He continued the sport, but as he got older he also started hanging out on the streets and getting in trouble. Eventually he was in a really bad situation. That night one his best friends was killed. Howard was shot seven times. He survived, but lost a lung. There was doubt he would ever walk again.

He did recover, but it took a while. And he got back into BMX racing and later helped his own son with the sport. That son is now 25 and a professional BMX racer.

But the real story is what Howard is doing for other kids who want to get into BMX biking, but don't have the economic means. He started a

GoFundMe

campaign and has been raising to help kids in elementary schools and summer camps get bikes, safety gear and training. It is a great story that you should read more about here.
---