Real Resolutions
December 30, 2013
The year is almost over; a new one is about to begin. The fact that you are here reading this blog tells me you have some interest in life stories. Probably it is your own, but maybe it is your family story, or perhaps you are interested in doing this kind of work (*side note: if so, be sure to check out the
Association of Personal Historians
).
I am glad you are here. I hope that you believe in the value of preserving lives through our stories. That is the whole purpose of
Your Life Is Your Story
and why I've been dedicated to this for over ten years.
Many people typically make New Year's resolutions. I find nothing wrong with that, but I think it is wise to consider what your gifts and purpose in life is before you make your list. Each year I try to build on what I've done and recommit to my primary purpose.
---
Your 2013 Significant Events
December 27, 2013
It is getting closer to a New Year. There is a saying that time moves faster the older you get. Reflecting on 2013 it certainly feels that way. Then again, there have been times when I had a chance to slow down and savor things. So it is all relative (gee, thanks, Einstein!).
As a writer and personal historian I do get reflective and ruminate about past events. I do this while staying open to the present and absorbing the many life lessons I've been taught in the past year. Some of those lessons are repeats, but I think that is the nature of learning and education. It is certainly the case in teaching my fifth grade students.
Last night I was looking over the
Your Life Is Your Story
blog entries for 2013 (see
blog archives
). I feel good about the many posts. I commented on significant events that happened in my personal life as well as those that impacted us publicly. Births, deaths, birthdays, special occasions, hardship and victory - there was some of each in 2013.
I find it helpful to use various tools, such as a journal, social media, teaching guides and the interaction of others as we exchange our knowledge and experience. This is why I continue to be impressed with Michael Boyter's
MemoryGrabber
, a digital e-book that has lots of tips and inspiration for organizing a life story (
more here
). It's a great way to get started. It's also very affordable (about $15) and I've used it with clients to help them get started and organized.
There are other family history and life story resources that I recommend and you can check them out
here
.
Thanks for all who've visited throughout this past year (and over the years - this site is now over ten years online). Please feel free to
contact me
with questions and comments. We are all on this life story journey together.
---
Land of Luminarias
December 24, 2013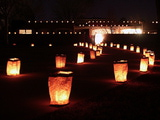 Camerafiend/Wikipedia

It is Christmas Eve and one of the great traditions in Albuquerque and throughout New Mexico is the lighting of luminarias. These brown paper sacks with sand and candles is
really
old school holiday lighting.
The tradition
dates back to the 1820's when small bonfires were lit to light the way to midnight mass (some even say the 1500's, but that could be stretching it).
There's some
naming controversy
over farolitos and luminarias, but we roll with it and most consider the paper bag/sand/candle to be the little light we call luminaria. Every year in Albuquerque there is a traditional Christmas Eve
luminaria tour
. People will walk around neighborhoods or ride in buses through Old Town and other parts of our city admiring this festive and sacred sight. ABQ Newscastic ran a fun and funny
7 Reasons why Luminarias Kick Traditional Christmas Lights' A**
.
This morning I helped load up a couple of trailers with luminarias that were taken to a couple of cemeteries. We placed them along the roadways. Already many people had set up luminarias around family plots. This evening people will return and light them and honor their family members who've passed on.
I've got a few luminarias ready to be lit along the driveway and sidewalk of my house. It feels good to be part of this tradition. Candle flames have a special glow, especially through paper bags at night. And the spreading of flame, one candle to the next, is an example of abundance. Taking light from one candle to light others has a special spiritual significance.
---
Christmas Down Under
December 23, 2013
It's the eve of Christmas Eve and as we are preparing for another Christmas in New Mexico (luminarias, tamales and posadas) I thought I'd share with you about Christmas in the Land Down Under. I only know about it second hand, thanks to a recent article written by my favorite Aussie Personal Historian, Annie Payne (
History From the Heart
).
Annie wrote an article,
Your typical Aussie jacaranda Christmas
, that is online at Starts at Sixty. Australia is in the Southern Hemisphere so they are in the middle of summer. They celebrate the holiday a bit differently than we do in North America. Pool parties, BBQ's, Santa in shorts and a beach shirt, cool drinks and the beautiful purple flowers of the jacaranda tree are all part of the story. I encourage you to read it and get a taste of what Christmas is like in Australia.
---
Benefits of Telling the Kids Family Stories
December 17, 2013
In my work as a fifth grade teacher I know firsthand the benefits of teaching young children through stories. Reading to elementary school children is both fun and educational. Passing on to your children family stories also has many benefits, as revealed in an article posted recently to
The Atlantic
.
Children crave to know about their parents, grandparents and other older relatives. They want to know what you were like as a kid, how you did in school, how you met your significant other, what your first job was like and where in the world you've traveled.
According to
What Kids Learn From Hearing Family Stories
, telling them in a descriptive way not only helps them understand their family history, it also helps them understand complex material, appreciate other cultures and have better coping skills. These are all valuable traits to develop in life.
You should give consideration to the rich experiences you've had and how you can pass them along to your family. How to write about your life is an ongoing lesson. Many of the
articles
I've written over the years focus on you understanding the heart of your experiences and putting them in writing.
---
Nostalgia is Good for You
December 15, 2013
How often do you reflect on the "good ol' days? Hey, there's nothing wrong with that! It turns out nostalgia is good for you. Jane Shafron, a personal historian, shared the good news on the
Association of Personal Historians
blog
. Maybe you already knew that reflecting on the past was a good thing. Turns out there is some science to back it up. Read
"It's Official! Nostalgia is Good for You"
.
I remember various times of my life with varying degrees of clarity. "Good times, bad times, you know I've had my share", as the
Led Zeppelin song
goes.
Today I'm happy to be alive, to have memories, to be able to wax nostlagic, and to enjoy the
now
. Take a look at my grandson and I in this photograph. He's clearly in the moment - and I'm right there with him!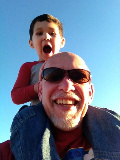 So if you think back on past times, both the good and no so good, remember that it is part of the journey. Everything is connected. It's all part of life, your life, and life is beautiful.
---
Bagging Leaves
December 12, 2013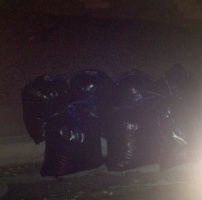 I came home from a long day teaching school and had just enough time to take out the trash and walk the dog before the sun set. The days are getting shorter.
Tomorrow's waste pickup will also include yard trimmings and leaves, as long as they are bagged up. I've been staring at a huge pile of leaves for a few weeks now. Our main tree in the front yard shed the last of them in our cold snap last week. I also live at the end of a cul-de-sac, so I imagine a lot of the leaves in my front yard came from some of the neighbors trees as they fell from the limbs and blew down the street.
Even though the sun had set I decided I better get some of those leaves bagged and to the curb. There was no way to get them all, but at least I could make a dent. As I raked and stuffed, occasionally stomping inside the bags to make more room, a memory came flooding back.
Years ago when I was probably 13 and my brother was 12 we lived in Missouri. My dad was stationed at a small air force base and he was the flight commander for a squadron of B-58 fighter bombers who were on 24 hour alert. This was during the Cold War and there was still tension between the Soviet Union and the USA.
My dad worked long hours and he relied on his sons to help with chores. My brother and I were supposed to get some leaves raked up. I guess we didn't get the job done on time because he rousted us out of bed late at night and marched us to the backyard where we had to rake and bag up a bunch of fallen leaves. It was cold, but more than our physical feelings were hurt. I remember us sniveling and shivering and I was in a foul mood from it all. But I learned a valuable lesson that day. I "man-ed up" and I guess I built some character. To this day I'm still not happy about having to do the work in the middle of the night, but it sure made an impression.
What are some "tough-love" lessons you've learned from your parents? That could be a good thing to write about. Remember that your memoir needs to include a variety of experiences. If all you put in are the high points then you are only giving readers a partial insight into your life story.
---
Follow Your Bliss and Create Your Own Online Business
December 9, 2013
My
Your Life Is Your Story
site has been online since 2003. I use the Sitesell system -
SBI! (Site Build It)
. It works. It works.
That's not a mistake above. I meant to type "it works" twice. Because it really does. I promote people preserving their life stories with my personal history services. Using
SBI
has been key to my success because I get everything I need to be successful online. I get good traffic, I don't have to be a tech wizard, and for the annual price that has not risen in 12 years (and won't), I get the greatest results and product for my investment.
You don't have to take my word for it. There are
so many testimonials
from others who have pursued their dreams of creating a business that uses the Internet and also allows them to create content and revenue from their passions.
It's not an overnight fix.
SBI
follows a formula that requires you creating a good plan and working the plan. But your passion is worth doing it the right way. Right?
Now is a great time to check it out.
A 90 day money back guarantee
if you don't believe it is for you. And the annual
Buy one, give one
special. Only until midnight December 25. Sitesell's way to say Merry Christmas and Happy Holidays.
---
Nelson Mandela Dies, Leaves a Legacy of Honor
December 5, 2013

Today came the news that Nelson Mandela, 95, the former president of South Africa who helped his country overcome apartheid and heal from the divisiveness, had died.
Already tributes from around the world are being paid to this man who lived a brave and noble life. There is so much to learn from his example. Despite spending 27 years in prison he did not become embittered. He found that forgiveness and love were more important than anger, no matter how righteous the cause. It is an amazing testimony to us all that he not only forgave his political enemies, he invited some of them to be part of the new government of his country after he was elected president. He said,
"If you want to make peace with your enemy, you have to work with your enemy. Then he becomes your partner."
If the motto of this website is true -
Your Life Is Your Story
- what a magnificent example is the life of Nelson Mandela. A man of humor, kindness, courage and integrity. I highly recommend learning more about him. A good place to start would be
this article
posted at
NPR.org
.
---
Top Regrets of the Dying
December 4, 2013
"I wish I'd spent more time at the office." I doubt that's a regret you would hear a dying person say. In fact, "I wish I hadn't worked so hard" came in as the #2 regret of the dying in the top five that former palliative care nurse
Bronnie Ware
writes about in her book,
The Top Five Regrets of the Dying
.
Other regrets mentioned include not staying in touch with friends, not having the courage to express their feelings and not being true to their life dreams and instead living the life expected of them.
These are powerful regrets. You can turn them into motivators. Don't go to the grave with regrets about not living your life dreams. Sometimes you have to step out in faith.
Writing your life story is something you should consider doing before "the big sleep". I know only a select few will do try it. The telling of your story is of great value, and not just to you. Others, such as friends and family, long to know more about you and your thoughts, feelings and values. Perfect strangers may one day pick up and read the story of your life and find purpose, meaning and motivation for their own life. We all hunger for the stories that connect us.
Next June I'll be traveling to Italy and teaching a week-long program on
Writing Your Life Story
. If you are looking for a way to have a life changing experience that combines an amazing vacation with insight and experience doing some life story writing this could be just the thing.
|
details
|