Home
---
What Story and Why
---
How to Tell
---
What's New
---
Blog
---
Life Story Resources
---
Research is Fun
---
Get Started
---
Highlight Site
---
Sample Writing
---
Free Newsletter
---
Articles
---
About
---
Contact Us
---
Privacy Terms
---
[?] Subscribe To
This Site

The "Your Life is Your Story" Blog Archives
Read about quality family history and life story news, views, methods, products, links, services

...and whatever else catches our fancy
February 2010
current blog entries
blog archive index
---
February 28, 2010
A Glowing Report for Vancouver's "With Glowing Hearts" Winter Olympics

The Winter Olympics 2010 in Vancouver, Canada has wrapped up. Lots of great sports moments. The spirit of International competition at the games often makes me think about our world. We have great diversity in our cultures and countries. But we all have in common the fact that we have the stories of our lives. You can see alot about the games at the official website. It was pretty exciting to have the USA battling Canada for the gold medal in hockey. The host country came out on top. Canada also set an olympic record for the most gold medals by one country in a winter olympics. Congratulations to the "Great White North"!

Canadian personal historian and fellow member on the APH, Dan Curtis, has been excited throughout. I have to give some "props" to the ongoing great tips he provides at his blog. You should check it out.

On the heels of the Olympic games another International member of the APH, Annie Payne (from Australia), is giving you the opportunity to build your story in March with a daily tip as part of a free email workshop. I've signed up and I'm looking forward to it. You can find out more here.

February is a wrap. We had a full family day with the baptism of our new grandson, Jacob Ray. I consider that an "olympic" moment.
---
February 22, 2010

Scripting Your Life

I believe there's some truth to the adage that what we focus on we tend to attract. I'm cautious about how this is sometimes presented to people - or even preached. What I mean is the selling of the Law of Attraction (aka "The Secret") can mislead people into believing they can get whatever they set their hearts and minds to, that it will "magically" come to them. I don't think life works like that. We don't have a magic lamp that we rub to make our wishes or dreams come true.

Instead, we should dream - and dream big - and then work towards our dreams and let spiritual principles guide us. Having faith in something bigger and living a life that promotes goodness, kindness and unconditional love will lead you to a fulfilled life. You might not get the job you want or become rich, but you will awaken to a greater destiny.

I'm thinking and writing about this topic this morning because I saw an interesting article. How To Write the Script for Your Ideal Life by Kate Corbin (a life coach) and it got me thinking about our life stories. There are some valid points to consider. Everyday we are indeed scripting our life. If your life was a movie would you want to watch it? You can read the article at screenwritingbasics.com.
---
February 18, 2010

I went for a run this morning. Although it was chilly I was glad to do it. Many of you know I've enjoyed distance running the past few years. However, I have been battling a lingering cough/cold and this was the first time I'd been out for a run in nearly a month.

While running I was reminded how important it is to keep a discipline in things that require ongoing work. This is so very true in life story writing. When you first decide to write about your life it can feel overwhelming. But little by little you can make real progress. You just have to keep at it.

I listen to music on my iPod. While nearing the end of my run for some reason my thoughts turned to Eric Clapton. I hadn't heard any of his songs on this run, but I was thinking about how much I like his music. I was also reminiscing about his life which has been full of many triumphs and tragedies. I highly recommend his autobiography, Clapton-The Autobiography. In it he honestly details his upbringing, discovery of music, his dedication to learning the guitar, the heady days of music in the 60's and 70's, battling drugs and alcohol and his eventual recovery. Anyway, a few minutes later as I finished my run one of his songs came on my player. Now I have my iPod on shuffle so this wasn't planned; it was completely random. But the moment of syncronicity was special, especially since the song was Let It Grow. The opening lines of the song can be applied to life reflection and recollection. "Standing at the crossroads, trying to read the signs. To tell me which way I should go to find the answer, and all the time I know, plant your love and let it grow".
---
February 17, 2010

Steve Jobs Biography in the Making

Steve Jobs, founder and CEO of Apple, is one of shining stars of Silicon Valley and certainly influential in so many ways to the state of our technology. You know the line of products: Mac computers, iPod, iTunes, iPhone and now the iPad. Lots of "i" stuff.

What can we expect from his bio? Jobs is collaborating with Walter Isaacson, the writer known for his biographies, Einstein: His Life and Universe and Benjamin Franklin: An American Life. Clearly a writer who has written about historical icons.

Check out the Apple Blog for an interesting post by Liam Cassidy. He raises the questions and points I think a lot of people share about what this biography might entail (or what he hopes it will). I'm impressed that he doesn't pull any punches.
---
February 15, 2010

Reflecting on Presidents

Today is the observance of the Presidents Day holiday in the United States. This holiday's original intention was the commemoration of George Washington's birthday(22nd), but since Abraham Lincoln was also born in February (the 12th), it's become recognition of these two great former Commanders in Chief. The "highest office of the land" in this country has been rife with history and controversy.

Some of our past presidents have served in times of great challenges. Washington was the first and led us through our early development as an independent republic. Abraham Lincoln, perhaps the most admired, probably had the term with the toughest assignment - dealing with a nation breaking apart in the Civil War. His great leadership, humility and compassion are widely noted. He lived with incredible hardship and reportedly faced deep depression. But he didn't give in to it.

Franklin D. Roosevelt (FDR) had the Great Depression and World War II. New deals and not giving in to fear were his legacy.

In my lifetime there's been Eisenhower, Kennedy (I still remember being on the playgound in second grade in Forth Worth, Texas when they called us in to the school to send us home the day he was assasinated a few miles away in Dallas), LBJ, Nixon, Gerald Ford (I later lived in Grand Rapids, Michigan, his hometown), Carter, Reagan, Bush Sr., Clinton, Bush Jr. and now Obama.

What impact have the presidents had on you? How has your personal history intersected with the nation's? These might be some good things to journal on.
---
February 11, 2010

Katie Vaughan of Sojourn Lifewriting was recently profiled by The Spokesman-Review (Idaho site/publication) about how her services as a personal historian have made an impact in various people's lives. The article does a great job explaining her services and what a personal historian can do for clients, like preserving a deceased father's story for a family history.

Vaughan is quoted as saying, "A personal history is more than genealogy, more than the names, dates and places on a family tree. A personal history tells the stories behind those facts, creating a legacy for families and future generations. When people die, they take their memories with them; this helps preserve those stories."

I mention this article because of how well it explains what many personal historians do and the value of it. Ms. Vaughan is another member of the Association of Personal Historians. The sharing, collaboration and encouragement that APH members give each other and how the organization and its members are promoting the importance of life story preservation is one of the driving reasons for my continued membership.
---
February 8, 2010

Asking Difficult Questions

There are times when personal historians are interviewing someone about their life that they tread into areas that can be difficult to talk about. Divorce, suicide, a cheating business partner, death of a child, alcoholism, abuse and so on. Probing these areas can be delicate.

What I've found is helpful is to get an overview before heading down that rode. I like to find out what kind of life story we are going to present. Is it going to be focused on happy moments? Triumphant times? Or are we going to discuss things that might be hard, but are essential to a person's story. It helps to get idea of what areas are ok and what are off limits.

I do encourage people to be honest about their lives. Nobody is one dimensional and the struggles are part of who you are and where you've been. Often they become turning points in our lives. And if ahead of time I have some idea about these areas then when I interview the subject I am sensitive...but we can't dance around them.

One thing you should consider before sharing your personal history/life story is what do you want to reveal and what is the point of these revelations. I hope you do it for more than shock value. If you are revealing some painful or tragic things remember that others who've been through something similar will find they relate more to your story. And when you overcome hardship you can share your experience for the benefit of others.
---
February 7, 2010

The Culture of the Super Bowl

Today one of the biggest (many argue it is the biggest) sporting events in the world takes place in Miami, Florida. Super Bowl XLIV has the Indianapolis Colts playing the New Orleans Saints. The Colts have been there before and have arguably the best quarterback in the game, Peyton Manning. The Saints are in the big game for the first time ever. Many are rooting for the underdog. One of the interesting side stories is that Peyton's dad, Archie Manning, played most of his NFL career for the Saints. And during that time the team usually had a losing record, even though Archie was a pretty good QB.

Cultural events like the Super Bowl can fit into your life story when you consider what you are doing for the game - a party, watching for the television commercials which are expensive and often controversial or unusual, ignoring the contest, or perhaps going to the event. It serves as a marker in time. I know that's true for me. The one time I was actually able to attend a Super Bowl in person was 1991 in Tampa, Florida when the Giants played the Bills. It turned out to be a very exciting game that went down to the wire. But the night before something happened to me that led to a life changing event. I won't go into the personal details, but suffice to say I got into some trouble and it led me to confront something that needed to be radically changed in my life.

Big events in life such as the Super Bowl are something to enjoy and share. We all like to comment on major motion pictures, best-selling books, cultural phenomenon and so on. We also are impacted by major calamities (the recent Haiti earthquake for example). When you face your own life changing event it can be a turning point that forever changes you. I hope it is for the better, even if it seems bad at the time. I know that has been true for me and I'll never forget the day before Super Bowl XXV in 1991 and how my life's course was changed for the better.
---
February 4, 2010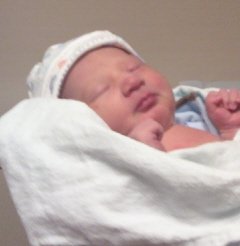 I'm a proud grandpa for the very first time! My daughter gave birth to Jacob Ray yesterday. It was a long, hard process before he came into the world. She went into labor on Monday night and after trying very hard for 27 hours a decision was made to do a Caesarian section to safely bring the baby into the world. Turns out that was necessary as he was "stuck" in the birth canal.

All is fine now with the mom, but she is sore (understandably!) and recovering. My son-in-law has been fantastic and helpful through it all and is already changing diapers and doting like only a new father can. All family members are basking in the glow of new life - God's great gift to us all.

Now that I have entered into the new (and sacred) role of grandparent I am injoyful anticipation about how this will stretch and grow me on my life journey. Many who are already "grands" are probably nodding in agreement as you read this. One of the fascintating and rewarding parts of life is how we can share our heritage, values and experience across the generations.
---
February 1, 2010

As we start a new month there might be a tendency to put the past month behind you. I know I easily fall into that practice. Summer ends and you move into Fall. The December holidays pass and it is on to the New Year.

However, the crippling earthquake that has caused so much loss of life and property in Haiti last month should still be very much on our minds. It will take a long time for this country to recover. Since so many charitable efforts are underway you might wonder which ones are doing the most good or are the most effective.

Here is a list of what many consider the top charities helping in Haiti. Of course there is the American Red Cross, by also World Vision and Doctors Without Borders are listed. Do what you can. Every bit helps.
---