Crosley Radio and Turntables Are Back to the Future
February 23, 2014
Crosley, a company and brand, has a lot of history. Just looking at some of their old appliances brings about waves of nostalgia. They introduced a low price radio for the masses, the Harko, in 1920. It sold for just $7. Other radios on the market cost $100, a lot of beans in those days. Crosley was also known for refrigerators, gas or electric ranges, and other appliances.
The first compact car in the US, introduced in 1939 and capable of traveling 60 miles to the gallon, was brought to you by, yes, Crosley. The company made a good deal of money and Powel Crosley built a broadcasting company and even owned the Cincinnati Reds, just to keep the team in his hometown.
There is a wealth of history in all of this and I recommend you visit the
Crosley website
to learn more. What fascinates me the most is how they now combine vintage and modern technology. In case you were not aware, the turntable has made something of a comeback. And people have always loved the look of old radios and jukeboxes. Crosley makes vintage looking devices that work and also have some modern features, so that they can play CD's or MP3's. You can dock your iPod, yet also spin your vinyl records. It's
back to the future
in a most interesting way.
I was inspired to write this post after reading some emails from the
Association of Personal Historians
Listserve. People were discussing ways to convert old cassettes to digital files. Personal Historians certainly are a wealth of interesting information!
---
Personal Historians Face Special Challenges
February 18, 2014
It is not easy to be a Personal Historian. It
is
fascinating and rewarding work. You literally save lives, in the form of preserved life stories. You can help people write them or you can interview them and do the writing for them. Personal Historians also work in the fields of video recording and oral history (recording someone speaking their story).
Some of the challenges are being articulate in explaining to others what you do and in interviewing and coaching clients and subjects of life stories. It also helps to be organized, thorough, detail oriented, creative, flexible, friendly, encouraging, empathetic, dedicated and...whew! Are you getting the picture?
Despite the many challenges, you should not turn away from this work if you feel called to it. And I believe it is a calling, much like teaching or working in the health and wellness fields.
Dhyan Atkinson, a business skills coach and marketing consultant, likes working with personal historians to help them achieve financial success and an appreciation of the worth of their work. She's led several seminars and coaching sessions for members of the
APH
(once again, I must put in a plug for the organization, the
Association of Personal Historians
. Fabulous group!).
Dhyan is in the midst of posting
5 articles for beginning Personal Historians
. I've read two of them and she's not afraid to address some tough aspects of this field. Not everyone is looking for personal historians and a good personal history project doesn't come cheap. If you are attempting to make a living with this work you best be willing to market creatively and ask for what you are worth.
Don't let this scare you off, either as an aspiring Personal Historian or someone looking for help with a life story project.
This is important work and it needs to be done.
A tangible legacy - a preserved life story - is priceless in its value for our families, friends and future generations.
---
Shirley Temple Black - Child Star and American Diplomat
February 11, 2014

Shirley Temple Black was arguably the most famous child star in Hollywood history. News came today that she has passed away at the age of 85.
She was so very precocious and cute, bubbly and very talented. A real darling who started at age 3 and by the time she was 10 was a huge box-office star, making $50,000 per movie, an unheard of sum at the time (the 1930's).
Her curls inspired hairstyles in countless girls. Her singing and tap dancing showed her wonderful personality and brought smiles and enjoyment to a huge audience. She was just 22 when she retired from filmmaking. Her career had lost some steam as she grew up. But she went on to have another prestigious career as a U.S. diplomat. She was an amabassador to Ghana and Czechoslovakia, and was part of the U.S. delegation to the United Nations. You can find plenty about her online, including
this CNN article
and this
Los Angeles Times
obituary
.
---
Ladies and Gentlemen, The Beatles 50th Anniversary
February 8, 2014
When Ed Sullivan introduced the Beatles on his show, February, 9, 1964, the world, or at least much of the United States, changed. The Beatles had already become popular in Europe, especially in England and their hometown of Liverpool. But they'd also toured and played relentless nightclub sets in Germany. That's how bands get good - they play - a lot.
This was the Beatles
first live television performance in the USA
. Television was still relatively new and America was also ripe for change. The Beatles were something new, fresh, fun and vibrant. They played rock n' roll and reinvented some of the standards. Their own pop that later evolved into sophisticated songwriting, has stood the test of time. John, Paul, George and Ringo are part of the culture that throbbed and erupted into a musical revolution in the 1960's. Beatlemania was the rocket ship that put this revolution into orbit.
But oh, that amazing debut amongst the screaming girls on the Ed Sullivan Show. Good times. CBS is honoring this 50th anniversary with a
two hour special
on Sunday night, February 9, 2014, exactly fifty years after that historic first live appearance on the Ed Sullivan Show. There will be a look back as well as live performances, including Paul and Ringo on stage together.
Here's a preview
at CBS.com.
---
Lookback at Your Facebook
February 5, 2014
Facebook
, the Social Media network, is now ten years old. To celebrate they surprised their one billion members with a lookback. It's a personal lookback at your facebook, a movie or photo collection of some of your memorable moments and posts on Facebook (
CNN story
,
The Guardian story
). An automated tool was used to create these highlights. You can see your own 62-second clip by going to
Facebook/lookback
.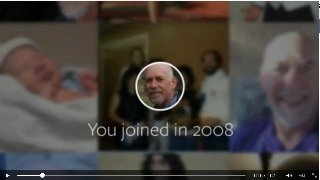 I joined FB in 2008 and admittedly didn't do much posting the first couple of years. I now go on more frequently, but still do more viewing than posting. Nevertheless, my lookback did manage to include some good photos of my grandkids and a couple of interesting snapshots of me. I'm glad the one where I am wearing a fake beard and my Boston Red Sox hat on Halloween as the Sox clinched the World Series made the cut. But if I was creating my own montage there is more I would have included, such as pictures of my son's high school graduation or a trip I made with my family to New York City in 2012.
What is most interesting to me as a personal historian is that a social media network created a quick personalized lookback that gives many people an inkling of what you can easily do to preserve some of your personal history. The technology tools make it easy to create photo or video memoirs. But you might want some help with a project like this, or go even further and create a memoir with lots of text to go along with the pictures. In that case, a personal historian or ghost-writer might be the ticket. If you haven't searched at the
Association of Personal Historians
you might want to make a visit. You can get lots of helpful information about preserving your story as well as find a personal historian to assist you.