Life Lesson Quotes from Martin Luther King Jr.

January 22, 2019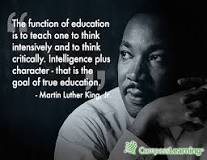 A day after we observed the Martin Luther King Jr. holiday I am once again incredibly impressed by the legacy of the man. He did a lot in his life to promote justice and civil rights. Like so many that call forth the importance of making changes in our world to improve relationships with others his life came to an end too soon because of an assasin's bullet.

50 years later it is good to be reminded of some of the most powerful life lesson quotes from Doctor Martin Luther King Jr. Here are three:



The function of

education

is to teach one to think intensively and to think critically. Intelligence plus character - that is the goal of true

education

.





People fail to get along because they fear each other; they fear each other because they don't know each other; they don't know each other because they have not communicated with each other.





We may have all come on different ships, but we're in the same boat now

.

Let's face it, those are some really fine words to live by. We all need to overcome our difficulties with "others" and realize we each have a right to dignity, to pursuing our dreams, living our lives, enjoying peace and happiness and also honoring each person's unique life story.

Yes, King is gone, but not forgotten. One of the best ways to honor him is to take his words to heart and try practicing what he preached.