Home
---
What Story and Why
---
How to Tell
---
What's New
---
Blog
---
Life Story Resources
---
Research is Fun
---
Get Started
---
Sample Writing
---
Free Newsletter
---
Articles
---
About
---
Contact Us
---
Privacy Terms
---
[?] Subscribe To
This Site
The "Your Life is Your Story" Blog Archives
© Tom Gilbert

Read about quality family history and life story news, views, methods, products, links, services

...and whatever else catches our fancy of personal historian
January, 2022

current blog entries
blog archive index




Memoir Movie of The Tender Bar

January 25, 2022

If you like movies about people's life stories, their life journeys if you will, then I think you will enjoy

The Tender Bar

, a movie based on the memoir by Pulitzer Prize winning journalist J. R. Moenringer.


I haven't read the memoir, not yet anyway, but after seeing the movie I am interested. The story follows the main character as an aspiring writer raised by a single mom. Since his father is out of the picture it is up to his gruff but loving grandfather and a surrogate dad in his uncle to dispense life advice and be supportive in the coming of age tale.

The cast is great, from the heartwarming performance by Daniel Ranieri as the young J.R. to Lily Rabe as the mom, Christopher Lloyd as the grandfather, Tye Sheridan as the grown J. R., and especially Ben Affleck as the uncle who runs a bar named after Charles Dickens. It's directed by George Clooney. The movie is streaming on Amazon Prime. I thought this review by Shah Shahid gives a good overview of the film and performances.




---

Colonel Tom

January 14, 2022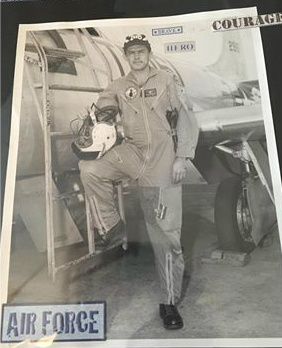 Colonel Tom was strict. Colonel Tom was smart. Colonel Tom was one heckuva pilot.

Maybe you were thinking when you first stated to read this that I was writing about Colonel Tom Parker, legendary musical entrepeneur and manager of Elvis Presley. But no, this was a different Colonel.

Colonel Tom was my father.

Dad was a military man, a lifer in the Air Force where he had a colorful 26 year career. His exploits flying jets led to a nickname, "The Red Baron", because he was something of an ace pilot. He was decorated for his missions in Vietnam and that experience had a lot to do with how his life direction changed years later.

My dad and I were different. He liked football and the military life. I was a post-hippie and a hardcore baseball fan. Politically he leaned way more right than me. I was certainly further to the left than him.

But we had some things in common. I notice it in my philosophy on life and my spiritual journey. We also shared a penchant for humor that sometimes went over peoples' heads. I remember family member remarking to him, 'What are you talking about?!" And sometimes I get that reaction too.

Then there's the times I pass a mirror and get a shock seeing what I think is my father's face. Or the times I hear something come out of my mouth that he would say.

Colonel Tom passed away ten years ago to the day. He'd turned 83 just a couple of weeks before on Christmas Day. I was honored to be present at his deathbed, along with my siblings and other family and friends. You can read more about that with the article I wrote a decade ago,

The Pilot Who Soared on Eagles Wings

.

I miss you, Pops. But thanks for all you taught me about life and for living your dream to fly the wild, blue yonder.

---

London Letter Only Had a Life Story As Address

January 13, 2022

A remarkable story out of London where Britain's postal service, the Royal Mail, was able to deliver a letter despite it not having a mailing address. What it did have was the recipient's first name and a post code for a Northern Ireland village.

And one more thing - a brief "life story" about the person. There were some details that included his parents' first names and how the the man played guitar and once ran discos in the parochial hall and hotel in the '80s.

It turns out a postal worker, Fergus McAllister, figured out who the letter was intended for. "I feel like I know him, too, for his whole life is on the front," related McAllister.

You can see the story from

CBSnews.com

. This is yet another good reason to know something about people's life stories. Of course, you can go much deeper than an envelope to record your story. Give some thought about how you will preserve your life story, because everybody has one!

---

The Betty Way

January 4, 2022


By now you have probably heard of the death of the legendary Betty White. She passed away on New Year's eve at the age of 99, but she was on the cusp of 100. Over the years she treated us to her sharp wit and wonderfully positive attitude, both on and off camera.

There have been countless tributes. It's not surprising given her legacy. She was a great actress with impeccable comedic timing. Her love of animals was also a prominent passion of her life.

Betty White was an entertainer from before television and she was part of not one, but three hit series. It started with the

Mary Tyler Moore Show

and she had huge success with

The Golden Girls

sitcom. But she kept going, performing well into her 90's on

Hot in Cleveland

. She also loved participating in game shows. In fact, she wed Alan Luden, the host of

Password

, a popular television game show.

What most sticks with me about Betty White is that she lived a full life with enthusiasm, humor and no dwelling on negativity. We all we could learn a better way to live by emulating the "Betty Way".

Mo Rocca had a nice tribute broadcast on

CBS Sunday Morning

and you can view it here.

---