Home
---
What Story and Why
---
How to Tell
---
What's New
---
Blog
---
Research is Fun
---
Get Started
---
Highlight Site
---
Sample Writing
---
Free Newsletter
---
Articles
---
About
---
Contact Us
---
Privacy Terms
---
[?] Subscribe To
This Site

The "Your Life is Your Story" Blog Archives
Read about quality family history and life story news, views, methods, products, links, services

...and whatever else catches our fancy
July, 2009
current blog entries
blog archive index
---
July 29, 2009

Homeless Millionaire Leaves Financial Gifts

Did you hear the story about the homeless Phoenix man who passed away, but left large contributions to various non-profits, including a substantial sum of funding credits to National Public Radio? Turns out after Richard Leroy Walters died he left an estate of some $4 million. He enjoyed listening to public radio and wanted to encourage others to do the same.

Despite being an atheist he was befriended by a devout catholic woman, Rita Belle. As a registered nurse she worked at a senior center that Walters would visit (turns out he may have been sleeping on the grounds there). She works at a mission and Walters left them $400,000.

This was an intelligent and compassionate man who made his money investing, but deliberately chose to live a simple life without a car or a home. It should make you think about what you value in life. | See NPR story here |
---
July 27, 2009

The Emotional Power of an Embarrassing Story

We've all had our embarrassing moments. Part of what we fear in life is people finding out about them. Yet they contain powerful emotion that can be great fuel for your memoir or life story.

You can do a little writing exercise - and you don't need to share it with anyone. Write about an embarrasing moment. Relive the emotion of it. Be descriptive. How did you feel? What happened as a result of the embarrasment? And you survived it...right? You might even be laughing about it now.

If you do this exercise I bet it will you free you up to write more honestly about your life. Honest writing is important because it will get you thinking more about your real life. You will also need to discover how much is appropriate to reveal in your memoir or autobiography (sometimes you need to be discreet, especially if it is going to bring harm to others). But that's a topic for another post.
---
July 22, 2009

Santa Fe in northern New Mexico is an historic city. It was settled by the Spaniards four centuries ago. Today the city is a mix of artists, artisans, the rich and famous and those with deep multi-generational roots.

As part of the 400 year celebration of the "City Different" a movie documentary by noted filmaker and 15th-generation Santa Fean E. Anthony Martinez (Silver Horn Entertainment) will premiere this evening at the Lensic Theater in Santa Fe. El Corazon de Santa Fe (The Heart of Santa Fe) is an 82-minute multi-cultural celebration of faith and history centered in the heart of the city named after St. Francis of Assisi. The film includes never-before-seen content of the famed Cathedral of Santa Fe. This church is a great landmark in Old Town Santa Fe and is sporting new bells as well as a new cross at its pinnacle. The documentary also includes scores of interviews from preeminent historians, some of New Mexico's unique individuals and historic reenactments of the arrival of Spanish colonists, Franciscan priests and their interaction with the Native Peoples.

Santa Fe has a rich history and this celebration is timed to coincide with the beginning of the annual Spanish Market.
---
July 21, 2009

Buzz Aldrin was the second man to step on to the surface of the moon. He and Neil Armstrong were part of the heroic and historic Apollo 11 mission to the moon, along with Michael Collins who remained in orbit around the moon while the Eagle (lunar module) descended to the surface.

As you might imagine, being part of such a significant event affects you for the rest of your life. For Aldrin, life had challenges and difficulties and he bravely documented it in his autobiography, Return to Earth. He battled his personal demons, including alcoholism, and his story helps us to appreciate the humanity of our astronauts. He reflected a bit on life after the moon and the 40 year anniversary of Apollo 11 with Steve Inskeep of NPR Radio (story here).
---
July 20, 2009

The Real Moon Walk

Today - July 20, 1969 - marks the 40th anniversary of the first men who landed and walked on the moon. Do you remember where you were when this historic event happened? I was a huge fan of the NASA space program growing up and I vividly remember the family gathered around the black and white TV in our living room to watch the live broadcast.



When Neil Armstrong stepped down to the lunar surface and pronounced, "One small step for man, one giant leap for mankind" we were all in awe.
---
July 18, 2009

Authoritative. Credible. Trustworthy. These are the hallmarks of the TV anchorman once considered the most trusted man in America. A legend has passed away. Walter Cronkite was a fixture of media for a generation. He died last night at the age of 92.

I remember him on the CBS Nightly News from my days as a youngster until well past college age. My fascination with the space program and NASA was enriched by his reporting. Cronkite, dubbed "Uncle Walter" by his colleagues, delivered news with authority and without bias. But you could clearly tell when something big affected him, such as his breaking news of John F. Kennedy's death by assasination in 1963 and his awed coverage of Neil Armstrong walking on the moon (40th anniversary of the July 20, 1969 Apollo 11 event is this Monday).


Thank you Walter Cronkite for all those years of telling us "that's the way it is".
(Excellent stories about Cronkite and his career on NPR.org)
---
July 16, 2009

Thanks to blogs, Facebook and email lists I am regularly drawn to stories and postings about the subject of personal history. Such was the case today when I came across Stefani Twyford's entry for her LegacyMultimedia.com blog. What Calls Us To These Personal Histories has her musing about her interest in preserving life stories (she is quite talented in the video genre). She points out that sadly some families don't take an interest in preserving their history and boxes of mementos and photographs often end up in pawn shops or antique stores. But sometimes a family member will take interest in artifacts and start mining their past.

On July 10 (see below) I wrote a little about the "what" of your life story. You should also consider the "why". I know that I get great joy in helping people document their lives and it gives me satisfaction when they realize the priceless value of a personal history project.

In my opinion there are two very important reasons - the "why" of your life story.

First there is the need to find the real meaning life has for you. This journey we are all on is a varied one, for sure, but there are some similar things we are all going through.

Each of us, in our search for meaning in life, has a vast amount of experience to draw upon. Our struggles and hardship, along with our achievements and blessings, teach us life's lessons. Your experience, your strength and the hope that endures are part of your unique story — and part of the reason why you should tell your life story.

The second primary reason to tell your life story is to leave your mark. This is what we call your legacy. We all want to be remembered. Certainly we want to be remembered for the good we've done and for the significant accomplishments in our lives. There is satisfaction in a life well-lived. Living a life fully and richly experiencing what it means to be alive and involved in helping others is a great thing. To share with others who you are, what you are about and what you believe in is passing on some very valuable personal history. | more on the what and why of your story |
---
July 14, 2009
What You Know and When You Knew It

There's a line in a Bob Seger song..."wish I didn't know now what I didn't know then". Yeah, think about that.

Much of what we learn in from experience. Who and what we encounter combined with education to form the backbone of our life knowledge. Culture plays a big part. A lot of Babyboomers are thinking this month about where they were 40 years ago when Apollo 11 put men on the moon for the first time (July 20, 1969). And the 40th anniversary of the Woodstock Festival is coming up.

I was on Robb Lucy's Your Legacy Smile site and read about a project conducted by a teacher in Utah. He asked student to interview someone over 65 years about their leisure and lifestyle when they were 21 years old and compare that to today's 21 year olds. The students were intimidated by the challenge of that generation gulf. But he successfully got seniors in the area to write letters to share with his students and got a good response from them about their lives, loves, wisdom and aging. The letters were read in the classroom and it spurred the students to meet up with some of these seniors and develop relationships and - share - life. What it is like now compared to what it was like then. Many of the stories are (and others like it) are shared at www.legacyletterproject.com.
---
July 10, 2009

People often agonize over writing their autobiography or memoir. It is a big undertaking and it can be a bit overwhelming to figure out how to begin.

I've pointed out frequently that you need to take some time to consider the "what" of your story. And breaking it down into steps helps gain some clarity. Essentially you want to prepare your story before you do much of the actual writing.

This article at eHow.com by Dorothy Sander includes many of these basic steps. Read it and if you want to discuss how I can work with you on your life story visit me at the Get Started page.
---
July 8, 2009

Dan Curtis, a Canadian personal historian, constantly has interesting and useful posts on his blog. Recently he celebrated his first year for the blog - good job Dan! His articles about interviewing include how to handle difficult interview subjects, interviewing the terminally ill, and how to listen with your "third ear". You can see links to nine of his interview articles here.

I also thought his post on the cost of a personal history to be well presented. So many people want to know right away what it will cost for a life story, but there are so many factors that go into determining this. Read what Dan says here.
---
July 6, 2009



I hope your July 4th holiday was a good one. There is still time to help develop your creative and financial "independence" by launching a web presence that is more than a web site and with the great tools and systems available creat a real on line business.

I'm referring to Site Build It! which I've used successfully for this website and thousands of others have discovered the incredible value. The $100 savings on the Summer Sandals special is good until midnight tonight (7/6/09).

I've related the many benefits and affordability of Site Build It! before - see here for more.
---
July 4, 2009

Declaring Freedom Out Loud on the Fourth

Whether you hold the truths self evident or not, the words of the Declaration of Independence still ring with freedom and dignity for us all. Sure, our country has had its flaws and still does, but it is also a wonderful home with many things I'm afraid I and others take for granted.

For 21 continuous years reporters for NPR (National Public Radio) have taken turns reading parts of the Declaration of Independence aloud (more here). I think that is a fine tradition. I encourage you to read aloud from this document of American history. And a happy and safe Independence Day to you all.
---
July 3, 2009

What shape will your life story take? Have you asked yourself this question?

If your life story is to be captured in print the end result probably will be a book. A life story book is usually a collection of stories about your life and including pictures is recommended. The pictures compliment the story and also draw the reader more into "your world". I always find it interesting to see pictures of families and scenes from a life.

A full life story - an autobiography or biography - is a large undertaking. There is typically a lot of research involved, but what a great treasure to pass on to your family.

You can, of course, do something smaller. A memoir about a particular phase of your life. Perhaps it was a life changing event. Or you may want to preserve the tale of your love story or career.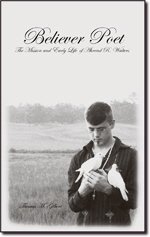 I wrote a book about a young man in Mississippi. Ahrend Walters is a poet and a bit of a mystic. His poems can be abstract, but they are also very spiritual. He loves nature, animals and sees that humans are imperfect. But his belief in Christ as the true perfection is his motivation. Believer Poet: The Mission and Early Life of Ahrend R. Walters was an interesting project because the subject allowed me to interview him and write my observations as well as documenting his life history and ideals. The book is available online and you can read an excerpt here.

Even if you cannot undertake a full life story you can capture an overview or a portion and have an excellent end result with the Life Story Package from the Priceless Legacy Company. A full-color hardbound book with photographs, a digital slideshow on DVD and an audio CD of the interviews, all for an extremely affordable price. Take some time this July 4th weekend to review this option and discuss it with family members.

The shape of your life story is up to you but I can help you get started.
---