Home
---
What Story and Why
---
How to Tell
---
What's New
---
Blog
---
Life Story Resources
---
Research is Fun
---
Get Started
---
Highlight Site
---
Sample Writing
---
Free Newsletter
---
Articles
---
About
---
Contact Us
---
Privacy Terms
---
[?] Subscribe To
This Site

The "Your Life is Your Story" Blog Archives
Read about quality family history and life story news, views, methods, products, links, services

...and whatever else catches our fancy
July 2010
current blog entries
blog archive index
---
July 30, 2010

Television Archives and Upcoming Emmys

The annual award presentations for Television's best programming, the Emmys, are about a month away. August 29, hosted by comedian Jimmy Fallon, will be the night of glitter, fashion and maybe even a bit of substance. George Clooney will be honored with the Hope Humanitarian Award. And if like me, you don't have regular access to certain premier cable channels (HBO, Showtime) you might be asking yourself, "when did they air that show?").

Despite the criticisms of television, many that are quite valid, the medium is powerful and there can be educational and quality entertaining programming. This year I fell in love with Breaking Bad and caught up with the first two seasons and watched all of the third. It's nominated for Best Drama as well as some significant acting nominations. Also, the show Lost wrapped up this year. Yes, I hung in there for all six seasons and I think it was one of the best shows ever for creative plots and character development.

If you like to research the history of television check out the Archive of American Television. Lots of interviews from TV legends and professionals. Included is a Remembering Daniel Schorr feature about the legendary news journalist and broadcaster who recently passed away.
---
July 29, 2010

Where You're From - in Verse

Some of you are aware that I'm in a program to earn a teaching certificate. It's an alternative route to licensure for those already possessing a bachelor's degree. My degree was earned over 30 years ago and is in Psychology. But out of college I went on to a longtime career in radio broadcasting.

Now I'm in a new phase of life. In addition to the rewarding life story writing and preservation work I do as a personal historian I am drawn to become a school teacher. I've already worked one year as a substitute teacher in the public school system and I'm most drawn to third, fourth grades and in a year I should be employed as an elementary teacher.

One of the education classes I'm taking this summer is on teaching the fundamentals of literacy. I've learned a lot and there have been many moments of profound insight, especially as it relates to life story writing.

We received a a printout this week of a poem by George Ella Lyon, "Where I'm From" (or the Spanish title, De donde yo soy). It's very expressive and beautiful. He writes of being from many things, from ordinary items (clothespins), products (Clorox), food (fried corn and strong coffee) and ancestry (Artemus and Billie's Branch, the finger my grandfather lost to the auger) and ethereal places (I am from those moments - snapped before I budded - leaf-fall from the family tree). Lyon is a writer and a teacher and on his website you can read the poem and discover some tips about how you might use "Where I'm From" in your own writing (more here).

Levi Romero created a template based on the poem that allows you to write your own "Where I'm From" verse (here).

Where we come from is more than our lineage and home town. We come from our experiences, our senses, our memories and dreams, and (ideally) we come from the heart.
---
July 24, 2010

A Journalist Giant

Daniel Schorr has passed away at the age of 93. It's the real end of an era as he was the last of Edward R. Murrow's CBS team. His career spanned six decades and he was a giant in the field. As an investigative journalist he covered controversies that included Senator Joseph McCarthy's hearings in 1953, the 1972 Watergate breakin, and the Clinton impeachment hearings in 1998-99.

NPR has a great article. Read it here.
---
July 23, 2010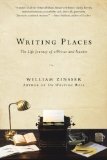 If you are a writer, or study the craft, you are probably familiar with William Zinsser. He's authored some important books on writing, including On Writing Well and Inventing the Truth (which includes observations on memoir and contributions from other wonderful writers).

Now Zinsser has a new book: Writing Places: The Life and Journey of a Writer and Teacher. I haven't read it yet, but it sounds intriguing. My writing is influenced constantly by the places I go. And the stories we have are embedded in the places we live and visit. Zinsser's memoir shares his tales of teaching, reporting and writing in a 50-plus year career.
---
July 14, 2010

A Storygathering Journey About the Gulf Oil Spill Impact on People


Like most people I am saddened and angry over the Deepwater Horizon Gulf oil spill. The horrific impact of this ecological disaster will be felt for generations. The hardest hit are the people who live along the Gulf Coast. Florida, Mississippi, Louisiana, Alabama and Texas are all states with wonderful coastlines that are now tarnished by the spilled oil.

What can we do? As empathetic humans we can listen compassionately to those affected and maybe find ways to help. Mike Pearson is a personal historian and onetime journalist for the Associated Press and The Atlanta Journal-Constitution. He's part of an effort to record the stories of the people and places affected by the oil spill. You can follow along at the website The Gulf and Me and there are plans to create a book from these stories with some proceeds to go towards Gulf recovery efforts.

The online community who participate in this effort can upload stories, photos and so on. There are also plans for some live video streaming. In addition to the thegulfandme.com site you can follow along (and spread the word) through the Facebook and Twitter designated pages.
---
July 13, 2010

The Voice and The Boss

Two prominent (some might say "legendary") figures of Yankee baseball have died in the past week. Longtime Yankee public address announcer Bob Sheppard was known for his distinguished style; he could make poetry in his elocution of names like Derek Jeter, Joe DiMaggio, Micky Mantle and others. He was also greatly respected as a pious gentleman, snappy dresser and lover of language. He nearly made it to 100 years of age and his career at the old Yankee Stadium saw many greats and great moments. He's fondly remembered by players, fans and management and he even has a plaque bearing his name in Monument Park alongside the Yankee titans like Ruth, Gehrig and DiMaggio. There's a terrific tribute and article by Marty Noble posted here at MLB.com.

The other prominent Yankee, like Sheppard, was not a player. But George Steinbrenner, the big spending, big-talking and longtime owner of the team, was known as a winner. Yes, he paid large salaries - the best players money can buy - but he also instilled a winning attitude to a club that had an incredible legacy of success but had fallen into a slump in 1973 when he acquired the franchise. "The Boss", as he was fondly known, passed away today at the age of 80 (story here). Maybe it is fitting that he died on the day the Major Leaguge Baseball All Star game is being played. Steinbrenner was something of an all star among baseball owners.

It's not typical of me to heap praise upon members of the New York Yankees family. I'm a longtime and diehard Boston Red Sox fan. The diamond battles between these teams are legend. But the fact that Steinbrenner brought championship baseball back to the storied NY team is something to be admired. And when the Yankees and Red Sox are both winning it makes for better baseball all around.
---
July 11, 2010

A Road Trip to Explore Your America

As usual, fellow personal historian Dan Curtis has found some more interesting information, so I'm spreading the word on this one from his blog postings. Sears is looking to send out some people on the road this summer to explore different parts of the country and record their experiences to share with the rest of us. They call this Exploring My America (details here).

I've often enjoyed road trips. Sure, traveling by car can be long and tedious. But you get to see so much more and to experience more, especially if you take the time to savor the journey and make stops at intriguing places. I have childhood memories of the family riding by car across many states (Dad was in the Air Force and we relocated a lot). My wanderlust continued in college. One summer a buddy and I, on a whim, drove from Norman, Oklahoma to Los Angeles and back over the July 4th long weekend, including stopping at the Grand Canyon and Disneyland. My best memories from the trip were driving through secluded mountain areas, deserts and along historic highways, like Route 66. And the comraderie and conversation were a big part of the trip.

I think Sears has a great idea (and a different marketing approach than the norm) with their Exploring My America project. A weeklong road trip, meeting people, sharing your story and theirs - that's the kind of "Your Life Is Your Story" adventures I encourage.
---
July 8, 2010

Remembering Robert Butler, Inventor of Term "Ageism"
Acute Leukemia has claimed the life of Robert Butler on Sunday (story), but his impact and influence on respectful treatment of elders will live on long past his 83 years. The Pulitzer Prize winner is credited with coining the term "ageism" to bring attention to age discrimination. He was considered to be a prominent gerontologist and he did a lot of advocating for aging and was the founding director of the National Institute on Aging at the National Institutes of Health.
Life spans continue to lengthen and how elders are viewed and treated will continue to be an important issue. How do you treat the elderly? Do you give them their due? How will you want to be treated? Everyone - young, old and in the middle are deserving of dignity. I'm reminded of the chorus to the John Prine song, Hello In There:

Ya' know that old trees just grow stronger,
And old rivers grow wilder ev'ry day.
Old people just grow lonesome
Waiting for someone to say, "Hello in there, hello."

God bless the elders. And God bless those of you who are doing your part to preserve our elders' stories.
---
July 4, 2010

Write About Your Freedom Rights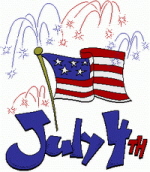 Let's face it, despite the problems and challenges we face in America we still have many wonderful freedoms and rights. Sometimes I think we take them for granted. These freedoms don't exist in every country.

Freedom doesn't come free. It requires sacrifice. A willingness to be part of a community and a responsibility to get along with others and protect those who need protection. It means helping those who need help. In our pursuit of happiness we do well to remember this.

What does Independence Day mean to you? Do you celebrate your freedom and respect the rights of others on July 4th? Over the course of our history the United States has experienced growing pains. And many men and women have fought for freedom. In wars. In civil rights marches. In the classroom. In homes. We do well to think, and I believe, write about what our freedom rights mean to us. Your life story includes struggle. And it includes knowing yourself on a very deep level. Remember the profound statement, "The truth will set you free". Discovering the truth of the meaning and purpose of your life is indeed a freedom. Let that freedom ring!
---