Fear Might Be Holding You Back from Telling Your Story
July 30, 2015
Fear can be an obstacle to your life story writing. But it need not be. Whenever you are afraid it is always helpful to identify just what those fears are and see how much they are based in reality and how many of them turn out to be just your imagination running away with you. I find it beneficial to remember the acronym
F.E.A.R
: False Evidence Appearing Real.
|
read more
|
An Audio Message from Her Father - Years After His Death
July 27, 2015
We all crave hearing our parents say they love us. It's a basic need of every human; we all want to love and be loved.
Getting that affirmation is sometimes a long time coming. For Johanneke van den Bosch it hearing her father's voice and how missed her had an incredible impact. That's because she heard it
years
after he died!
Her father recorded a cassette message that ended up forgotten in her half-brother's cupboard for over 28 years. It was a special gift for it to be found and presented to her in person when she made one of her infrequent visits. I found
this

cowbird

story
particularly moving.
---
No Writer's Block With a Memory List
July 22, 2015
Have you ever used a
Memory List
for your lifestory writing? It's a terri

fic tool. I've always recognized that it is important to outline and create notes when you are preparing to write anything, be it an article, essay or memoir. But the real value of a systematic Memory List became clearer to me when I read
Turning Memories Into Memoirs
by Denis Ledoux.
I was presenting to some elders at a retirement community today and I shared with them about using a memory list and its value. I emphasized that with an extensive list you won't ever have writer's block. When you are unsure what to write about simply refer to your list and something will jump out at you to write about.
A memory list contains words and short phrases about important events and recollections from your life journey. It could be the first baseball game you played in, getting a new bike for your birthday, the day your first child was born, going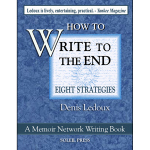 on a trip to Paris, meeting an old friend over coffee and any number of other significant things. Collecting these memories over time and clustering them in your 3-ring binder will help you recall other memories. The core memories from this list can form the basis of your lifestory.
Denis Ledoux has expanded on the idea of using a memory list with his recently released
Write to the End
(available from
The Memoir Network
). I'm enjoying reading it and picking up new tips. That's one of the things about working with writing and personal history - there is always more to learn and discover!
---
Archiving Family History Documents - Saving Your Stuff
July 21, 2015
Historical documents such as letters from presidents, legal documents, treaties and so on form the basis of much of the history of the world. In school we refer to them as "primary documents". These are important artifacts to preserve.
Just as important to your personal and family history are letters, photos, diaries, certificates and the like. Have you given any thought to how you will preserve this important "stuff"?
Tom Taylor has written about this topic for the APH Blog. In
20 Reasons Why You Should Write Your Family History: #20 You'll archive & preserve the documents on which your research is based
(link)
he discusses some steps you can take. Organizing, categorizing, inventoring and then refining your family history assets can take time and it might seem like an overwhelming task. But if you don't curate this stuff you risk it being lost, and along with it perhaps important pieces of a family history.
---
Two Sides of Technological Light
July 16, 2015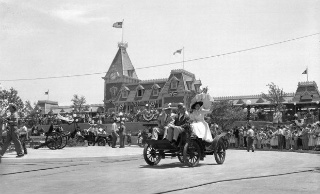 It has been called "The Happiest Place on Earth".
Disneyland opened
60 years ago and ushered in a new age. This park gave birth to a new type of theme park, one built on both fun and imagination. Walt Disney's dreams became real in a Tomorrowland where park visitors could experience the future now.
Ten years and a day earlier, another new age was birthed, the Atomic Age. The 70th anniversary of the explosion of the first atom bomb happened in the middle of a desolate desert in New Mexico. The
light of Trinity
burst upon the morning brighter than any sunshine. Scientists weren't exactly sure what would happen, but they knew it was a bigger bomb than there had ever been.
Two sides of technological light. The awful light of a nuclear explosion; the warm light of a place where millions have enjoyed special memories. It's an odd world we live in, so full of both goodness and horror. That's how life is, though. It is not all sweetness and light, but it is also not bitter and dark. All the varied spectrums of color shine forth in a ray of light.
---
3 Billion Mile Journey to Pluto
July 15, 2015
New Horizons, a spacecraft launched 9 years ago, has traveled over 3 billion miles across our solar system and historically made a
relatively close flyby
of Pluto. It is an accomplishment that some scientists are equating with man's first footprint on the moon and the landing of the Curiosity rover on Mars.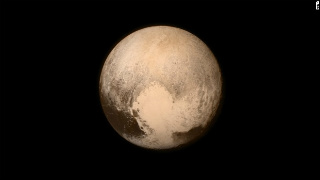 The probe's flyby has occurred exactly 50 years after Mariner 4 made its flyby of Mars and sent back photos of another planet taken close up from space. That was a first and now the United States has completed another first with this mission, sending a space probe past every planet in our solar system, from Mercury to Pluto . I find it fascinating.
Pluto has been a controversial planet with a debate in recent years over whether it should be classified a dwarf planet or not. Regardless, it is one of the significant bodies in space in our celestial neighborhood. But 3 billion miles away - what a vast distance to contemplate! It should provide some perspective and remind us that while we may be important (we are) and that our lives have significance (they do) we are but a small part of creation and our time is but a blip. Space and time and each breath we take, it is all magnificent and I, for one, am grateful to be living in a time when we can witness such historic occasions as receiving photographs from a space probe in the outer reaches of our solar system.
---
The Value of a Privately Published Life Story Book
July 13, 2015
There is no mistaking the growing popularity of memoir. The combination of technology and interest in our personal histories has led to an explosion of life story publishing. It's a rare feat, however, to have a memoir picked up by a publisher and an even rarer occurrence when that memoir sells.
Although your story might not be on sale to the masses doesn't lesson its value. Many people are quite content writing and privately publishing their memoirs for the benefit of their own reminiscence and to pass on their stories to family and friends. William Novak, a noted ghost writer who has assisted on memoirs for Lee Iacocca, Magic Johnson, Oliver North, Nancy Reagan and others has written an opinion piece for the
New York Times
in which he espouses the value of privately published life story books. He's had personal experience being the writer for such projects. In
Writing Books Very Few Will Read
he lists some of the meaningful reasons. This endorsement of the type of work I and other personal historians engage in is important validation. Even more important is that it reinforces many powerful reasons, including preserving your historical record, passing along values, the pleasure of reflection and the satisfaction gained from knowing you will be remembered by future generations.
---
Family History Stories Have a Wide Impact
July 9, 2015
Thanks to the efforts of
Life Stories Australia
over 2000 life stories from everyday Australians have been gathered and preserved. The impact of these stories is wider than you might imagine. Families learn about their ancestors. People learn more about their history. We all hunger for stories that satisfy a deep hunger to know who we are and where we come from.
Annie Payne, a very active, knowledgeable and thoroughly delightful
Personal Historian based in Adelaide
, Australia has been instrumental in helping seniors preserve their personal histories through Life Story Circles and the Life Stories Australia not-for-profit organization she founded in 2012. She's been a firsthand witness to the power of these stories and she's helping create a lasting legacy for Australians. Her recent post for the
APH Blog
(part of the twenty reasons why you should write your family history) lists some examples of elders' history. Check out
reason #18: It will have a wider impact than you might imagine
.
#APH20
---

Photos and Stories

July 6, 2015

A picture is worth a thousand words, or so goes the old adage. That is a lot of writing for one image. Most of us won't spill that much ink. But photographs do evoke memories and present opportunities to tell stories.

Some people are good storytellers. They have a gift for speaking, for weaving tales that hold listeners spellbound. Others are talented at capturing a story through photographs that convey something magical and mystical. We view it and thoughts and words come to mind. Robert Frank, called "the most influential photographer alive" by Nicholas Dawidoff in his insightful

NY Times

article,

The Man Who Saw America

, often literally shot from the hip to capture the spontaneity of life. His photographic survey from sixty years ago, "'The Americans", is considered a masterpiece. Bruce Springsteen says the book created an entire American identity, that the book speaks volumes beyond its 83 pictures.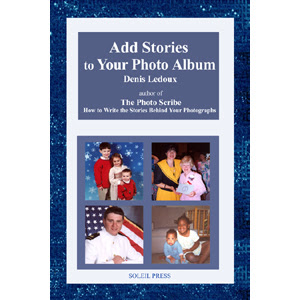 If you are creating a memoir or family/personal history it helps to include photos. Those photos speak to the reader visually, but can be enhanced with some well written stories. Life story specialist Denis Ledoux is the author of

Add Stories to Your Photo Album

. It is being offered as a free Kindle download on Amazon July 6. After today will be only $2.99 (link). Ledoux is the author of the celebrated,

Turning Memories Into Memoirs

, and provides a wealth of life writing information and resources on The Memoir Network site.







---


Grateful Dead at 50 and the Fare Thee Well Shows

Juy 2, 2015

It was fifty years ago that the Grateful Dead formed and it has truly been a long, strange trip for this iconic American rock group. Although Jerry Garcia, lead guitarist and founding member, passed away 20 years ago the influence of the music and various incarnations of live music from the surviving members has carried on over the years. However, they have not performed officially under the name of the Grateful Dead since Jerry died in 1995.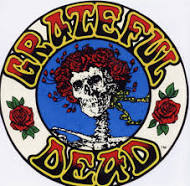 That changed a few days ago with a couple of shows in Santa Clara, California. The final three shows of this short Fare Thee Well tour get underway Friday, July 3 and continue through the Independence Day holiday weekend. Tickets sold out in a flash, but pay-per-view events at theaters or in your home are another way people can see the concerts.

The core four (the surviving original members Bob Weir, Phil Lesh, Mickey Hart and Bill Kreutzmann) will team with keyboardists Bruce Hornsby and Jeff Chimenti and play at Soldier Field in Chicago. It's a fitting venue, the site of the last Dead show with Jerry in July of 1995. It's hard to imagine a Dead show without Jerry Garcia, but Trey Anastasio, lead guitarist for Phish and someone who knows well the musicology of Garcia, is a good choice and he received favorable reviews from the California shows. I imagine he'll become more comfortable and more a force in the band with these next shows.

My first Dead show was in Norman, Oklahoma in 1977. I was in college at the University of Oklahoma. My roomate, John Florence, invited me along and it was pretty mystical. A few of us made a road trip a couple of days later to see the Dead perform at SMU in Dallas. As the saying goes, "There is nothing like a Grateful Dead show!" and that was particularly true for that Dallas show. It was the best of the many shows I would experience, although there were some pretty good ones through the years.

My buddy John and I not only went to college together, we also worked in radio broadcasting and we've got some other shared life experiences that are a part of our stories. John still works in radio, at KRCL, a community FM in Salt Lake City, Utah. Right now he and some of his friends are in Chicago for the historic event. It's going to be an amazing adventure and I look forward to hearing about it.

Music, particularly great live music, can have lasting impacts on us emotionally and mentally. I've seen a lot of good concerts in my life. There is something special about Dead shows that transcends just a musical experience. The audience, the environment and the musicians are all part of Something Bigger. On occasion the band is able to tap into what has been referred to at the "eternal moment" and they are all channeling music outside of space and time. I realize that sounds cosmic, but I've been there when it's happened and

felt

it.
---