Home
---
What Story and Why
---
How to Tell
---
What's New
---
Blog
---
Life Story Resources
---
Research is Fun
---
Get Started
---
Highlight Site
---
Sample Writing
---
Free Newsletter
---
Articles
---
About
---
Contact Us
---
Privacy Terms
---
[?] Subscribe To
This Site
The "Your Life is Your Story" Blog Archives
© Tom Gilbert

Read about quality family history and life story news, views, methods, products, links, services

...and whatever else catches our fancy of personal historian
July, 2021
current blog entries
blog archive index
---
Teacher Brain

July 30, 2021

For many years I have worked with people on their life stories. I've interviewed, conversed, written, edited, encouraged and supported them as they recounted their life journeys. Life story recollections are fascinating and important and I like doing it.

Some people call the work ghost writing or being a personal historian. Truth on both accounts. I guess I view this more as being a teacher of the various ways you can preserve a life story, particularly the writing process. That probably is a result of being a school teacher in my "other" occupation, something I began doing over a decade ago and as a later calling in my life.

Summer is almost over, that delightful and sacred time between school years when teachers relax, rest and refresh themselves before once again beginning with a new group of students. It has been a particularly enjoyable summer break for me this year. But now I must re-engage what I call

Teacher Brain

. At the end of a school year, after intense months of lesson planning and implementing and helping young minds learn and grow, I have to give

Teacher Brain

a break. So I turn it off. But now July is over and August is starting and so is another school year. I've sent my brain the message:

Teacher Brain

on!

---

Sparking Our Core Values

July 28, 2021

One of the valuable benefits of life story reflection, reminiscence and writing is the often helpful perspective of where we have been in life as well as where we are now. I know this to be quite true for me. And I know it to be true of many others whom I have assisted in preserving their life stories.

It is wonderful to look back at times in our lives and appreciate all the goodness. Harder to view the troubled times. Yet these times often are the most valuable, at least in teaching us lessons and helping us to grow as people who learn to love and care about others.

At age 93 Jerry Witkovsky - author, social work professional and grandparenting activist - reflects on his core values in an article in the summer issue of

GRAND Magazine

. One of the things he states is "You know more than you give yourself credit for." But the knowledge is often hard won. Such is life. It's not all

easy peasy.

I know for myself that the struggle is where I have the opportunity to become something better.

Mr. Witkovsky's article delves into the issues of compassion and empathy, but he does it by relating experiences from his life and interactions with others. It was a good read and helped me to again reflect on just what I consider my core values. It really is about being a part of life, hopefully in a positive way. We are not here just for ourselves. We need each other and we all can use some help and encouragement along the way.

---

Mary Guathier Saved by a Song

July 16, 2021

Mary Gauthier is one of those singer-songwriters who speaks about her life and life experiences through her songs. A true balladeer. She gets rigorously honest about her life journey. I admit I am attracted to such artists. It is never easy to face our demons, but when we hear about how others do and make it through to the other side we often can gain inspiration and motivation to do the same.

Gauthier has just released a memoir that started as an intended songwriting manual to share insight into the craft of songwriting. In the end she achieved that and more.

The resulting book is

Saved by a Song.

Nashville Scene

published an article by Brittney McKenna that provides some insight into the book, and life, of Mary Gauthier. Influences and support from others like Bob Dylan and the late John Prine have helped her on her journey. Now her memoir may do the same for others.

---

Jimmy and Rosalynn Carter Diamond Anniversary

July 7, 2021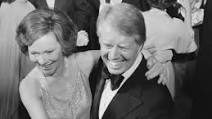 How do you measure a successful marriage? Longevity is certainly a factor. Today is the 75th wedding anniversary for Jimmy and Rosalynn Carter. 75 years! Their marriage is a great love story.

It is more than the years. It is the quality of that time and the legacy of this couple. Jimmy Carter was a one term president, but his presidency was during a difficult period of United States history. In the late 1970s the country was dealing with the Iran hostage situation and a gas shortage, among other things.

The years following have maybe better defined former President Jimmy Carter. He is a recipient of a Nobel Peace Prize. He and Rosalynn have helped a great number of people with their social and charitable efforts, among them building homes with

Habitat for Humanity

.

Jimmy is 96 and Rosalynn 93. Good, long and well-lived lives. They met when he was three and she was a day old. They both grew up in Plains, a small Georgia town and lived just three miles apart. Growing up Rosalynn became best friends with Jimmy's younger sister. Jimmy was later smitten with Rosalynn while a Naval Academy cadet. Their first date was in 1945. She was 17 and he was 20. He soon told his mother, "She's the girl I want to marry."

Happy anniversary to the longest presidential marriage in U.S. history! If you don't know much about this wonderful couple I recommend you read up on them. A short piece on NPR Radio this morning is a good starting point.

---