Home
---
What Story and Why
---
How to Tell
---
What's New
---
Blog
---
Life Story Resources
---
Research is Fun
---
Get Started
---
Highlight Site
---
Sample Writing
---
Free Newsletter
---
Articles
---
About
---
Contact Us
---
Privacy Terms
---
[?] Subscribe To
This Site

The "Your Life is Your Story" Blog
Archives
Read about quality family history and life story news, views, methods, products, links, services

...and whatever else catches our fancy

Read past entries - see the blog archive index
June, 2011
current blog entries
blog archive index
---
Finding Himself in His Autobiography

June 30, 2011

One of the quality reasons for writing about your life is to give you perspective and clarity. Some have claimed therapeutic benefits. I don't doubt it. Giving more credence to this is the recent self-published autobiography by Jason Wood. He's built a successful career as a yacht broker in Florida and used the money to help find his birth parents and also to launch his own publishing company, Kantanoose Global.

A review of his autobiography, From Here to Half Moon Bay, relates the almost non-stop writing process Wood went through. He states that his book will hopefully inspire others and help those who go through some of the same tough struggles he has.

| more here |
---
High Winds Fanning the Flames in New Mexico

June 27, 2011

The past year is sure seems like there have been more disasters around the globe. Floods, tornadoes, hurricanes, volcanos and earthquakes. And more wars. New Mexico, the Land of Enchantment where I live, seems in many ways protected from this. We don't seem to be afflicted with many of nature's calamities.

But it has been hot and very dry here. This means the danger of fires. We can be a windy state, too, and those winds have been blowing. And fires are springing up. Today's news was full of the evacuation of Los Alamos in the Jemez Mountains. That is a beautiful area and I hate to see fire envelope it.

Los Alamos is home to national labs and defense work (weapon research) still goes on there. The atomic bomb was developed there (Manhattan Project). But the area is also rich in spirituality. You can feel it when you visit there. It is amazing how our world can hold such paradoxes. The birthplace of the most devastating weapons of mass destruction. And a sanctuary of the Creator's eminence.
---
June Full of Memories

June 25, 2011

When I consider all the significant things that have happened in my life in the month of June it really is amazing. The expression, a spoonful of sugar makes the medicine goes down has been running around in my head and had me thinking of how my June full of memories brings my life around. Excuse the poetic license, but it is true.

First, there are all the birthdays. My sister-in-law was born on June 2 and I have three nephews with June birthdays – the 4th, 20th and 21st. My parents were married June 14. Mom passed away June 15, 2006 (five years ago and one day after my parents' 55th wedding anniversary). I ran my first half-marathon on June 5, 2006. And twenty years ago on June 22 I had a spiritual experience that led to a completely new way of life. In fact, if I hadn't "bottomed out" and accepted the help I needed I likely wouldn't even be alive today. If I hadn't changed my ways and was still alive today I'm sure I would be miserable.

| read more |
---
Songs and Dads

June 22, 2011

It's been a few days since celebrating Father's Day. But I've been thinking about a post I started on my Facebook page and how others contributed to it. The subject was songs about fathers and dads. There are quite a few. The ones that stick with me are those with real insight into the dynamics of fatherhood. Sometimes our relationships with others are quite challenging. Usually it is because we men are struggling with how to relate to others. Relationships require a lot of work.

Cat Stevens - "Father and Son", Harry Chapin - "Cats in the Cradle" and Loudon Wainwright III - "A Father and A Son" are all rich in pathos. Each of these songs speaks about the sometimes strained relationships between sons and fathers. But inside those songs is the deep message of fatherhood.

There is also a new song sung by Trace Adkins that gets me choked up everytime I hear it on the radio. "Just Fishin" is about a father taking his young daughter out for a day of fishing. In her innocent, "in the moment" way she is chatting about her ballet shoes, training wheels and her kittens. She thinks they are just fishin'. But a whole lot more is going on.

More lyrics include, "She ain't even thinkin' 'bout/What's really goin' on right now/But I guarantee this memory's a big'in/And she just thinks we're just fishin'/We ain't only fishin'/ (This ain't about fishin').

So what is it about? What are you talking to your kids about? What is your life about? It's your story. Hope you are sharing it.
---
Father's Day, Clarence Clemmons and Juneteenth

June 19, 2011

I've got so much running through my mind today. First of all, it's

Father's Day

. Dads typically have to work harder at showing emotion and nuruturing - but we can still do it! I'm blessed to have a great dad. And I'm honored to be a son, father and grandpa. Everyday I keep learning by doing - the best way to get educated.

My daughter and son-in-law gave me an awesome present (a Kindle)! I've been contemplating getting an e-reader for a while and now that I've completed my certification to teach school and I was just hired as a Social Studies instructor for 6, 7 & 8 grades my Kindle will be an excellent teaching companion.

I also saw a great article encouraging fathers to invest in their family history by journaling for their kids (

Fathers - invest in your past for your kids

,

San Francisco Chronicle

). I recommend you read the article and then act on it.

Today is also known as

Juneteenth

. Abraham Lincoln freed the slaves, but it took a couple of years for the news to spread through the south, hence the emancipation day celebration annually recognized on June 19. Thank goodness our country eventually decided that African-Americans are human with the inherent dignity of "life, liberty and the pursuit of happiness", although it has taken a very long time for it to be truly recognized. The civil rights process and battle against racism continues to this day.

A great African-American and a rock n' roll giant in more than one sense of the word has just passed away. I was saddened to hear the news that Clarence Clemmons, the "Big Man" saxophone player in Bruce Springsteen's E. Street Band, died from a stroke suffered last week. I saw Clarence blow that horn a few times at Springsteen shows and it was awesome. This NPR story tells you more.
---
Stories at Work

June 13, 2011

Everybody loves a good storyteller. Stories help us make an emotional connection to information. As a result, we tend to remember it better. That shouldn't be a surprise. Anything we attach emotion to tends to be more memorable. Just think about your first love, birth of a child, death of a parent, pain of a job loss or a disease, thrill of an athletic achievement...ad infinitum.

It turns out corporate story-telling may be beneficial for business. It can improve employee relations and can be important during performance reviews. So says an article I found online today. This article suggests that a greater commitment to a company's vision and values can result from people writing about it. I think this can be a positive as long as it is not manipulative.

Read the article, Corporate Story-telling improves Company Performance at ibtimes.com and see what you think.
---
One World, Many Stories - Yours Might Be A Winner!

June 9, 2011

I saw a story posted by the Deseret News that mentions a life story contest to get Utah residents involved in preserving their stories. Paulette Stevens, an APH member, is involved and has the Salt Lake County Library system helping to promote this with some free workshops in June and July.

The stories should be from personal experience and use the theme, "Seeking Freedom & Dignity". Some of the stories will be selected for publication. Summer time is a great time for reading, too, and this effort also includes cross-promotion of the American Library Association's Summer Reading Program.

| more |
---
Spirit of Grand Rapids Alive and Well

June 7, 2011

I spent five years in Grand Rapids back in the 1990's. At the time I was still working in radio broadcasting and the program director for a rock station, WKLQ. Michigan can be tough in the winter, but I always thought Grand Rapids was a fine city. There is a spirit there of industriousness and civic pride along with culture and Midwestern values that dates back to the furniture industry dating from the late 1800's.

In January of this year mainstreet.com listed Grand Rapids as the 10th most dying city in America. This didn't sit well with Grand Rapidians. Rob Bliss mobilized over 5,000 residents and the backing of many sponsors to create the world's largest lip dub. A single camera was used to capture people around the city lipsynching to Don McLean's "American Pie". That's an appropriate song considering it speaks to a generation (and more) about the "day the music died" (Richie Havens, Buddy Holly and the Big Bopper in a plane crash in 1959), but metaphorically represents so much more. Enjoy the video - it is a celebration of city pride and American spirit.


---
Guitar Slingers in Prison

June 3, 2011

Being locked up in prison is a real hardship. Imagine being imprisoned 27 years for a crime you didn't commit? That's what happened to William Michael Dillon who tells the audiences he plays his music to that he was convicted of a murder he didn't commit in 1981. He was exonerated by DNA evidence, one of a handful of prisoners who've been freed through the Innocence Project of Florida.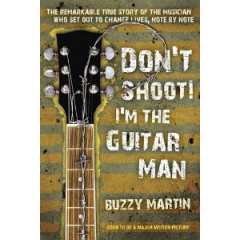 Dillon eventually turned his prison time to some good by cultivating his songwriting skills. He used prison-issued toilet paper to write most of his songs and he's been able to record a CD thanks to assistance from a Grammy Award winning producer, Jim Tullio (story at cnn.com).

When I read this story I thought about the courage, perseverance and endurance of this man. What a tough thing to go through. It's amazing he isn't embittered.

At the same time that I discovered this story I've been reading a book by Buzzy Martin that came out a few years ago. This lifelong musician recounts his experience teaching guitar to cons in one of California's most notorious penitentiaries, San Quentin. His book is titled, Don't Shoot! I'm the Guitar Man. It's riveting and inspiring.
---
Everybody has a story to tell!
Your-Life-Your-Story.com
Copyright © 2003 - 2011 All rights reserved
Email Tom Gilbert