Obituaries as a Form of Personal History Writing
June 29, 2014
A couple of weeks ago I mentioned how receiving news of the deaths of certain well known people can impact us. In June alone radio legend Kasey Casem, Padres baseball great Tony Gwynn, Steelers football coach Chuck Noll, and just a few days ago the terrific actor Eli Wallach. And it was at the end of May that the wonderful
Maya Angelou
passed on.
This cluster of celebrity deaths reminds me once again of how important it is to preserve our life stories. One way to do that is a well written obituary. Good ones are an artform and the obituary is truly a form of personal history writing.
Pat McNees, a personal historian and author of
Dying: A Book of Comfort
has an incredible amount of helpful information and links about the art and craft of obituaries on her web site. She notes how the
obit is a fine form of tribute
.
An interesting writing assignment for all of us is to write our own obituary. The
Association of Personal Historians
(
APH
) members Sue Hessel and Sarah White have even conducted classes in
doing just that
.
Eulogies and video or slide show tributes are another way of paying our respects to the deceased while also passing along elements of that person's life story.
---
Wedded Free Spirits
June 24, 2014
Over the weekend I traveled to Kansas City for the wedding of my nephew. Shea is my sister's firstborn. I am honored to also be his godfather. He's quite a creative and artistic man. He makes a living as a tattoo artist, and he has an amazing number of tats himself. So, too, do the many friends of both Shea and his new bride, Shannon.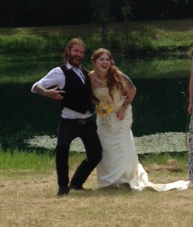 The wedding was outdoors in Tonganoxie, Kansas. Shannon's folks live there, out in the country, a very green and rural area. The cornfields were already over waist high. The trees are in full foliage. The outdoor setting for the wedding was in a big field, by a pond, hot and humid, but gratefully, under a large tent. Despite the heat and humidity it was something special. Shea and Shannon are free spirits. I admire their desire to do their own thing. The groom and groomsmen rode in on their Harleys. The bride was driven down to the site in a beautifully restored old car, vintage 40's, by her grandfather.
The father of the bride hit it off with the groom a few years back. Both Mark and Shea like to restore old cars and have done some of that together. It's apparently a family tradition on Shannon's side. Her grandparents enjoy riding in classic Model A's. They were even part of a Model A caravan in the 1980's, driving all the way to the Arctic Circle!
Shea and his friends also enjoy music, everything from bluegrass and traditional folk to hard-edged rock and metal. They love to jam and share good times.
I like that they are living life with gusto. We've all got stories about our lives. My fervent hope in the work of personal history is that we both examine and reflect on our lives and we continue to live it fully. If you haven't crossed off items on your "bucket list", well, get to it!
Congratulations to my nephew and his new bride. Be free, live free, love life and stay true to yourselves.
---
Casey Kasem, Radio Legend, The Voice of Summer
June 18, 2014
I've always listened to the radio. In those formative preteen years of eleven and twelve I remember mainly listening to the pop hits of the day. This would be in the late sixties. At that time, from 1967 (the Summer of Love) to 1969 (Woodstock Era) I was primarily listening to Top 40 radio. That format was still king, although album rock on the FM dial was emerging as part of the creative and cultural explosion of that time. Years later, out of college, I would begin a radio broadcasting career that included mostly rock radio.
In the summers of 1970 through 1972 a voice I would come to associate with the top hits I heard on the radio became something of a fixture for countless other radio listeners. Casey Kasem had this smooth voice and he also had stories about the songs he played on his weekly countdown show,
American Top 40
. And he also would share letters written to him, mostly from people who wanted to send out "long distance dedications" to loved ones. It was a form of storytelling. Little did I know that Kasem would have an impact on me as both a future broadcaster, and I guess more subliminally, as a personal historian.
Casey Kasem was also a voice over artist of commercials, the voice of Shaggy on the animated tv show
Scooby Doo
, and even for a time the booth announcer voice for NBC. Kasem became about as well known as a radio broadcaster could be. He's got a star on the Hollywood Walk of Fame. He's in two radio hall of fames. Kasem
passed away
Sunday (June 15) at the age of 82. That was Fathers Day - somehow appropriate for a man who did have children, both his own and those of us who grew up listening to him playing the top songs of the land and reminding us to "keep our feet on the ground and keep reaching for the stars." At the
AT40 site
, you can hear some of the radio legend's breaks from years ago as they remember the longtime host.
---
June 16, 2014
NOTE: It seems that celebrity deaths happen in clusters. We especially note those that have a connection or meaning to our own lives. And while family members and friends may not be "celebrities" to the world, they are to us! So I remember my mom,
Jeanne B. Gilbert
, who died eight years ago on June 15, 2006. But, I also note the passing of renowned radio broadcaster and voice over talent,
Casey Kasem
, who died yesterday at the age of 82. And baseball great
Tony Gwynn
, "Mr. Padre", a real wizard with the bat and glove, passed on today (June 16). I'll reflect on these in blog posts this week. - Tom Gilbert
---
Adding Personal Insight to History Writing
June 12, 2014
Many of us have experienced history classes in school that were dull, mainly because the textbooks were so dry. Fortunately, that may be changing. The popularity of memoir writing is now spilling over into history writing that includes personal experiences and insights. Particularly, if the writer lived through the historical events they can add personal insight to their history writing.
This is the subject of an
article by Victoria Ahearn
. She remarks on a number of noted books published in Canada of late that demonstrate this trend. Among them
The Dogs Are Eating Them Now: Our War in Afghanistan
by Graeme Smith and
The Massey Murder: A Maid, Her Master and the Trial that Shocked a Country
by Charlotte Gray.
I found this quote from the article to be interesting: "Memoirs do very well and so many publishers are pushing all non-fiction writers to say: 'Well, what's your connection with this material? We want to see it through your eyes.' And that's a fairly new development."
This reminds me of an article I wrote a couple of years ago,
Your Memoir and the Larger World
. I wrote back then that a slice of life memoir that includes your experiences set against or within the context of an important historical event allows your readers the opportunity to see history through your eyes. This is one of the gifts of shared life story writing.
---
Chester Nez, last of the Navajo Code Talkers, Dies
June 10, 2014
Last week Chester Nez, the last of the Navajo Code Talkers, passed away here in Albuquerque, New Mexico. He was 93, a veteran of World War II and an original code talker (
Washington Post
article
). During the war the United States was having trouble keeping the Japanese from decoding their messages. The enemy was successful breaking every code. But the Navajos, whose unusual language is based on complicated syntax, had no written form and unusual tonal features, turned out to be perfect for creating a code. It was a code that the Navajo men chosen for this mission, were able to use rapidly. And it was never broken. It is still being studied by military experts.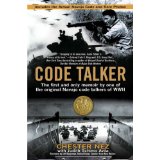 Chester Nez wrote a memoir in 2011. Judith Avila, co-author of
Code Talker: The First and Only Memoir By One of the Original Navajo Code Talkers of WWII
(
available on Amazon
), reminisced about this special man (
KOB-TV story
). When the book made some sales and generated a bit of money she tried to encourage him to spend it on a new car. His response was, "I'm just happy all those people who bought my book are going to know what my Navajo people did for my country".
---
D-Day Rememberances 70 Years Later
June 6, 2014
Today marks the 70th anniversary of D-Day. The invasion of Normandy in World War II was a massive military effort of the Allied Forces and led to the liberation of France from Nazi Germany.
Some war veterans gathered in Normandy to remember and honor the sacrifice of their fellow soldiers, brothers in arms. If we don't remember our history then we fail to recognize what people went through.
This NBC link
includes some videos with veterans recalling their experiences. Horrors - indeed. But also great courage and love. It is odd that they can both exist in the crucible of war.
I also came across a
Guardian
posting of
D-Day landings scenes in 1944 and now
. The photographs are interactive in that you see the 1944 picture and when you click on it you get a picture of the same scene today. It gives an interesting perspective and caused me to reflect deeply.
---
70th Anniversary of Normandy Invasion
June 4, 2014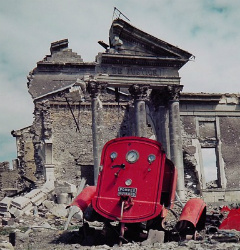 (The red metal frame in this picture from the ruins of Palais de Justice in the town of St. Lo, France, in the summer of 1944 is the remains of a fire engine. Massive destruction inland from the beaches of Normandy resulted from the Normandy invasion - Frank Scherschel—Time & Life Pictures/Getty Images)
One of the turning points of World War II was the massive invasion of Europe by Allied Forces in June of 1944. Friday, June 6, marks the 70th anniversary of the troop invasion onto the beaches of Normandy. It was a huge military effort and the fighting was fierce and the casualties were horrific. During the bitter fighting that continued inland towns were reduced to rubble and unfortunately a great many civilians were caught in the middle.
Seeing photographs from this time speaks volumes about the massive preparations and stirs the emotions. I found an article from the
Washington Post
(
D Day at 70: Historic photos from the invasion of Normandy
) that gives an overview of the invasion. And there are some impressive photos from the LIFE picture gallery, along with links to more photographs.