Home
---
What Story and Why
---
How to Tell
---
What's New
---
Blog
---
Life Story Resources
---
Research is Fun
---
Get Started
---
Highlight Site
---
Sample Writing
---
Free Newsletter
---
Articles
---
About
---
Contact Us
---
Privacy Terms
---
[?] Subscribe To
This Site
The "Your Life is Your Story" Blog Archives
© Tom Gilbert

Read about quality family history and life story news, views, methods, products, links, services

...and whatever else catches our fancy of personal historian
June, 2019
current blog entries
blog archive index
---
Taking a Trip that Expands Your Life

June 30, 2019

It took many years for it to finally become a reality: a trip to Europe that proved to me what I have heard for years. Travel can expand your life in many signifcant ways.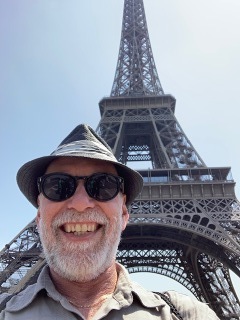 My wife and I just returned from a ten day vacation to Italy and France. We have wanted to go to Europe for a very long time. In fact, I was supposed to fulfill the promise of this trip by our 25th wedding anniversary, but when we achieved that milestone we were not yet able to do the trip. Fortunately nine years later, and better late than never, we were able to do it.

The trip included Florence and Collie di Val d'Elsa in Toscany, Venice and Paris. We saw many great works of art and ate wonderful meals. We experienced cultures different from our American home and we are richer for the time and life lessons. Travel can truly expand your life.

It is not easy to take long flights and to spend time, money and energy on such trips. But it can be truly enlightening and memorable. I feel blessed to have been able to do so, especially with the love of my life. We grew closer, even when at times we might have gotten on each other's nerves, because we shared the experience. To me that is one of the important things to understand in life, that we are meant to share our time with and for others.

I wrote more about our trip of a lifetime in our just published newsletter. It is free to subcribe to and you can find out more and sign up here.


---
Gifts of Our Fathers

June 16, 2019

On this Father's Day holiday I find it important to reflect on the gifts of fatherhood. Our dads give us the gift of time, unconditional love, and knowledge passed on to help us with the many things we must do in life.

Doing and being are highly connected and when we are taught both by showing and then doing we learn better.

All our greatest lessons are taught and learned with the heart. Sure, the head is the seat of knowledge, but wisdom comes from the heart.

I am grateful for the gift of fathers. I mean this as a son and as a father. The line down through the ages, fathers to sons, across the generations, forever connects us. Part of what I like so much about history is that we can study this line back through time. But we can only do it when we preserve the personal history of our lives. The stories of our life experiences are lessons that can teach us a great deal, particularly when they are the life lessons from our hearts.

Happy Father's Day! Never forget the awesome gift of your children and the great responsibility you have to love them always no matter what.

---
White Water Rafting Builds Father-Son Relationships

June 14, 2019

It is
nearly

Father
s Day

(this Sunday) and I just returned from an incredible mini-vacation with my brother-in-law and our two sons. It was an adventure we will always remember and a great way to continue to build solid relationships.

My son, Eric, is now 25. Art's son, AJ, just turned 28. So for Art and I this was a great dad

and

uncle outing. Fathers and sons; uncles and nephews - it was already setup to be a good time. But when we took to the rapids of the Taos Box on the Rio Grande River our

Far Flung Adventures

went to a new level.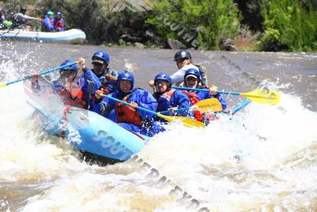 White water rafting can be very thrilling. This year with all the
snow and rain of the winter and spring we are experiencing one of the best runoffs in years. The water is rapidly moving and it was quite exciting to shoot the rapids.

Our trip with tour guide Richard required teamwork. We had all the gear, including life preservers, water-resistant covers, helmets and paddles. But the most important thing was that we worked together. Sometimes we had to vigorously row forwards. At other times it was necessary to back-paddle. Through it all we had the time of our lives.

Spending quality time like this with our sons is something all of us will treasure and remember. Life experience moments such as these are more than enjoyable; they are times of bonding. We relied on each other and we had a great time together.

---

75th Anniversary of D-Day


June 6, 2019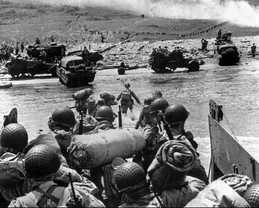 D-Day invasion - photo Associated Press



I entered the search phrase "75th anniversary of D-Day" in Google and got an
amazing 89,
900,000 returns. Seventy-five years after the largest amphibious military invasion in history there is a lot to commemorate.

It is probably difficult to visualize this massive invasion that was critical to the Allies' efforts to end World War II. Miles of beaches and thousands of troops. Try to imagine what it must have been like for those who experienced it. It's not possible for us and it is not something anyone should "want" to experience. Nevertheless, many did go through the emotional wringer of

D-Day

. This week some of those veterans have returned to the beaches of Normandy to pay their respects and to honor the memories of their fallen comrades.

Many people don't appreciate history or have little interest in it. For me it is essential to know history. It's all about stories - our stories and the stories of our world.
---

Fur Baby Farewell

June 4, 2019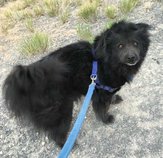 Shadow, our awesome fur baby Chow-Labrador mix (I called him a "Chowbrador"), after 15 years of unconditional love, crossed over to the other side a few days ago. He was surrounded with love from family (Annette, Kristen, Eric, Neti and me) as we said our goodbyes. You could see in his eyes that he knew we were saying our farewells. Sad and joy mixed together.

15 years ago at Watermelon Mountain Ranch he picked us. We thought we were choosing from the litter of six, but no, he came running right up and let us know in no uncertain terms that he was the one and to take him home.

He was a fun dog. He had puppy energy for a great many years. He was my walking and running buddy for over a dozen years. The past three or so he got to live a pampered life with Eric and Neti and two other dogs.

When it is time...it's time. I am going to miss him so much but I am so grateful for all the unconditional love he gave us.

About 7 years ago I wrote an ode to Shadow -

Doggone Grateful

.

You can read it here.