Home
---
What Story and Why
---
How to Tell
---
What's New
---
Blog
---
Life Story Resources
---
Research is Fun
---
Get Started
---
Highlight Site
---
Sample Writing
---
Free Newsletter
---
Articles
---
About
---
Contact Us
---
Privacy Terms
---
[?] Subscribe To
This Site
The "Your Life is Your Story" Blog Archives
Read about quality family history and life story news, views, methods, products, links, services

...and whatever else catches our fancy
March 2010
current blog entries
blog archive index
---
March 29, 2010

The Guthrie Family Business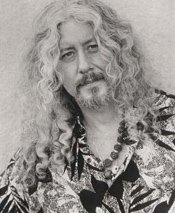 I've seen Arlo Guthrie in concert a few times and he's quite the storyteller. Maybe it is in his genes. His father, Woody Guthrie, was a folk singer, storyteller and troubadour historian of Americans "From California, to the New York Island; From the redwood forest, to the gulf stream waters" (lyrics from one of his great folk songs, This Land Is Your Land).

Very often our past is preserved through the vision and creative spirit of poets, musicians and artists. Woody Guthrie's fierce independence and concern for everyday people influenced countless others (perhaps the most prominent is Bob Dylan). His blood courses through his descendants and Arlo Guthrie's offspring continue the legacy. It's pretty cool. The Guthrie Family Rides Again is a tour featuring four generations of Guthries. Arlo brings his dad's spirit along and his kids and grandkids join in the fun. This Saturday, April 3, they make a stop in Albuquerque at the National Hispanic Cultural Center.

Arlo Guthrie (known for many years as America's favorite hippie) has turned 60 and he continues to write songs. But he also has much to share about family, music and creativity - with his well-known wit intact! Here's a link to a conversation with Arlo. And more info about his upcoming show from AMP Concerts here.
---
March 25, 2010

2010 Census On the Road Tour

You've probably received your United States 2010 Census form in the mail (those of you hear in the USA, of course). The Census Bureau is busy encouraging people to fill out their forms and return them. This includes publicity like their vehicle road tours across the country. One of the vehicles, named Geography and touring the Rocky Mountain Region, makes a stop here in Albuquerque today. You can even follow them on Twitter - www.twitter.com/2010Portrait. And yes, they have a blog.

Every ten years the Federal government surveys the populace with 10 basic questions including who lives in the household and how many, plus some other data that helps determine the population count and allocate resources. From the official government site, "Census information affects the numbers of seats your state occupies in the U.S. House of Representatives. And people from many walks of life use census data to advocate for causes, rescue disaster victims, prevent diseases, research markets, locate pools of skilled workers and more."

Federal law protects the privacy of the answers until 72 years later when it becomes public. For those who've searched for information on their families you've probably encountered older census data that helps you trace your family tree. I wonder if a future descendant of mine one hundred years or more from now will be looking at what I fill out.
---
Jasmine, the Caretaker Dog


March 18, 2010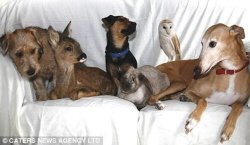 Those of you who are pet and animal lovers will love the story of Jasmine, the caretaker dog (photo © Caters News Agency Ltd). This dog is known as a mother surrogate to many other rescued animals. Jasmine was rescued herself and her maternal instinct is incredibly strong. As documented in this article from the Daily Mail Reporter from December 31, 2008 (and confirmed by snopes.com, in case you've seen the email that circulates and think it is a hoax).

Jasmine loves all animals. She doesn't discriminate. She's given her motherly love to rabbits, foxes, owls, baby chicks, a baby deer, badger cubs and (of course) stray puppies.

Do you have a favorite pet or animal story? This would be something worth writing about. I've heard from some of you about your pet stories and they are great. Take some time today to appreciate the story of Jasmine and to think about those animals you know who show such unconditional love. There's a big lesson there if we are willing to see - and learn - it.
---
March 17, 2010

Yesterday I was in bed for most of the day, knocked down by some kind of stomach bug. Achy, nauseous - it was no fun. But it did give me the opportunity to watch the first two episodes of Who Do You Think You Are, the new NBC series that is exploring the family history of seven celebrities. My regular work schedule doesn't allow me to watch the show live, but I had recorded them and so I settled down on the couch to see what the show is all about.

The first episode had Sarah Jessica Parker traces her roots from German immigrants who'd settled in Cincinnati and she discovered that one had been involved in the gold rush in California in 1849. She also found out that she had relatives in New England and one of them had been accused of witchcraft in the Salem Witch trials of the late 1600's.

The second episode featured Dallas Cowboy football great Emmitt Smith. His search took him to Burnt Corn, Alabama (great name for a little rural town) and later to Virginia to discover his family slave roots, plus a surprising ancestor who was a daughter of a slave and the slave owner. He also did some DNA testing that revealed he had 81% African ancestry (very high according to the expert) and he journeyed to the west coast of Africa to find out more about his past.

This series is giving family and personal history a greater profile. Although it focuses on celebrities you should be reassured by watching that we all have interesting pasts worth exploring and documenting. I encourge you to view the series which airs on Friday nights on NBC. More on the show here.
---
March 11, 2010

Annie Payne (personal historian in Australia and yes, another member of APH) has been offering daily tips in March on preserving our life stories. I've found many of them to be great reminders (from organizing your memorabilia, creating timelines and topics, thinking about the important people in your life, using photographs) that are practical and can help you stay motivated and focused on your personal history work.

Today she was reminded us to think about the toy(s) we played the most with as kids. I'm going to use that tip with the third grade class I am visiting today to speak about family history.

It's not too late to sign up for Annie's free emails this month at her History from the Heart site - go here.
---
March 9, 2010

Storytellers in Santa Fe

I was in Santa Fe over the weekend. The "City Different" (as it is known to many of us) has been celebrating 400 years. On Sunday I happened to pick up a copy of the local newspaper, The Santa fe New Mexican, and discovered a front-page story about a diverse group who share stories of Santa Fe in a face to face manner. Among them are longtime storytellers Nasario Garcia, Mary Ellen Gonzales, Eva Torees Aschenbrener and Joe Hayes.

The article made mentin of how oral history that storytellers pass on is important and helps preserve the heritage of our state. While New Mexico may not be familiar to the average person we do have a great deal of history. From the railroad to Teddy Roosevelt and the Rough Riders, Billy the Kid, New Deal artists and the development of the atomic bomb in Los Alamos. This state also has a wide blend of cultures - Native Americans, Spanish and Mexican among them.

In the article Hayes spoke of the performance aspect of good storytelling. And indeed it can be fine entertainment. Even the storytellers in your family around the kitchen table know this. But storytelling also has other purposes. Nasariou Garcia mentioned that it also includes education as well as serving up a dose of moralilty.
---
March 4, 2010

Happy National Grammar Day!

Thanks to fellow APH member Pat McNee (and current president of the Association of Personal Historians) for the reminder that today, March 4, is National Grammar Day. Are you "dotting your i's and crossing the t's" of your writing, etc? We can get caught up in grammar mistakes, but don't let that slow you down from the main point of your life story writing - the content! Yes, good grammar is important, but you can fix that in the re-writing.

Here's some more info from the official National Grammar Day site. Celebrate language and enjoy some fun grammar acitivities.
---
March 2, 2010

New TV Series explores who you are

The idea of discovering who you are by researching your family history is an old one, but surprisingly it is still an idea that has not completely caught on. In other words, saving your personal history is still a growing trend.

This trend is about to get a great boost with a new television series on NBC that explores the family roots and history of several celebrities. Who Do You Think You Are? premieres on Friday, March 5th. The series follows the journeys into the past and life history of seven well-known celebrities, among them Sarah Jessica Parker (actress), Spike Lee (filmmaker), Emmitt Smith (football great) and Lisa Kudrow (actress and the executive producer of this series).

What can we learn from these up-close and personal looks into the lives of some of today's best loved celebrities? I think we will learn the same things that everyday people like you and I learn. We learn where we come from, who our ancestors are, and a bit of how historic events intersect with the lives of our family members. Surely there will be some surprises along the journey.

It will be interesting to see how the popularity of discovering, preserving and sharing our life stories grows as a result of this new series (an adaptation of the award-winning British documentary series). Ancestry.com, the huge online resource for family history and genealogy research, is connected to this new series. Find out more at the official Who Do You Think You Are? website.
---