You are Important and So Is Your Family History
End of May but Personal History Awareness Continues
May 31, 2015
Here we are at the end of May, the final day of the month. It is has been a good month to consider your life story and preserving your personal history. Every May is
Personal History Awareness Month
. But there is no need to stop now. In fact, this can be the start of a beautiful relationship. One between you and your life story.
There are
many ways
to proceed, from something as simple as a
memory list
to a short letter or written piece that lists your values and wishes for loved ones (Legacy Letters and
Ethical Wills
) to something more ambitious like a memoir or
autobiography
.
The important thing is that you do something. There is a
lot you can do
to further your family legacy. Don't let your story go untold!
---
Genealogy and Story Telling Go Hand in Hand
May 27, 2015
As a writer and personal historian I don't spend too much of my time digging through ancestoral details of family trees like genealogists do. However, genealogy and story telling (personal histories) go hand in hand. The details of birth certificates, marriage licenses, military records, census records and the like help to fuel interest in the stories behind these life facts.
Another
APH blog
post expanding on the
20 Reasons Why You Should Write Your Family History
explores the genealogy connection with life story preservation. Carolyn Parrott, in reason #12, noted that genealogy research helps raise questions, such as how people might have handled moving to new places or dealing with losses such as family members dying or economic upheaval. (Note: The Association of Personal Historians disbanded in May of 2017, so the content is no longer available.)
It is interesting how the fields of genealogy and personal history compliment each other and also seem to be moving closer together. You can do research easily online at places like
Rootsweb
or
Ancestry.com
. And you can preserve your own families records, details and stories using online sites such as
America's Footprints
.
The
Association of Personal Historians
has been actively engaging with Genealogical organizations and attending conferences like
RootsTech
. Just today I learned that the
APH Twitter
account
@APHistorians
is one of the
40 Genealogy Twitter accounts to follow
by
Crestleaf
(another online destination for preserving family history).
---
Dan Curtis on Blogging, Personal History Books and Eating Elephants
May 25, 2015
Dan Curtis is a kindred spirit. He likes and supports the idea of preserving your life stories. For years he had a terrific blog about personal history and it ended up really helping those who work in the field. Other personal historians, myself included, would often read Dan's various posts and found much inspiration and motivation.
Although Dan retired his successful blog he culled the best material from it and created two new books.
Skills for Personal Historians
and
Business Tips for Personal Historians
have a lot of practical and informative advice, for personal historians - or anyone who is working on a personal history project. That quite possibly includes you, the person reading this blog.
In the true altruistic approach to his work, Dan is not pocketing the proceeds from these books. Instead, he's donating the money to the APH development programs and conference scholarship fund. That will further the work of personal history by helping others learn the ropes. Stories preserved from the efforts of personal historians helped by this is like an endless wave. It is a way of giving that continues for many generations because more life stories will be shared and not lost.
---
May 20th is Me@20 Day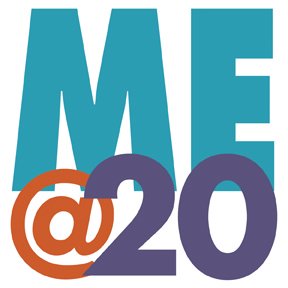 May 20, 2015
Today members of the
Association of Personal Historians
are posting about themselves at age 20. It is a way to celebrate
Personal History Awareness Month
and the 20th anniversary of the association. Members worldwide are helping people just like you in preserving their life stories and personal history.
As I reminisced about my life at 20 it helped me to remember what it is like to recall past events and my feelings towards them. For instance, where I lived, the music I listened to, and some of the major headlines of that time. You can read my
Me@20
post
here
.
---
That Could Be Your Sister or Brother Sitting Across From You at a Writer's Workshop
May 19, 2015
Two women who'd never met enrolled in the same writer's class and discovered they were sisters! An odd and endearing personal history story by Correy Kilgannon of the
New York Times
-
here
.
---
Be Aware! May is Personal History Awareness Month
May 18, 2015
Yes, I know, we've already passed the halfway point in the month of May, but there is still plenty to celebrate about personal history in this month we like to refer to as
Personal History Awareness Month
. Every year I comment on it and I've written on the topic (
see this article
, as well as
Memories for the Merry Month of May
).
This month an
excellent post
by Sarah White, current President of the
Association of Personal Historians
, focuses not just on the importance of personal history and life story preservation, but also on the importance of Personal History
AWARENESS
!
Every year I see the growing interest in life story work, memoir, family history, genealogy, story telling and all the things that make up personal history. Have you considered your how you will preserve your life story?
In a couple of days there will be a special event promoted by
APH
. This year the association celebrates 20 years as an organization and we members are reminiscing about our lives at age twenty.
Me@20
posts will erupt online in blog posts and social media - watch this spot for more.
---
Throwback Thursday - My Son Walks the Graduation Line
May 14, 2015
Three years ago to the day my son Eric graduated from High School. I wrote about it on
this blog
and found myself ruminating about the significance of High School graduation. It is special on many levels. By extension, you can consider any graduation an important milestone and ending-leads-to-new-beginning.
Also three years ago I was finishing up my first year teaching. It is a second career that I've started after over 30 years doing radio broadcasting, along with a few others things (personal historian included). It is not easy to teach, but it is very rewarding. My current crop of 5th graders will soon be out for the summer and after that break they will start middle school, a significant new beginning.
Here's to all of us who continue on the path of learning in life.
---
William Zinsser Wrote and Lived Well
May 13, 2015
William Zinsser, a terrific writing instructor and gifted writer, died Tuesday at the age of 92. His book
Writing Well
has sold over 1.5 million copies and has bee revised a few times (just as any good writing should). I've always enjoyed reading his advice and "hearing" his voice through the written word. Supposedly it took him until his 50's to truly find his voice.
Zinsser was good about commenting on memoir writing, such as in his
Inventing the Truth: The Art and Craft of Memoir
and his own story in a teaching memoir,
Writing About Your Life.
Find out much more about William Zinsser with
this New York Times article
.
---
Mom's Best Cooking Isn't Always A Meal
May 10, 2015
Mother's Day 2015 and I've enjoyed celebrating this weekend. My wife and I just returned from a family gathering at her parent's house. We go there most Sundays. Today the grownup kids (her siblings), along with some grandchildren and a great-grandchild, were there as we fixed a meal and thanked Mom for all she does for us. And, of course, we also thanked all the other mothers.
My wife's mom (everybody calls her Nana) is a second mother to me, especially since my own mother passed away in 2006. She is a caring person - and a good cook! One of the highlights of the Sunday gatherings is the meal. She makes some great ones, including ribs, meatloaf, and green chile enchiladas!
Mom's typically are the family chefs, although many men also enjoy preparing meals. A
New York Times
article from May 5,
A Mother's Cookbook Shares More Than Recipes
has the author, Kim Severson, reminiscing about her mom's recipes and old cookbooks. They were food-stained and dog-eared, showing how often they were used. Apparently this is not unusual. The Smithsonian Institution's National Museum of American History has a collection of Julia Child's cookbooks and they are just as worn and stained.
Thank you to all the moms who work hard each day to feed their families, and for the special and most important ingredient stirred in, love.
---
Your Legacy Smile - New (Free) Book
...and happy Personal History Awareness Month
May 4, 2015
May is here, traditionally
Personal History Awareness Month
, and so it is always good to spend time during the month to promote the importance of telling your story. Your personal history matters - to you and others!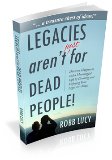 It was a few years ago when Robb Lucy (
Your Legacy Smile
) and I first crossed cyber-paths. Robb is another passionate advocate for people sharing their lives and stories. More than that, he wants everyone to have a legacy and to enjoy it now, before you die! His new book,
Legacies Aren't Just for Dead People!
is out and today and tomorrow he's offering
free Kindle versions
and 50% off paperback versions. I just downloaded my Kindle copy and I look forward to digging into it and learning more from a kindred spirit.
Your story has lessons for others. Share it. I appreciate what Robb is doing and also his incredibly generous offer. Today was a good day for a freebie. Maybe somebody already said to you, "May the 4th Be With You!"