Home
---
What Story and Why
---
How to Tell
---
What's New
---
Blog
---
Research is Fun
---
Get Started
---
Highlight Site
---
Sample Writing
---
Free Newsletter
---
Articles
---
About
---
Contact Us
---
Privacy Terms
---
[?] Subscribe To
This Site

The "Your Life is Your Story" Blog Archives
Read about quality family history and life story news, views, methods, products, links, services

...and whatever else catches our fancy
November, 2009
current blog entries
blog archive index
---
November 29, 2009

I hope you had an enjoyable Thanksgiving Holiday. One of the noteworthy things about the long Thanksgiving weekend is it ushers in the next holiday season. At least in America it seems that Thanksgiving and Christmas shake hands on this weekend. The season is underway.

I don't like to rush holidays...but that is the challenge of this time of year. A flurry of activity and a blizzard of shopping can detract from treasuring this time of year. Christmas memories should be fond ones - time to visit and share our lives with family and friends. Thoughtful shopping - not rushed consumerism.

This year we may have less obsession with buying things because of the challenge of our economic time. Maybe a blessing in disguise? I've been thinking about ways I can creatively give - and I admit it is motivated by necessity. Money is scarce. My wife has already done some pretty nifty handpainting of trees and flowers on small pieces of flagstone and tile. She is creating refrigerator magnets and each one is unique and special.

Christmas memories are made each year. Recalling them and writing about them can be an intergral part of your family and personal history. I came across a Google news item about a Christmas memories writing contest from Deseret News (Salt Lake City). Christmas I Remember Best is the theme and entries (original stories no more than 800 words) are due by Tuesday, December 1.

This reminded me of a Christmas memory I wrote a couple of years ago about the year my younger brother and I got cowboy outfits. We were little buckaroos in Florida at the time. You can read the story here.
---
November 25, 2009

The day before Thanksgiving can get hectic. Many of us are rushing around buying items for the meal, traveling, readying our homes for visitors, and so on.

But gratitude needs quiet, reflective time. Then when our hearts are centered on what we are thankful for we can express our gratitude in action by being fully present to those around us on this wonderful holiday.

I hope you have a safe and enjoyable Thanksgiving. I am grateful for my family, for the opportunity to work in the field of life story capture and personal history, and to know that life is about all of us. Remember that we are connected to our ancestors. We are part of a line (a lineage) that stretches back...and will extend forward. Honor your family and your past, but live for today.
---
November 23, 2009


National Day of Listening
The second annual National Day of Listening (initiated by StoryCorps) is Friday, November 27, 2009. This is a day to pick one person and sit down and listen to their story for an hour (or more!). This is a way to capture some family history or honor a person, such as a teacher, a friend, a minister or anyone who is willing to talk about their life.
You can record the audio or use a camera and capture the story on video. Even if you don't record it, you can at least have a good conversation and write notes. Details and helpful resources are included at nationaldayoflistening.org.
---
November 18, 2009

Connecting with Personal History Options

Costco is known for selling in bulk and passing on savings to its members. But they also pass along some good lifestyle information in their widely circulated The Costco Connection magazine. This month they did some articles on personal history options, including memoir writing, personal biographies, photo chronicles, video biographies and other forms of life story capture (See November issue online). Some of my fellow APH colleagues were featured, including Paula Slaven, RJ McHatton and Bruce Smith. Also mentioned was Dick Liersch, creator of a step-by-step CD Rom for assembling a multimedia life history on DVD. It's a fine DIY (do it yourself) resource I've featured on the video biographies page of this site (see here).
---
November 16, 2009

Life of the Boss


Bruce Springsteen wrote in one of his most famous songs that "Tramps like us, baby we were born to run". He's reportedly been offered in the neighborhood of $10 for his autobiography (story here from theRockradio.com). I suspect when it is published we'll get a greater insight into the man, more than just his life as a musician.

"The Boss" is a great rock n' roll writer and performer and I've been thrilled by the E. Street Band and Bruce a few times. I also would like to know about what makes him tick. He's been involved in many important causes and the one time I met him backstage in Detroit he seemed quite genuine and down-to-earth.
(AP Photo/The Detroit News, Ricardo Thomas)

Yes, he can command big bucks for his story. Maybe you can't - but it doesn't make your life less important. Family and friends want to know "what makes you tick".
---
November 13, 2009

Here Comes the World's Biggest Party For Writers

Writing is so important. Of course, as a writer, that is something you would expect me to say. But I stand by my statement. Being able to express yourself through the written word brings clarity, insight and understanding. I love the saying, "nothing listens like paper".

Writing also leaves something behind - a piece of you - a legacy - for future generations.

Perhaps you write for your eyes only. That's fine. Many do that in a journal (more on journal writing). Others, however, are motivated to write what is on their minds and in their hearts and share it with those willing to read it. To express ourselves creatively is an inner driver that is part of the human experience. What would the world be like without writing? No books, written history, scriptures, poetry or literature. No drama or screenplays. No blogging!

Encourage your children (and you, as well!) to take part in the 8th annual I Love To Write Day. It is a grassroots effort to have people of all ages practice their writing skills. Events are being organized in schools, but you can do it at home or at work. The day is Sunday, November 15 and you can find out more about the day and founder/writer John Riddle here.
---
November 11, 2009

Today is Veterans Day. Nobody but veterans know what it is like to experience combat and deal with some of those horrors of war. People are deeply affected by such experiences. This is true for civilians in war zones, too. But it cannot be easy to deal with those experiences for members of the Armed Forces.

We should be grateful for our veterans' service. We also should be sensitive to their experiences. And hopefully we all learn from the stories preserved and shared. We need the collective history. Not all vets want to share those stories. But some do. It is our obligation to listen to them...and if we are able, to find a way to preserve them.
---
November 9, 2009

Creative Aging

As we age we begin to consider things we may not have spent much time focusing on when we were younger. Life review and reminiscence certainly seems to be one of those areas. The Creative Age: Awakening Human Potential in the Second Half of Life is a book by Dr. Gene D. Cohen. He was the first director of the Center of Aging, Health and Humanities at Georgetown University (bio) and wrote about a phase in the lives of people, usually late 60's to 80's, where they are "summing up". Essentially, this is a ripe time to look back at our lives, not only for what happened but what we've learned from our experiences. I think that is an essential part of life story capture. And apparently our "older" brain tends to integrate both hemispheres, whereas when we are younger we tend to favor one side or the other (right or left brained). According to Cohen, "Autobiography, because it engages
both sides of the brain, is like chocolate for the brain." I think that's neat.

Some personal historians in an email listserve I belong to have mentioned that Dr. Cohen has passed away. I've yet to see anything official, but I think we should give kudos to a man who has done some important research into creativity and aging.
---
November 6, 2009


Veteran's Day will be observed in just a few days on November 11. This is a good time to remind everyone that there are many veterans whose experience should be preserved. You can help those who want to share their stories, especially the remaining World War Two veterans. The Veterans History Project collects and preserves the extraordinary wartime stories of ordinary people. It is a project of the American Folklore Center of the Library of Congress. I've written about this important endeavor (here).

The Veterans History Project relies on volunteers to interview, record, compile and donate materials and they have helpful information on how to proceed on their website.

Many personal historians have participated in this project. The APH (Association of Personal Historians) has officially partnered with the Veterans History Project.

I'd also encourage anyone interested in preserving a veteran's story to consider the Priceless Legacy LifeStory Package as it is an ideal way to get an oral history along with a finished hardbound book and DVD digital slide show at a very reasonable price. More information here.
---
November 2, 2009

Personal Historians spend a great deal of time interviewing people. When we capture a life story we want to know about the life experiences that have shaped their lives. I know when I do the writing part it helps to have conducted the interview. When I review the transcriptions and then start writing the narrative I enjoy hearing again in my head their voice and "seeing" the expressions on their face as they recount significant moments.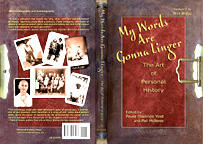 An anthology of stories published by the Association of Personal Historians contains some excellent examples of "ghost-writing" and "told-to" stories excerpted from a variety of biographies, autobiographies and memoirs. I just finished reading a very good example. "Through a Persicope" is a harrowing tale from Jack Smalling's World War Two experience on a submarine in the Pacific Ocean. The mission he recalls was photoreconnaissance as their sub took pictures of Iwo Jima prior to the invasion. Some of their greatest danger came from American bombers who decided to try and bomb the submarine! Jack's daughter, Jeanne S. Archer (saveyourhistory.com), wrote the story in his voice. I felt like I was in the submarine with Jack and his crewmates.

You can find out more about the anthology, My Words Are Gonna Linger, online at the APH website. The book is on sale in select stores arournd the country as well as online at Amazon.com, BarnesandNoble.com and the APH site (here). I highly recommend it.
---