Home
---
What Story and Why
---
How to Tell
---
What's New
---
Blog
---
Research is Fun
---
Get Started
---
Highlight Site
---
Sample Writing
---
Free Newsletter
---
Articles
---
About
---
Contact Us
---
Privacy Terms
---
[?] Subscribe To
This Site

Flying Over the Grave
Copyright March 5, 2012, by Tom Gilbert (all rights reserved)

It was one week ago that we buried my father's remains at Fort Leavenworth National Cemetery in Kansas.

Dad was a full colonel when he retired from the Air Force after 26 years of distinguished service. He'd been a pilot through it all and flew some of the most prestigious aircraft of the day, including the B-58 bomber (the Hustler) and the F-4 Phantom fighter jet.

My dad died on January 14th of this year and I wrote about that previously (The Pilot Who Soared on Eagles Wings). Because of his military career we wanted to make sure that he got his burial with military honors. His remains were cremated and stored in an urn until the appointed day on February 27.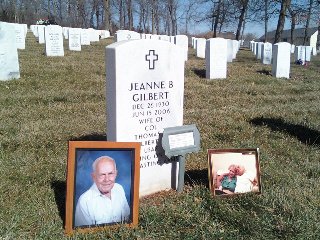 Dad would be laid to rest in the same plot with Mom. She preceded him in death in June of 2006. They share the headstone, the white monolith design that you see in all national cemetaries.

The day was sunny, but a bit breezy and cold. My sister, brother and I sat in the front row of the modest outdoor pavilion. Our priest friend, Father Dennis, gave a homily and provided the prayer service. A military honor guard folded and presented an American flag to my sister. When the guns for the final salute were fired we couldn't help but sob. Tears flowed - tears of gratitude, sorrow and pride for our dad's life and service. Taps played next. It was a solemn and special event.

We really felt our father deserving of a military flyover. It is someting that is done on occasion for certain military burials. My brother had taken on the project of writing the powers who could grant this and stating the case for it. He got it approved, but the flyover was still contingent on an Air Force plane being in flight and in the vicinity to re-route their flight plan.

We waited and hoped. No jet flew over. But when Dad's remains were finally in the ground we put a picture by the grave and said a prayer. Afterwards I happened to glance up. High above and straight over us flew a large jet, probably a commercial airliner, trailing twin contrails of white vapor.

I had to smile. It wasn't a regulation flyover. But it served the purpose. So long, Dad.