Red Sox Retire Number 34 - David Ortiz
By Tom Gilbert - Copyright © June 23, 2017
One of the greatest hitters to ever play the game of baseball, and certainly one of the all time great Boston Red Sox players, gets his number retired on this date at Fenway Park.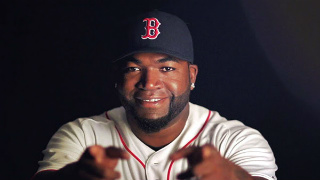 David Ortiz, better known to fans as "Big Papi", wore the number 34. #34ever is the social media hashtag on Instagram for Ortiz.
Ortiz was a feared slugger and has become something of a legend. He spent a good portion of his playing time just batting as a designated hitter for Boston. Occasionally he would play first base, but mainly he was used as a batter.
His knack for clutch hitting was legendary. He would often come up in crucial situations, with the game on the line, and deliver a big hit, many times winning the game. This was perhaps best illustrated in the American League Championship Series of 2004 when the Yankees, the longtime nemesis of the Red Sox, had them on the ropes, down three games to none, and Boston incredibly battled back to win four straight games. Big Papi was the hero multiple times in the series.
Boston went on to win the World Series that year, breaking the reputed "Curse of the Bambino" dating back to 1918. Many people believed that the Red Sox were under a curse because their owner traded away Babe Ruth to the Yankees that year. The curse felt real to lifelong Sox fans as Boston got close a few times in the World Series, always eventually losing.

October baseball is the postseason and that's when the heroes can really shine. Hardly anyone shone brighter than David Ortiz. Not only did he perform on an elite level, he did it time and again. After the 2004 World Series Championship the Boston Red Sox went on to win again in 2007 and 2013.

Big Papi is certainly remembered for his athletic accomplishments. More than that, he was a great supporter of Boston and community efforts. He is known for helping in various charities and his speech on the field at Fenway after the 2013 Boston Marathon bombings is legendary.

I've been a Boston Red Sox fan since 1967 when I was 11 years old. I love seeing Big Papi get his number retired and I appreciate all he has done for the game of baseball and for fans and mostly for others. That's a nice legacy.

You can read other life story articles here, including:

Seeing Life Through the Eyes of a Baseball Fan and Your Sports Story.