Home
---
What Story and Why
---
How to Tell
---
What's New
---
Blog
---
Life Story Resources
---
Research is Fun
---
Get Started
---
Highlight Site
---
Sample Writing
---
Free Newsletter
---
Articles
---
About
---
Contact Us
---
Privacy Terms
---
[?] Subscribe To
This Site

The "Your Life is Your Story" Blog Archives
Read about quality family history and life story news, views, methods, products, links, services

...and whatever else catches our fancy
April 2010
current blog entries
blog archive index
---
April 29, 2010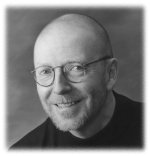 Working with people in the final stages of their life must be very powerful...and rewarding. Dan Curtis, a personal historian and documentary filmmaker in Victoria, Canada has been doing that for years. He established the Victoria Hospice Life Stories program where people who are in the final days of their life can share about their life journeys. The program has just been recognized for its fine work with Recognizing Enhanced End-of-Life Care for British Columbians. This award is sponsored by the BC Hospice and Palliative Care Association &Sovereign Order of St John of Jerusalem and comes with a $5,000 grant to be used to further support the program at Victoria Hospice.

Congratulations to Dan and the program! This is yet another demonstration how life story preservation and personal history greatly matter. Dan has a very informative blog and you can visit it at dancurtis.ca/posts.
---
April 26, 2010

How I Took A Left Turn To Albuquerque
Albuquerque has become my home town. I've been seduced by the "Land of Enchantment". New Mexico is a great place to live. For someone like me who has been a bit of a gypsy over the years to finally settle in one place is unusual. My dad was a career Air Force pilot so we moved a lot as a kid. Then out of college I began working in radio broadcasting, a career that spanned over thirty years and 5 different radio markets (two of them twice!).

It was almost by accident that I ended up moving to Albuquerque the first time. I traveled from Oklahoma to visit a college buddy who had found work at a new rock station in Albuquerque in 1979. Turned out they had an opening for the overnight DJ slot and I got the gig. So my visit resulted in employment. I was just a year out of college and hungry for any radio work. I stayed 8 years and worked my way up the ladder to the position of Program Director. Then I proceeded to move my wife (and eventually 2 children) around the country with stops in California, Florida and Michigan as part of the journey. But we always wanted to return to New Mexico (where my wife and her family are from). We've been back 13 years and career paths have evolved, but I still love this state and the "Duke City". Great weather, mountains, green and red chile and just a vibe I enjoy. The city has lots of history, too - it's now officially 304 years old (get some historical background here).

For fans of the iconic Bugs Bunny cartoons you will enjoy this video clip - "I knew I shoulda' taken a left turn at Albuquerque!"


---
April 22, 2010

Celebrating Earth

How far have we come in 40 years of "Earth Day" celebrations? (ABC news article) Are you more eco-conscious? I believe that all of life is sacred and connected, therefore it is natural for us to treat all life with respect. But that means taking it into our daily decisions and choices.

Today you might want to write about what nature and Earth Day mean to you. How have you seen our world change in the last 40 years and how have you changed the way you relate to nature?
---
April 20, 2010

Dia del Libro - World Book Day

April 23 is a symbolic day sometimes referred to as Dia del Libro. On this day books are celebrated in many European and Latin American cities. The tradition grew from a celebration on the feast of St. George (the Dragon Slayer) in Catalonia and the giving of a red rose for each book sold (more here from UNESCO about World Book Day). This tradition will be honored here in Albuquerque, New Mexico at the National Hispanic Cultural Center (more). On Wednesday, April 21, the Center will host a free public event with readings from historical, political and literary texts of Mexico's Independence of 1810 and the Mexican Revolution of 1910.

This is both a cultural and literary event for our area - but you can celebrate World Book Day, too. Spread the word and read from a good book. Or even better, make the commitment to do some writing on your story and to some day have it printed to share with family, friends and future generations.
---
April 18, 2010

I've been a baseball fan since I was a young boy. The year that it really hooked me was 1967. We were an Air Force family and moved around a lot. That year we were stationed at Little Rock Air Force Base, just outside of Little Rock, Arkansas, in the town of Jacksonville.



1967 was sixth grade and being 11 going on 12 I lived vicariously through Major League baseball players. I was convinced that would be my destiny, too. It was a dream that remained a fantasy by the time I was playing High School ball. There I sadly realized the great gulf of talent between me and potential pro players. But in the Fall of '67 it didn't matter. I was still young enough to be idealistic, envisioning myself patrolling left field at Fenway Park and catching balls ricocheting off the "Green Monster", just like my hero, Carl Yastrzemski.


The other day I discovered someone else like me. I've never met the man, but he writes a brilliant blog and has now published a book that frames much of his life, lessons and values in the context of baseball. Josh Wilker struggled through a lot of his early life to find his niche, but clearly this writer is in his element with CardboardGods.net. I found him from a New York Times article written by Greg Hanlon, Through Baseball Cards, a Meditation on Life. When I hyperlinked to Wilker's blog his post for that day (April 15, 2010) was about a re-issue of Yasktrzemski's 1960 rookie card. That revealed his passion for the Red Sox. Yaz is "his man", a mythic figure who grew up rooting for from his rural Vermont home. But even more poignant was how the baseball card reminded him of a summer he spent with his grandfather. It's a jewel of a story, one of many that focus on his life, events brought to the surface by his musing about various baseball cards he collected from his youth in the 1970's. Hence the name "Cardboard Gods" for the cards and players. The title of his book is Cardboard Gods: An All-American Tale Told Through Baseball Cards and is available online at Amazon and elsewhere.

continue reading
---
April 15, 2010

Grabbing Memories

Income Tax Day is rarely a time for celebration. But it often will get you contemplating finances. And thinking about that can get you circling the "wagons of your memory" about jobs, goals, income, hopes, dreams and so on.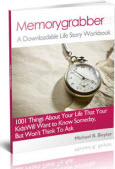 If you are still struggling with how to make sense of the memories in your life so that you can get started on your life story I heartily recommend you discover the very helpful e-book so many others have found useful (myself included). Michael Boyter's MemoryGrabber is easy to use, thoughtful, full of encouragement and practical lessons and exercises to get you started. There's a money-back guarantee - although I rarely see anyone ask for it as the book is so helpful and affordable (less than $15!). I've helped sell this product for Michael for a number of years now and use it to help those who want to go further in preserving their personal history. Find out more here.
---
April 11, 2010

Car Karma

I said farewell to a good friend yesterday morning. As the tow truck driver loaded my 2000 Ford Mustang onto the flatbed I found myself reminiscing about the time and many miles we'd spent together. I like to think I'm not overly attached to material things, but this was a fun car.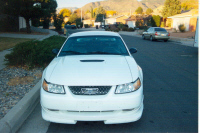 I wasn't even looking to buy a Mustang back in 2005. But as fate would have it I was working a radio remote in Santa Fe, encouraging listeners to come to the rodeo grounds where several dealers had brought used vehicles to sell. It was a big sales event and the dealers had pooled their media dollars to advertise the event. I was on location in an attempt to bring our listeners out. It's quite common in the industry to do these types of remotes. While I was there I had the opportunity to walk around and "scout" vehicles. I was doing it so I could personalize my live breaks. I saw the white Mustang and thought, "that's a nice ride".

As it turned out I expressed my interest to the person in charge of the coordinated media and promotion and they got the dealer to let me drive the car back to Albuquerque with the promise of returning it the next day. A great sales technique and it worked - I fell in love with the car on the 60 mile drive back home and enjoyed it even more on the return trip. I was sold.

Over the years I've owned several cars, some nice and some with more "wear and tear", if you get my drift. This particular car was one of the best I've owned. And I drove it a lot. It was sporty, fun, had a great sound system and was a real upgrade from teh 1985 Thunderbird I'd been driving. But back in February on the way home from a family gathering I let my son drive and I rode "shotgun". Somebody ran a red light on our turn left. Fortunately my son's quick reactions stopped us before we got t-boned (which surely would have put me in the hospital - or worse), but the oncoming car still tore off the front end. Thank goodness no one was hurt. There were also witnesses and we did the police report and my teenage son got a life lesson in what to do at the scene of an accident.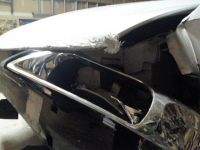 The car was eventually declared a total loss (insurance companies don't like to pay for high repairs), so I've said farewell to my pony car. It was fun while it lasted. I've closed the chapter on that car, but also formed some solid memories from our five year relationship. Most of us have had more than one car. Did you form any relationships with them? Here's an exercise for you. Write about a car you've owned. How did you buy it? What was it like the first time you drove it? What eventually happened to it? Were there any memorable trips you took in it? Were you ever in an accident with that car?
---
April 5, 2010

Lou Reed Takes a Walk on the Centenarian Side

The rock singer/songwriter Lou Reed (remember the Velvet Underground?) is now doing documentaries and he's premiering one on his cousin, affectionately known as Red Shirley. The 28-minute film focuses on Shirley Novick on the eve of her 100th birthday. Her lifestory is explored, including how she left Poland at 19 to travel to Montreal with just a few dollars and a couple of suitcases. She quickly learned French and the mandolin. She also later moved to New York. The film features original music by Lou Reed and you can view the trailer here.
---
April 1, 2010

Passover Celebration Goes Digital

A new way to commemorate the Passover Festival is the cyber-assisted digital preservation of a family's commemoration of the Passover story (when Moses led the Israelites out of Egypt). Each year this significant event in the history of the Jewish people is honored with the Seder meal. Behrman House, a Jewish educational publisher in New Jersey, has been offering a digital preservation for families who gather at this time. It is a personalized Family Haggadah and using modern technology (YouTube, Facebook, digital and printed book) people have a new way to preserve their family gathering and festival commemoration. Berham House project coordinator Jessica Gutman even designed a version for President Obama and the first lady, complete with pictures of their family and readings that relate the story of freedom from slavery and the American Civil Rights Movement (a modern-day re-telling of the Biblical Exodus story).

Full story from the L.A. Times.
---