Trading Stories With Object of Art
April 26, 2012
Everyone has a story - that's the tagline I use with my personal history pitch. Along with that we can include that every object of art has a story. Think of the the ceramic mug you made in school for your dad. What about the painting you bought on the beach while on your honeymoon? Did you fall in love with something in a gallery and now it always reminds you of that day? Family heirlooms, especially jewelery, can be bristling with family history.
The Trading Tortoise
is a traveling art project that is criss-crossing America this year and creating a community experience through the exchange of objects brought to them and in turn traded for something else gifted in the next town they visit. Each item they get is tagged with the person's name, location and number. This way the objects can be "followed" on the website as they continue to get traded. It's an intriguing idea and I intend to connect with them in October when they visit Albuquerque.
---
An Elder's Story in Song
April 25, 2012
Thanks to fellow
APH
member Elisabeth Pozzi-Thanner for alerting me to a great oral history story posted by Afi-Odelia E. Scruggs (
Getting Down to Story
). She interviewed her grandmother years ago and that cassette recording has become a family treasure. It turns out her grandmother was known for her singing, a special African-American sacred singing. This long-meter form of song has historical implications, but the story of the interview is also powerful family history.
You can see the story posted to
Transom.org
and you can also hear some wonderful audio from the interview and Scruggs reminiscence.
---
This Earth Day Celebrate Our Worldwide Diversity
April 22, 2012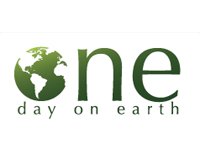 It is
Earth Day
and yes, a day to honor our planet and all its wonderful natural resources. That includes, by the way, more than plants, animals, oceans and mountains. We need to also embrace the incredible diversity of people!
The
One Day on Earth Project
does just that. In October of 2010 there was a call to film something in "your world" on one day and submit it to the project. The memorable date was 10/10/10. It has taken a couple of years to do all the editing and today the major film documentary is being screened in various locales around the world. Eventually it will run in theaters and be released on DVD. The trailer is amazing (
watch here
) and the project is something I think is fantastic.
This past November the people of
One Day on Eart
h asked again for video, this time created on the one day in November which would make it memorable - 11/11/11. My social studies 6th grade class and I created an original song, drew pictures and had a good time with it. Plus, I've used the project/site as a teaching opportunity.
There is a great deal for you to learn by visiting the website and exploring it. Many people are sharing powerful video and stories from around our world. Causes such as education, poverty, human rights, health care and child welfare are being explored and supported. The United Nations and UNESCO are supporting the efforts as are
many other great organizations
.
So Happy Earth Day to us all! And may we all discover that we are connected and One. Yes, we each have our lives, families, communities, towns, cities and countries. But we are also one world desperately in need of helping each other.
---
100 Years of Fenway Park Drama
April 21, 2012
Yesterday in Boston, Massachusetts one of the most endearing and historic ballparks in baseball celebrated its centennial. Feng shui is the Chinese way of aligning the positive in buildings and spaces. How can that translate to
Fenway
? I'm not sure it does. But something magical happens in this park. There has been an incredible amount of drama in the one hundred years of baseball at this mecca of the sport, this holy cathedral of the great game of baseball.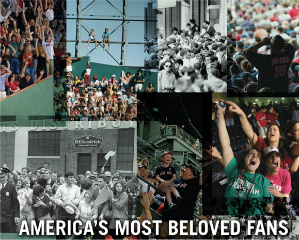 It is impossible to truly express and understand what it means to bleed Boston Red Sox. The fans know. I know. As a kid in 1967 I fell in love with the the team and Carl Yastrzemski. And I suffered...oh, how I suffered...as year after year the Red Sox would
almost
win and yet somehow lose. There were improbable losses and incredible comebacks.
|
continue reading
|
---
They Painted Their Masterpiece
April 18, 2012
Today the news of two very prominent people in the music industry dying found me contemplating life, death and purpose. Death is a fact of life, but when news comes of the passing of people that have either been part of your life or part of your life's experiences it causes one to pause and ponder.
So upon hearing that both
Dick Clark
(American Bandstand fame, broadcaster) and
Levon Helm
(drummer and singer for the legendary
The Band
) both died today my thoughts began to swirl. As it is I am still grieving over the death of my father, and then his sister, my Aunt Lois Anne, (just last week). Death and death - sometimes personal, sometimes more of a news story, but there you have it.
I spent many years in the radio business and I love music, especially the kind that resonates in your soul for its honest passion. Such is the case with
The Band's
music. Each of the members were blessed with true talent and they could play together to create something much greater than the individual parts. Richard Manuel, Rick Danko and now Levon Helm have passed on. Robbie Robertson and Garth Hudson are still around. A roots rock group who originally backed Ronnie Hawkins and barnstormed across North America, they later earned fame touring and recording with Bob Dylan as well as several great albums of their own. Martin Scorsese's seminal
The Last Waltz
(widely considered one of the greatest concert films) demonstrates well their talent and influence.
I loved how achingly true and passionate Levon Helm's singing could be. And from what I know of his life, he was just as true and passionate about people. God bless you, Levon - rest in peace.
Dick Clark was pretty influential, too. He accomplished plenty and we can all be grateful for the many musical acts America's "youngest teenager" turned us on to over the years.
Bob Dylan wrote a song that Levon and The Band sang -
When I Paint My Masterpiece
. Lyrics include:

Train wheels runnin' through the back of my memory
When I ran on the hilltop following a pack of wild geese
Someday, everything is gonna be smooth like a rhapsody
When I paint my masterpiece
It seems to me both Clark and Helm handled the brush well. And for that matter, so did my Aunt Lois Anne. They all have stories. So do you. We often think about them at their death. Let's remember ours now in life.
---
A Titanic Anniversary
April 15, 2012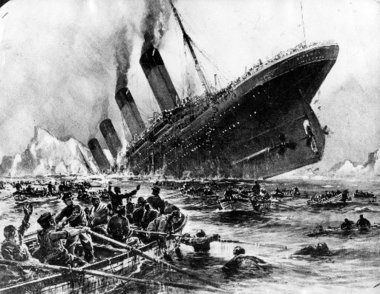 There are many things that resonate with us about the sinking of the ocean liner the
Titanic
. Today is the centennial anniversary of the event. The great ship sank in cold North Atlantic waters in the middle of the night after striking an iceberg shortly before midnight April 14, 1912.
Titanic
was considered the greatest luxury liner of the day and even unsinkable. The enormous irony of history that it sank on its maiden voyage is not lost on us.
We have romanticized this historic event - the lives lost, the humanity, the enormous sadness and drama. It has been magnified, of course, thanks to James Cameron's epic motion picture of 1997 (and now re-released in 3-D).
Obervances have been held in varous places to commemorate this anniversary. The MS Balmoral, a cruise ship, has been retracing the voyage and earlier today passengers lined the deck in a moment of silence (
USA Today article
).
In Belfast, Ireland, home of the shipyard that built this engineering marvel, a commemorative concert was held on Saturday that included Bryan Ferry of Roxy Music fame and soul singer Joss Stone. Belfast for years was haunted by the ship's sinking, but today they've come to take some pride in their history of the ship including a new visitor attraction,
Titanic Belfast
.
As a personal historian I'm naturally curious about the lives of those who survived as well as those who went down with the ship. D. Fran Morley posted an excellent blog on the
Association of Personal Historians
blog title
What If the Stories Were Never Told?
. I encourage you to
read it
.
There is also a new book by Andrew Wilson,
Shadow of the Titanic: The Extraordinary Stories of Those Who Survived
. It sounds intriguing.
Here's to the souls who lost their lives, to those who survived, to the offspring and the curious, and to all those who crave to know more about the things that connect us and show us how life is so much more than our social status or size of our cabin. The tale of the
Titanic
can help us recognize that we are all afloat on the sea of life, sometimes tossed by storm waves, at other times scraping up against big obstacles, but regardless all on a journey, an adventure, an amazing crossing from birth to death.
---
How Do You Want Your Story Told?
April 12, 2012
Everybody has a story. That has been something of a mantra for me. And I continue to believe it right down to the bone! We all have a story. It is our story, the story of our life - the human adventure we are living.
How do you tap into the power of your story? Well, you need to tell it, to share it in some fashion. And how do you go about doing that? A very good question and the answer is not simplistic. It requires making decisions about what you want as an end product, deciding if you are going to do any of the work yourself, or hiring a personal historian to get it done. The latter choice is the best bet for getting it done.
There are many people who can help you. I am one of them. And I've just finalized a partner arrangement with
Legacy Keepers
, a national company dedicated to producing high quality books, audio histories and videobiographies. I'm excited to be able to help more people with yet another quality life story preservation option. I encourage you to investigate what
Legacy Keepers
offers.
Go here
and you can get more information and download a free
interview guide
. You will discover that the process is simple - you talk and Legacy Keepers does the rest. If you are in my geographic area I could be the personal historian to interview you. If not, there are many others who are highly qualified among the network of personal historians around the country. So, how do you want your story Told?
---
A Lifetime of Memories, in 83 Minutes
April 4, 2012
Most of us don't even consider creating a life story until we are well into our second half of life. It seems natural; that's when a lot of us start contemplating what our life has been about, considering our experiences, memories and lessons learned that we want to pass on.
But what if you were alive on this planet for just 83 minutes? The story of Lincoln Ray Remmel is at once heartbreaking and heartwarming. This little baby was born without kidneys and so once out of the womb he had a very limited time before dying. His parents - full of love and as prepared as they could be for this birth/death - wanted to make the most of his life with a special celebration. The story was poignantly captured by Journal Sentinel writer Crocker Stephenson and he's
won a 2012 Eugene S. Pulliam National Journalism Writing Award
for his feature story.
Read more -
here
.