Home
---
What Story and Why
---
How to Tell
---
What's New
---
Blog
---
Life Story Resources
---
Research is Fun
---
Get Started
---
Highlight Site
---
Sample Writing
---
Free Newsletter
---
Articles
---
About
---
Contact Us
---
Privacy Terms
---
[?] Subscribe To
This Site
The "Your Life is Your Story" Blog Archives
© Tom Gilbert

Read about quality family history and life story news, views, methods, products, links, services

...and whatever else catches our fancy of personal historian
July, 2019
current blog entries
blog archive index
---
Life Lessons From "A Soldier's Passage"

July 29, 2019

Anyone who has been present for the final breaths of a loved one's long life understands that it is a transformational experience. Death comes to us all and if we are fortunate enough to be surrounded by loving family members then it can be a very holy moment.

For Paul Ingles, writer/director/actor in

A Soldier's Passage - Conversations from the last mile of the long march home

, witnessing the passing of his father was a gift, one he says was "the most profound experience I've ever experienced."
Ingles' based his first feature-length film on the final months of an elder's life and he also played himself in the mostly true reenactment of the final months and eventual passing of his WWII veteran father.

You can continue reading this article here. For those interested in exploring

A Soldier's Passage

more deeply, Paul Ingles will be conducting a two-session discussion and screening of the film through the

Oasis Program

on August 14 and 21 (info here).
---
Reflecting on Apollo 11 Moon Landing and Marriage

July 20, 2019

Many of us this week, myself included, have been reflecting on the

50th anniversary of the moon landing

and the first men to walk on the moon. It was an incredible moment in history and the culmination of lots of effort, energy and expense to get there. Be sure to check out Google's Doodle animation sequence celebrating the event.

When Neil Armstrong descended the ladder of the lunar module and set foot on the alien surface of our moon he uttered a phrase. How much thought went into it? I don't know the real answer to that. Maybe only Armstrong did. But he equated his "one small step" with a "giant leap for mankind". It wasn't an individual effort. It was a group, a collective, a "we" moment being celebrated.

The crew of Apollo 11 - Michael Collins, Buzz Aldrin and Neil Armstrong - demonstrates in a very clear way that it involved a team. There had to be a tight relationship between the astronauts who worked together to make it to the surface of the moon and then back to Earth.

July 20, 1969 is one of those moments in history where people who were alive and aware of it will never forget it. Our technology was crude by today's standard. We had to watch on little black and white televisions. The computer power of NASA and Houston's Mission Control and the onboard equipment of the Apollo spacecraft was at the time considered incredible. Now our smartphones easily outpace that technology.

The reason I reflect today on both the moon landing and marriage is that this day is also a wedding anniversary. My wife, Annette, and I have been married 34 years. It is not quite to the Gold Standard of 50 years, but we're moving in that direction! We both uttered our short phrases at our wedding and the "I do" continues.

The commitment to keep a marriage alive and strong and to go from the Earth to the Moon and back have some parallels. There is sacrifice, bonds, hard work and love. JFK (John F. Kennedy) summed it up well in his speech proclaiming the United States' intention to make it to the moon by the end of sixties decade when he said, "
We choose to go to the moon in this decade and do the other things, not because they are easy, but because they are hard..." (link to the speech).

There you go. We choose to explore, to take on challenges, to love and commit to marriage and relationships because the challenge, when we are able to fulfill it, brings its own reward.

I love my wife

to the Moon and back

and I love the humanity that, despite our ongoing challenges and divisiveness, carries the flame of hope forward that we will keep growing and developing our "best and brightest" qualities, not for the betterment of "one", but for the "many".

---

Narrative Medicine Helps Treat Patients Better

July 14, 2019

"It makes a difference when they (hospital staff) know you from a a different perspective than just 'you're a patient here, and we're talking care of you." That's a quote from Army veteran Fred Lenzen who is one of a few thousand individuals who have shared some of their life story as part of a program to include 1,000-word life story narratives as part of their medical record. The goal is to help them receive better care because medical staff are better able to understand a patient's situation. It certainly creates an opportunity for empathy.

The

My Life, My Story

program has been implemented in many VA (Veteran Administration) clinics and facilities around the country. What a great way to provide greater dignity and respect for veterans.

This program has been featured in a number of publications recently, including the Wall Street Journal and National
National Public Radio. It started in Madison, Wisconsin where both volunteers and writers, including poet Thor Ringler, have been interviewing veterans and writing these narratives since 2013. The term

narrative medicine

is being used to describe these consise life stories. What a wonderful way to dignify a veteran's service and life. Writing about our lives often has a therapeutic benefit. But this goes even further as it can help these veterans get better treatment.

---

40 Years Ago Sony Walkman Made Music More Portable

July 2, 2019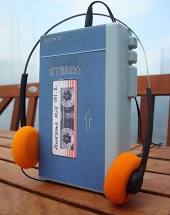 Back in the 1970's rock n' roll had become an industry and people like me were living their lives to a soundtrack that today could only be described as

classic rock

. I grew up loving groups like The Beatles, Rolling Stones, Dylan, Grateful Dead, Allman Brothers, Eric Clapton, Pink Floyd and many others.

It was great to crank up the music in the car or on the home stereo. But if you went for a walk or wanted to listen to music without intruding on the personal aural space of others you were kind of limited. At least until the portable music player most popularized by the

Sony Walkman

came along.

Suddenly you could listen to cassette tapes (the industry standard at the time) where you went and with headphones so you could listen to it loud but not bother someone else. This was great. No more balancing a boombox on your shoulders and the fact that it was compact made it even more conventient. Sony launched the Walkman in July of 1979, forty years ago. It was, for people like me, an ingenious invention that allowed me to take that soundtrack of my life anywhere.

Over the years as the medium of recorded music evolved the Walkman also adapted. Post cassettes it was CD's and then other digital mini-discs. These days it is easy to play literally thousands of songs by streaming them on your smartphone. Times have changed, but I am still nostalgic for those rock n' roll days of the Walkman. And maybe I am not alone as the main character in

Guardians of the Galaxy,

Star Lord,

demonstrated.