Nora Ephron - wit, guts and LOL
June 28, 2012
Nora Ephron, the screenwriter responsible for some of Hollywood's most beloved films, including relationship comedies like "When Harry Met Sally", "Sleepless in Seattle", "You've Got Mail", but also the hard hitting social commentary "Silkwood", has died at the age of 71. She'd been fighting blood cancer (myelodysplasia) for six years, but kept her sense of wit to the end.
Ephron was a great screenwriter and her characters were funny and poignant. I like to encourage people who are creating their memoirs to include those key elements. To be funny and poignant in your life story requires wit and guts. Nora Ephron had that in spades. She was a grand essayist, novelist, journalist and speaker. Her legacy is spilling out across the Internet. We're reading of her death and yet I find myself smiling, even laughing out loud (LOL). How nice that she can bring us some "good medicine" in spite of her sad passing.
Ephron was an Editor-at-Large for The Huffington Post and they have
posted a nice tribute to her
.
---
Reminisce Magazine
June 25, 2012
I must admit to not knowing about the magazine,
Reminisce
, until recently when I mailed in a card from inside a
Reader's Digest
for a free copy. If you are looking for a magazine that takes you down memory lane, especially the first half of the 20th century, you should check it out. The magazine reminds me of the style and presentation of
Look
and
LIFE
. Readers can submit photos and recollections from their past. If you go to their website,
reminisce.com
, you can get a good sampling of what they offer. It might come in handy if you are writing about your life and need a "time tunnel trip down memory lane".
---
Train of Thought
June 21, 2012
When you reflect on your life you will find there are different periods that bring up varied memories and associated emotions. Sometimes those emotions cloud your recollections. You'll be thinking about one thing that reminds you of another time and soon you are off-track and derailing your train of thought.
Preserving our life story requires chronicling the events of our lives, but not just by listing them. We want to tell of the key experiences that have been significant to us. How we were raised, where we lived and the important life events all contribute to our story. This can be a very great undertaking.
Many personal historians will encourage you to create "Memory Lists". I think it is an excellent idea. Writing short phrases that help you remember certain times and things in your life are a great way to develop topics for your life story. After you've come up with a fair number (it is not unusual for a memory list to grow to over a hundred items or more) you will begin to see patterns in your life and these can become chapters in your story.
Keeping a focus and developing these themes is not easy when your life story project is spread out over a long period. But that is the nature of life story writing. You are not always going to be writing about the same time period or events. It is common to skip around. One day it is about summer camp when you were eleven and jumped off the cliff into the lake the first time. Next time you might be writing about a business turning point during a midlife crisis. Another trip down memory lane finds you fondly recalling your grandparents. In a more somber moment you are reflecting about the death of your mother.
The end result of your life story may be linear, but not always told in that fashion. Keeping your train of thought can be a challenge.
Train of thought
has become an apt metaphor for me of late. I decided recently to take a long train trip to visit family in Kansas City.
|
continue reading
|
---
Late Night With the Summer Solstice
June 20, 2012
Today is the
summer solstice
, the longest day of the year. Normally it falls on June 21, but with this being a leap year we had the extra day in February so summer officially kicked off today in the Northern Hemisphere.
The start of seasons are traditionally times to celebrate and people around the world do it in different ways. The ancient Egyptians and Incans found ways to keep track of the sun and celestial events and considered the solstice important. Same goes for the celebrations at Stonehenge over the past 5,000 years. In Norway it is a day of fun in the midnight sun.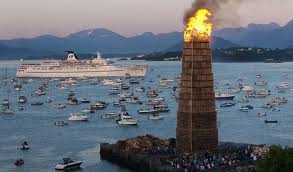 On the summer solstice, the Northern Hemisphere receives more sunlight than any other day of the year (interesting
info here
courtesy of
National Geographic
). That doesn't make it the hottest day, just the longest. Here in New Mexico it is already closing in on 8:30 at night and we probably have another hour of light, although it is starting to look more like twilight.
Long days when it stayed late until bedtime for youngsters brings back memories of playing with the neighborhood kids when I was growing up. We'd ride bikes, gather around streelights about the time it was getting dark, and "ooh and ah" over fireflies.
Here's to summer, my favorite time of the year! And for all you folks in the Southern Hemisphere, hope you are staying warm. I was reminded by Annie Payne in Australia (
History from the Heart
) that they are in the midst of winter. Enjoy your time and the seasons wherever you may be. You are living your life...and that's the stuff of your life story.
---
The Questions People Ask When Starting A Memoir
June 18, 2012
So you are thinking of writing about your life. You have considered an autobiography or biography (one you write, the other someone writes about you). Then you discover that what you really want to write about is how you
feel
about a certain part of your life. You've been told this is a good idea as it is not too daunting and it allows you to focus on one area of your life, rather than taking on too much. This is true.
As you sit down to begin you suddenly realize you have some questions. You are wondering how to start, what to include, what your family will think, whether to just copy from your journals and if you will need to write a whole book.
The top six memoir writing questions are something Linda Joy Myers, a writing coach and memoir guru, has encountered countless times. She shares her insight on these questions and provides some helpful tips on her
Memories & Memoirs
blog.
---
Making A Book While You Wait - The Expresso Book Machine
June 11, 2012
Self publishing continues to be a growing industry. More and more people are turning to the various options to putting out a book.
As a personal historian I advocate clients self publishing their finished product. Naturally, what they get as a finished product depends in large part on the quality of the writing, the layout and
then
who binds and prints the book. Not all print-on-demand services are equal.
Nevertheless, I find the story,
Indie bookstores embrace instant publishing machine
, about the Express Book Machine interesting (
CBCnews
). The equipment can be bought or leased and a perfect bound/soft cover book can be produced in a matter of minutes. As a result a number of bookstores are investing in the machine. They can set it up in their store and with properly submitted PDF files a book can be produced. Older books on file and available through places like
Google Books
can be printed, but most customers are people wanting to print their own book. Life stories and memoirs are a natural end product. Plus, it seems like a great conversatin piece as well as a means of revenue for indie bookstores, many who are struggling to survive in the evolving book and publishing world.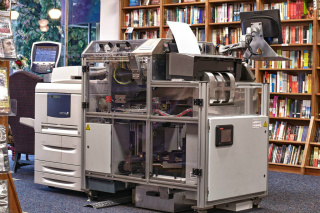 I'm not sure of the quality of these finished books. The company that makes the product is
On Demand Books
and you can
read about
their equipment that includes a Xerox 4112 copier/printer combined with their software and other technology. A "bookstore in a box" is how they describe it. A pretty informative
video is online
at YouTube.
---
Your Life Story Soundtrack
June 10, 2012
What role does music play in your life story? It seems everyone has certain songs that have meant something special to them. There are those songs that resonated with you in school, on a vacation or maybe at a particularly challenging time in your life. And how many couples have "their song"?
As a lover of music and a former radio dj I favor all types of music and as a personal historian I love to find songs that talk about memories and living. I wrote an article about that a few years back. You can read
Striking a Chord for Memory
here
.
Stefani Twyford, video biographer in Houston (
Legacy Multimedia
),
wrote a post
a few days ago about this very subject after experiencing a Jerry Jeff Walker concert. It's nice to know others are tracking on some of the same life story subjects.
---
Ray Bradbury Vision on Creativity
June 8, 2012
In Ray Bradbury's
Zen in the Art of Writing
(a really terrifically inspirational book) he speaks of a new definition for work - the word he uses is
love
. Well, there it is. You must love what you do and if you love the work you do then you are alive, full of purpose, and happy (even in the inevitable struggles that work can bring).

Bradbury died on Tuesday, June 5. It kind of snuck up on me and that disappoints me somewhat. But you discover news when you do and I guess last night working at the hospital in the middle of the night was that time for me. I was reading the Google alert emails I get for the term "life story writing".
He was 91 and I've been kind of watching for news about his inevitable passing because he's always been one of those writers I admire and I've loved his views on creativity. Ray Bradbury was much more than a science fiction writer. Yes, he made his mark in that genre, but he was prolific in poetry, horror, speculative fancy and wrote numerous plays/screenplays/teleplays, essays and even opera. Ultimately (like all great writers) his work cannot categorized in one genre.
|
continue reading
|
---
Drive In History
June 7, 2012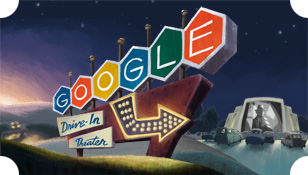 Did you catch the
Google Doodle
commemorating the opening of the first drive-in movie theater? Those doodles are always pretty creative and this one included a
short video clip
. You might also get a kick out of a few hidden surprises (as
reported
by the Christian Science Monitor).
Camden, New Jersey was the site 79 years ago that launched a period of Americana that tickles the nostalgia bone for many of us. I remember going to drive-in theaters as a kid with my family. And I'm not ashamed to admit I'm old enough to have experienced it a few times as an adult, although by then the drive-ins were an endangered species. There is an interesting article on the history of drive-in movie theaters
here
at About.com.
There was always something special about drive-in theaters. I think it was mainly the ambience. You could sit in your own car, but you were surrounded by others doing the same. The smell of popcorn mixed with summer heat and the community of autos all parked facing a giant screen. We'd strain to hear the audio on those little speakers next to the car (eventually the theaters came up with low-power FM signals so you could tune in the audio on your car radio).
Drive-in movie theaters are not extinct. In fact, in some places there are making a comeback. Find out if there is one near you at
www.drive-in.com
.
---
Pink or Blue - Cupcake Clues
June 3, 2012
Yesterday my daughter and son-in-law hosted a party for parents and siblings. Kristen is about halfway through her pregnancy with their second child and the purpose of the party was to reveal the gender of our forthcoming grandchild due in October.
Tension was high. We were all anxious to know if Jacob would have a little brother or sister. He's two and a half, so you can't get a straight answer out of him, even if he did know in advance. "Jacob, are you going to have a sister or a brother?" "Brother?", he'd mimic back. "Is it a brother or a sister, Jacob?" "Sistuh?".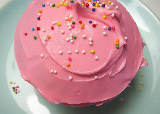 Anyway, it was cute and clever how Kristen and Nathan disclosed the news. We all got a cupcake and were instructed to bite into it at the same time. Inside was frosting - either blue or pink - to reveal the closely guarded secret they'd known since Thursday.
"It's pink! Hurray! A baby girl!" We are excited and feeling blessed. Of course, another boy would have been wonderful, too. But having both a boy and a girl is special. What a fun evening for all.
---
Multi Generational Tattoo
June 1, 2012
Back in 1991 I was taking a freelance writing course in an attempt to jumpstart some writing work. One of the articles I worked on as a course assignment was about the growing numbers of people getting tattoos and piercings. I wrote the article and my instructor gave me some good feedback to make it stronger. But I never submitted the article. Why? Well, I thought interest in this type of body art had already peaked. Boy was I wrong!
It seems just about anybody and everybody will get a tattoo. All kinds of tats for all kinds of people. Most do it for reasons of self expression. But what if they were connecting themselves in some way? Certainly that has been the case for many in the military. Same for fraternities, sororities and various social groups. Yesterday (thanks to a post on Twitter by LegacyKeepers) I came across a story AARP ran about 3 generations of women in the same family getting the same tattoo.
My Grandma's Tattoo
is an intriguing tale of how sisters and their grandmother who are spread out around the world found a way to stay connected. The short video the Harple family had made to document this was awarded Best Video Program Online at the 2011 min Editorial and Design Awards in New York -
more here
.