BIO President James McGrath Morris Advice for Biographers
June 28, 2013
It is good to see that the head of the
Biographers International Organization
(
BIO
), James McGrath Morris, is doing well. And he has some sage words for those working in the field of biographies, which can differ significantly from personal history and memoir writing.
In a profile piece of
ASJA Monthly
(a publication for American journalists and authors) he mentions how
BIO
came together, what are hot areas for biographers, common mistakes that are made, the money issue and also touches on the academic publishing/self publishing topic. You can read the article
online here
.
---
Saving My Library Card
June 25, 2013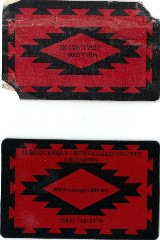 I got a new library card today. The old one was tattered and falling apart and while I could still use the number to reserve books through the online portal of Albuquerque's library system, I still wanted to have an actual card.
While I was filling out the paperwork the librarian asked if I wanted to save the card. I thought, no, but then she mentioned that people were doing it for "baby books" and that caught my attention. Another memento from your past. Objects can help us recall life experiences. My old card is not old enough to be from my childhood, but it spurred the idea of this blog entry.
Being in a library on a hot summer day also brought back memories. Books are a gateway to the world's treasure trove of information and (most especially) stories. I was happy to see kids in the library. Now that I am working as a school teacher I am more motivated to promote reading. Yes, summer time is time for getting outdoors and playing. But it is also a great time for reading.
Saving a child's first library card can be an important reminder of the value of reading, as well as for the importance of libraries. Which, by the way, could be headed for the endangered species list. The Internet is fabulous for finding information. And electronic readers are convenient. But I would hate to see libraries disappear. Unfortunately, more and more libraries are closing down. A search of "saving libraries" revealed two sites dedicated to preserving the library system:
SaveLibraries.org
and
savethelibraries.com
.
Perhaps you will decide to make a trip to your local library. Inside is a world waiting, a world of ideas and imagination. And it is a resource that (for now) continues to be a free community service. I'm glad it is still available in
my town
.
---
Walking and Listening Across America
June 24, 2013
Lots of people like to walk. But it seems listening is in short supply. Put them together and you have the amazing story of Andrew Forsthoefel, a 23-year old man with a serious case of wanderlust and a desire to hear stories.
In 2011 he had just graduated from college and wanted, as he put it, "to do something that would both affect others in a positive way and satisfy my own need to explore the worlds inside and outside of myself." The result is he walked across America and recorded the stories of people he met. This is a very unique oral history adventure that has been turned into a radio project (
visit transom.org
) and Andrew also maintains his own site and blog (
walkingtolisten.com
). I understand he's now writing about his journey. What a fascinating piece of personal history.
---
Personal History Begins At Birth
June 21, 2013
I was reading a new blog post,
Now It's Really Personal: Saving Your Grandkids' Stories
, on the
APH
site. Sue Hessel has just become a first time grandmother and is enjoying all that comes with that blessed role. But she is also putting her personal history skills to work with her new grandchild.
I have two grandchildren, so I took particular interest in her post. Jacob is a 3-year old active boy who calls me "Pawkin". Sophia is 8 months of rolly-polly delight. She has very expressive eyes.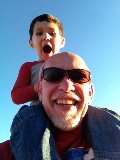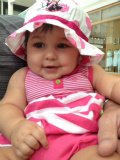 How soon should one begin preserving a life story? Sue believes every baby should be issued a personal historian at birth. And she is wasting no time in serving in that role as she been documenting young Gaby's first weeks. She has already put together a series of short books for various family members and has even started a blog,
First Grandma On the Planet
.
It might seem surprising and a bit overindulgent to be doing personal history projects so soon into a life. But there are some great reasons to do so. When we look back years later we might remember certain personality quirks or special occasions. But let's face it, things get fuzzy over time. Doing books and narratives to accompany pictures early on helps you to recall just why that boy or girl was so funny, creative, insightful or even moody.
These early life projects also help family members share their feelings about the baby as she grows or what it was like for the parents when he was little.
Every life is worth living to the fullest and all lives have an ongoing story. Personal history begins at birth. I've been learning more about this over the years and with my own grandchildren. This is a valuable lesson.
---
Fudge Island
June 17, 2013
While most people were observing Father's Day yesterday, I thought I would pass along a memory sparked by an
NPR report
I heard Saturday morning. The radio story mentioned that every June 16 is
National Fudge Day
, but the real "sweet spot" of the story was about Mackinac Island. Many recognize this quaint island in Northern Michigan (between the state's lower section and upper peninsula where the "Uppers, pronounced
you-purrs
, reside) as the modern day fudge capital.
Fudge is a wonderful chocolate-and-then-some confection we eat mainly around the Christmas holidays, but on Mackinac Island there are more than a dozen shops that make the fudge everyday, right there in front of you. The aroma in the town is a mixture of delicious smells of fudge and that of the many horse drawn carriages that are one of the main forms of transportation on the island.
I lived in Grand Rapids, Michigan, for a few years. One of the delightful weekend getaways my wife and two children took was to Mackinac. We rode the ferry over. No cars are allowed on the island, so you get around on foot, bikes, roller blades or the aforementioned horse drawn carriages. We did all of that and had a really great and memorable time. The kids were young then (seven and two) and it was fun to share in their excitement over things like riding across the water in the ferry, bouncing along in the carriage pulled by a flatulent horse, and devouring some baked fresh fudge from one of the local establishments.
Hearing the radio story about National Fudge Day and Mackinac Island brought back a flood of memories. I realize I haven't written about it before, except in my journal. It is another reminder of the rich treasure trove of memories we can turn into memoir worthy events. Sharing vacation times can be a good way to generate family history memories and get you started on telling your life story.
---
Ridin' That Train
June 14, 2013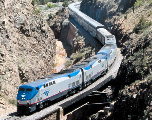 It was a year ago that I was riding the rails, revisiting my past by taking a train ride from Albuquerque to Kansas City. The Amtrak ride was my chosen mode of transportation for a trip to the city where my parents had retired and lived out their lives. I chose June so that I could remember them (their anniversary is June 14 and my mother passed on June 15) as well as make a short retreat and run a road race. Everything coincided nicely for some much needed reflection and reminiscing.
The train ride brought back memories of a trip to KC from Albuquerque when I was in my twenties. My parents paid the fare so they could get a visit from their son and I had a bit of an adventure, riding the many miles through a summer day and night. This time, some thirty years later, I rode and did a lot of thinking and writing. And it was an apt metaphor for personal history work.
|
read on
|
---
Salute to Dan Curtis
June 11, 2013
Over the years I have found many helpful resources for life story work by following
Dan Curtis' Personal Historian blog
. I read with interest his postings. He writes with sincerity and insight. He is encouraging and practical. He has constantly been a source of good information for the field of personal history work.
Today I read Dan's
final post
for his blog. I was caught off-guard by his pronouncement that this was his last post for a blog that has maintained such excellent standards. But as Dan put it, after five years, 704 posts and 321,643 visitors he has written pretty much everything he felt was pertinent for the field.
Dan Curtis is not retiring and I am glad to hear it. He is going to continue to mentor others in the Victoria Hospice Life Stories program he founded. And he's going to spend more time devoted to his spiritual path of contemplation and study with the Buddhist community he's been a part of for the past 15 years.
While a part of me is saddened at the discontinuation of Dan's blog, another part is quite admiring him. He's clearly a person who is focused on what is important and takes priority. It takes courage and conviction to make these kinds of decisions and to devote energy to the most important things in our lives.
He will continue to be a part of the
Association of Personal Historians
and I hope to be in communication with him from time to time. I've often found good things for my blog thanks to reading his. It's possible he's occasionally gained benefit from reading mine (he's been kind enough to mention me in the past). While he won't be posting new material he is going to keep his blog online for another year and will also gather some of his material into e-books or e-pamphlets. I recommend you
visit his site
. And all the best to you, Dan Curtis. Thanks for your many contributions.
---
30 Year Milestone for Huey Lewis and the News
June 9, 2013

It's been thirty years since the release of one of the biggest selling albums of the 1980's. In 1983 Huey Lewis and the News really hit the bigtime with their album,
Sports
. It sold ten million copies and spawned four hits. Always a great live act, the News with Huey at the helm toured steadily on the strength of this album. Huey Lewis, one of the nicest guys in the business, was already over 30 when he and his group amassed this great success. That probably helped him handle all that fame brought his way.
I was a young program director at the time for a rock radio station in Albuquerque, New Mexico (Rock 108 KFMG). As such, we had Huey come by the station for an interview. I called my wife before he showed up to see if she had any questions she wanted me to ask. She good-naturedly suggested to ask if he wanted to go to dinner. Well, as it turned out, I was able to take Huey and the entire band, along with some station personnel, out to a nice restaurant and I brought Annette along. We had a great time and the concert that night was an excellent show. All in all, a very memorable evening.
CBS Sunday Morning
had a feature story and interview with Huey Lewis today. It was fun to see how he's getting along and they mentioned that a 30th anniversary of
Sports
was being released with the band touring in support. After all these years it's apparent he loves what he does. In fact, he said if he'd never had the big success he'd still be happy playing harmonica with a band in nightclubs. That's following your bliss.
Music and concerts have been a big part of my life. I find it easy to reminisce about the subject and to write about it. In many ways the music is a literal soundtrack to my life story. What about you? Are there particular songs, albums and musical artists that are part of your life and story? Make a list of those musicians, bands, concerts and songs. It could be a gateway into your memoir.
---
Amazing Personal History Story From WWII Spitfire Film
June 3, 2013
The discovery of a 16mm film of a Spitfire crash landing in WWII led to a short documentary and a reuniting with the pilot who knew he'd been filmed but had never seen it.
Lt. Col. John Blyth was an American who flew reconnaissance missions during World War II. It was very dangerous work. He flew alone and unarmed and captured many pictures crucial over enemy territory in Europe. This was surely critical information and helpful to the Allies war strategy.
On one of his missions his landing gear was jammed and could not be lowered and he had to belly land on a grassy field. The flight surgeon at his air base, Jim Savage, took 16mm footage of the landing, but Blyth never saw it and lost touch after the war with the man. However, William Lorton, a documentary film maker and the great newphew of Jim Savage, discovered the footage and a picture of the pilot after his dramatic landing. He used the information from the tail of his Spitfire (PA 944), entered it into a Google search and remarkably found out information about the crash and the pilot.
The kicker is when Lorton got a response from Blyth who accepted an invitation to meet and be interviewed. Lorton took along Jason Savage, the doctor's great grandson, and the rest of the story is just too wonderful to spoil. Watch the video and see the magic of personal history coming together in most wonderful way.
Watch it on YouTube