Banjo Breakdown. Earl Scruggs Has Died
March 29, 2012

I grew up in the 60's and 70's, mostly surrounded by rock music. My lengthy career in radio was primarily at various rock stations around the country. But I had friends, both in and out of radio, who turned me on to all kinds of music. And one of them was Earl Scruggs.
Scruggs could make that banjo sing and syncopate and do all kinds of footstompin' good sounds. He was an innovator and he also played with other kings of bluegrass music like Bill Monroe and Lester Flatts. You are probably familiar with
Foggy Mountain Breakdown
and maybe even
The Ballad of Jed Clampett
from the
Beverly Hillbillies
TV show.
Scruggs died on Wednesday (
NRP Story
). I'd like to think he and John Hartford are together pickin' and grinnin' in that big jam session in the sky.
---
I Am a Perstorian
March 24, 2012
I was reading the newest ezine from the
Association of Personal Historians
today. I've been a member of the
APH
since 2003 and I'm actually writing the check to renew for another year. The association has continued to grow and members have joined from across the United States, Canada and overseas (including Europe and Australia) as personal history continues to gain traction in the media and hearts and minds of the public. The genuine passion and helpfulness of the members still continues to impress me. I've learned a lot and I haven't even pursued this line of work fulltime like many other members (some day I will!).

It was recently that the
APH
overhauled the
website
and designed a new logo and tagline. I like that we are calling ourselves
The Life Story People
. This issue of the ezine has a new title, too. It is
The Perstorian
. A nice play on the words
person
and
historian
. I think I will start telling people that's what I am because it will surely get them to pause and ask, "what?". Then I'll have the opportunity to explain what personal history and life story preservation is all about.
If you are thinking about this line of work I encourage you to investigate the
APH
. Tell them I sent you and maybe we'll be exchanging emails and forum posts in the future.
---
Powerful Montreal Oral History Project Has Some Touching Stories
March 22, 2012
For several years a special oral history project by
Montreal Life Stories
has been gathering some powerful stories of refugees displaced by mass violence in places like Rwanda, Haiti and Cambodia. Now these stories are being shared on subway cars equipped with audio portraits and a QR code on them directs people with their smart phones to various digital stories. You can find out more about this project known as Recontre-Moi ("Get to Know Me) by reading a
blog post by Al Fowler
on the
Association of Personal Historians Blog
.
---
Lives. Interesting Stories Posted by New York Times. Yours Could Be Next
March 14, 2012
The
New York Times
has been posting essays about interesting people's
lives
. Various people have contributed. Recent intriguing titles include
Last Fling of an Octegenarian
,
A Mustache for My Son
,
The End of Girl Land
and
Grabbing Life by the Horns
. A good "lives" essay doesn't need a great title, of course, but it does help stir interest. Of those listed, which would you click on first?
Do you have an intersting life story to share? Before you raise your hand you might consider what the Times is looking for.They want true personal stories, about 800 words, more action and less rumination, not sappy (ala Hallmark TV movies) and specific details rather than broad statements. They've even offered up a
How to Write a 'Lives' Essay
.
Check it out
and maybe submit something.
---
Hospice Chaplain: They Talk - She Listens
March 7, 2012
Doing hospice work - helping people through their final days - is a very special calling. It takes someone who is compassionate and kind. Patient and tolerant.
Kerry Egan does this work. As a divinity school student she started working as a chaplain at a cancer hospital. She was just 26 and still learning to do what a chaplain does. She wrote an article for
CNN's Belief Blog
about being asked by her professor what she talked to patients about and her answer in this article might surprise you. Seems she mostly listened. And the patients talked. What about? God? Religion? Prayer? Well...really, mostly about life and family. And why they do, she realizes many years later, is because that's
how
people talk about faith, God and spiritual matters.
Read the article
here
.
---
Flying Over the Grave
March 5, 2012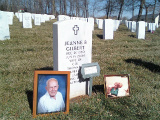 It was one week ago that we buried my father's remains at Fort Leavenworth National Cemetery in Kansas.
Dad was a full colonel when he retired from the Air Force after 26 years of distinguished service. He'd been a pilot through it all and flew some of the most prestigious aircraft of the day, including the B-58 bomber (the Hustler) and the F-4 Phantom fighter jet.
My dad died on January 14th of this year and I wrote about that previously (
The Pilot Who Soared on Eagles Wings
). Because of his military career we wanted to make sure that he got his burial with military honors. His remains were cremated and stored in an urn until the appointed day on February 27. Dad would be laid to rest in the same plot with Mom. |
continue reading
|
---
We Are Story
March 2, 2012
Recently I've discovered that
MemoryPress
(run by
FamilyLearn.com
) has an uncertain future. They've reportedly been undergoing a technical overhaul of their online system, but they are currently not accepting new customers. I've liked their option to preserved your story through what is essentially a turnkey process. Plus, it has been affordable. I will keep you posted as I learn more.
Fortunately, there are other ways and places to post your stories.
One I've recently discovered is Imastory
(
imastory
) – as in, "I'm a story" – is a place to share your stories and encourage you to capture your life tales and that of others through a free site that is both engaging, technically advanced and easy to use. Rolland Love, a writer and speaker, has spent years helping elders write their stories, but his latest epiphany is to encourage young people in schools to interview and write the stories of their parents and grandparents. You can bet that resonates with me!